Social media pundits are always on the lookout for such tools that help you publish your posts even when you're offline, especially when your target audience is online. 
They do this with the help of a  social media scheduling tool.
The problem is, there are a wide variety of social media scheduling tools available in the market, albeit with different functionalities. Hence, to make things easier, I've narrowed down the field for you.
In the forthcoming sections of this write-up, you will see the best social media scheduling tools. 
And since every tool has something exclusive to look forward to, I have tried to provide the unique values of each to help you take a wise call.
List of 20 Best Social Media Scheduling Tools
Here's a look at some of the best social media schedulers that can help you effectively operate your social media account for business.
1. Buffer
(Image Source: Buffer)
Buffer is one of the best social media scheduling tools available in the market. It comes in the form of a software application that can be utilized for web and mobile. The good news is, it lets you schedule content to Facebook, Pinterest, Instagram, Twitter, and LinkedIn from a single dashboard. Can it get any better than this? You can even use its templates without any prior design experience and post on its pre-designed layouts without any hassle. 
How will Buffer Help Your Business?
It lets you create a preset publishing schedule for each social account

Gives you the scope to customize your posts for each social network

Allows you to view all the content that you have lined up in the calendar

Select from the two Instagram scheduling options - direct or native

Collaborate on content with your team

Enables Immediate Sharing or "Add to Buffer" option

Ideal fit for small business and enterprise

Comes with multi-media sharing options
Unique Values
Power Scheduler feature to schedule multiple messages across different accounts and times

Consists of an image creator called Pablo designed by Buffer that aids you to select and size an image to different social media specifications, thereby ensuring hassle-free text overlays and backgrounds to create richer, more

engaging photos

.

Consists of Buffer for Instagram feature wherein you can schedule single-image posts to any business accounts and then Buffer automatically publishes that for you

Enables you to schedule a video or multi-image post

Buffer does not publish your posts directly on Instagram. Instead, it sends a push notification at the scheduled time. This way, you only need to hit the "publish" button while the post gets automatically loaded on Instagram
Pros 
Lets you opt for the time to post an update

Very user-friendly

Acts as a medium by collaborating your posts while you add them in queue

Posts your scheduled social media content as per the priority of queue set by you
Cons 
Uploading your posts on an immediate basis can create some issues

Not an ideal fit for an extensive network as it can get tiresome and expensive

Lags in Instagram promotion 

No particular monitoring tool for hashtags as you need to install a unique tool for this purpose
Pricing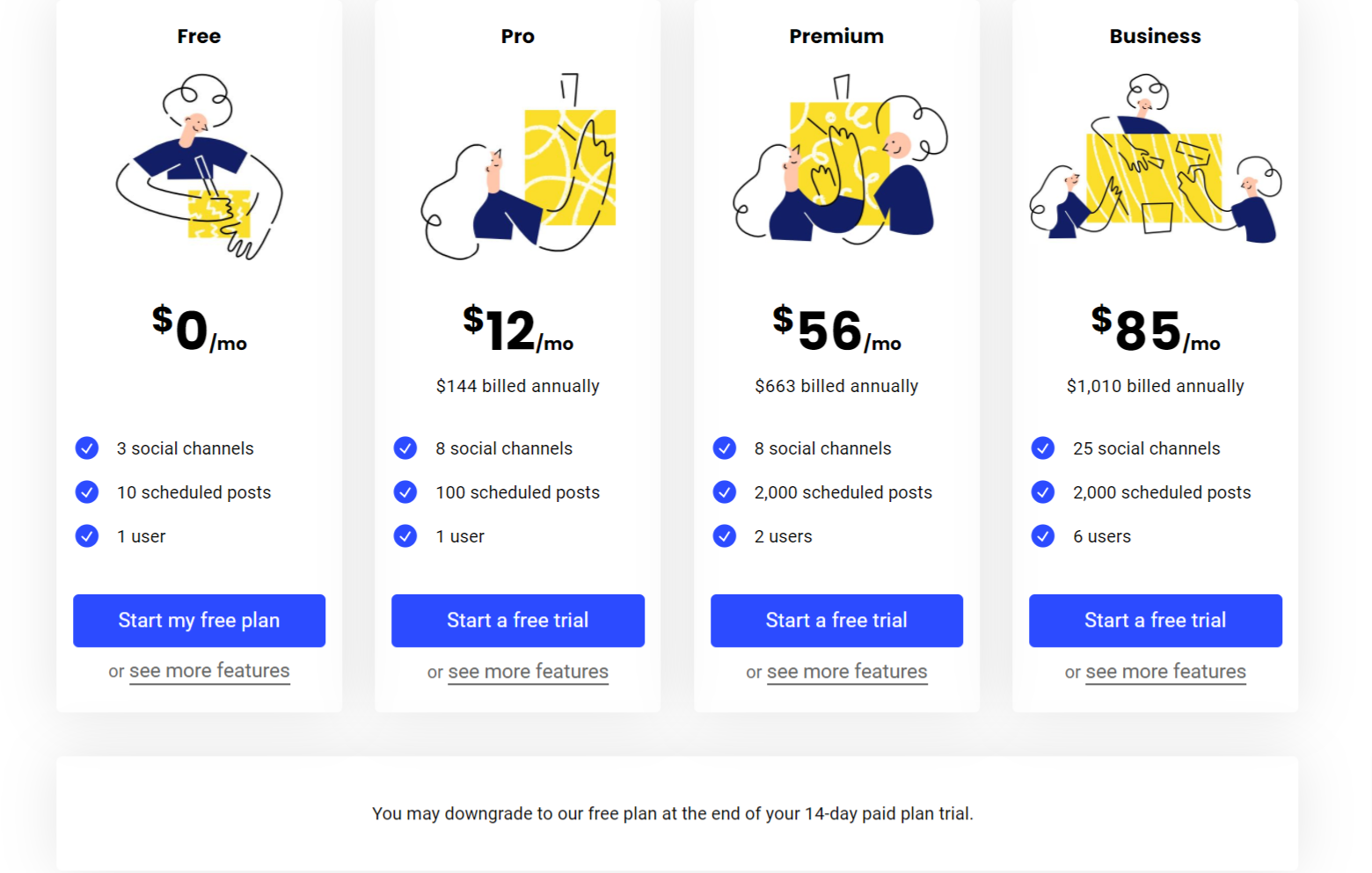 2. HootSuite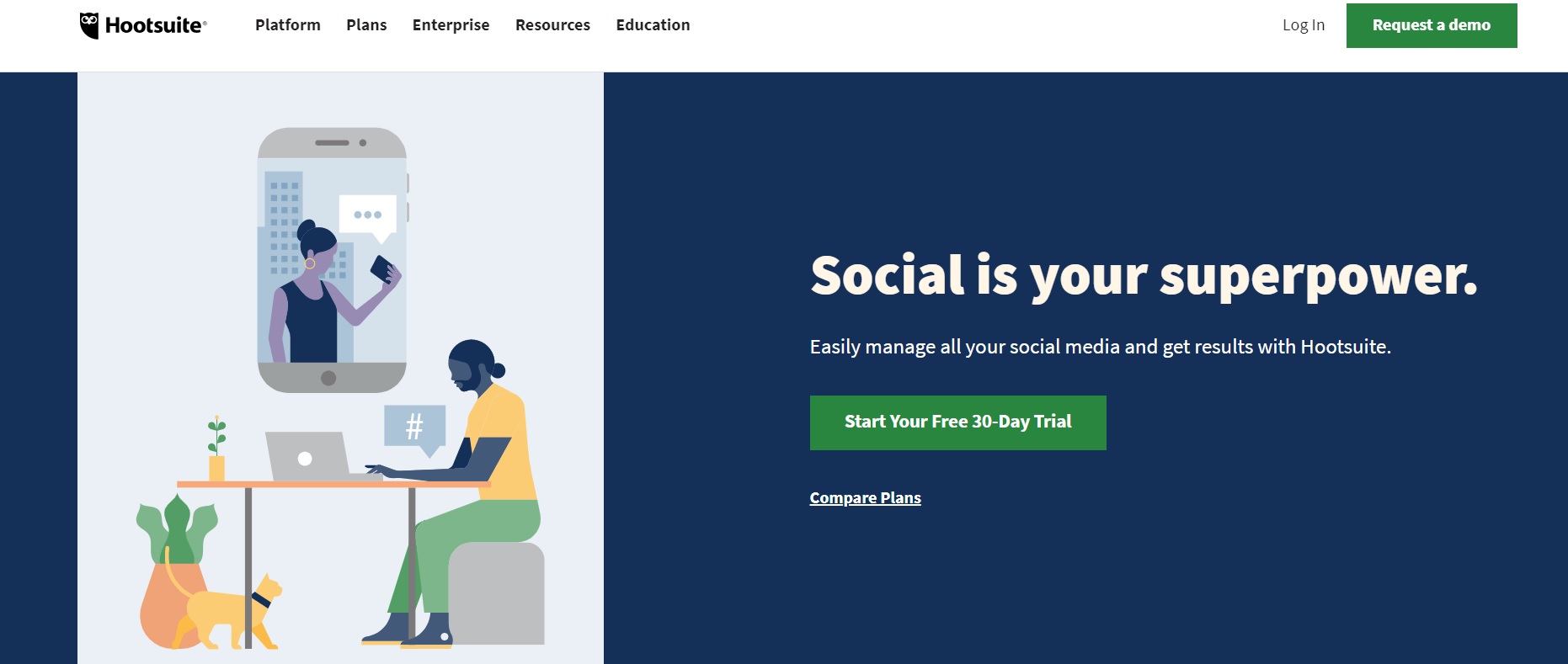 (Image Source: HootSuite)
HootSuite is one of the most popular social media scheduling tools mentioned in this list. The reason being, it is used by more than 15 million people and more than 800 of the Fortune 1000 companies.
Just like all other social media scheduling tools mentioned in this list, HootSuite enables you to schedule posts at your preferred time in the future. However, the difference with this social media scheduling tool is, you can post to an extensive range of social media accounts by opting for the plans sold by the company.
HootSuite can be employed on different platforms like personal accounts, business pages, and other social activity types. In its free plan, you can schedule a maximum of 30 messages across three social profiles. Another good thing about this tool is, it is an all-inclusive platform that enables you to curate and schedule content, measure your social ROI, run social media ads, etc.
How can HootSuite Assist Your Business?
Monitor multiple streams like Twitter, Facebook, LinkedIn, Instagram, etc. from a single place

Comes with a team management facility to effectively assist your team manage your social media empire

Enables you to store draft messages that can be posted while you receive FAQs on Twitter

Aids you in cross-posting to your Google+ Page

Helps you to get free reports through email
Pros
Aids in scheduling social media posts in advance

Effortlessly lets you view

Analytics data

The special add-on tool Hootlet plug-in enables you to share information in a hassle-free manner

Enables you to track key phrases and terms across other users' posts to determine when your expertise can come in handy

Effectively lets you manage your team 
Cons
An expensive monthly/yearly subscription for using HootSuite's Pro or Enterprise plans

The free trial period lets you manage only three social media accounts with basic analytics, basic message scheduling, limited access to basic applications, etc. 

Additional fees for using some of the apps on HootSuite

Difficult to use for people who are not computer savvy

There is a training cost to learn about HootSuite
Unique Values
Ability to monitor multiple accounts and keywords

Connect with more than 35 social networks

Helps you to perform bulk-scheduling for social media posts

Its unique analytics feature provides a comprehensive overview of how well your

social media strategy

is working by tracking clicks across all your favorite social platforms and delivering them in the form of easy-to-read series of charts

Comes with a terrific Hootlet plug-in that enables you to share content across the web with your followers effortlessly
Pricing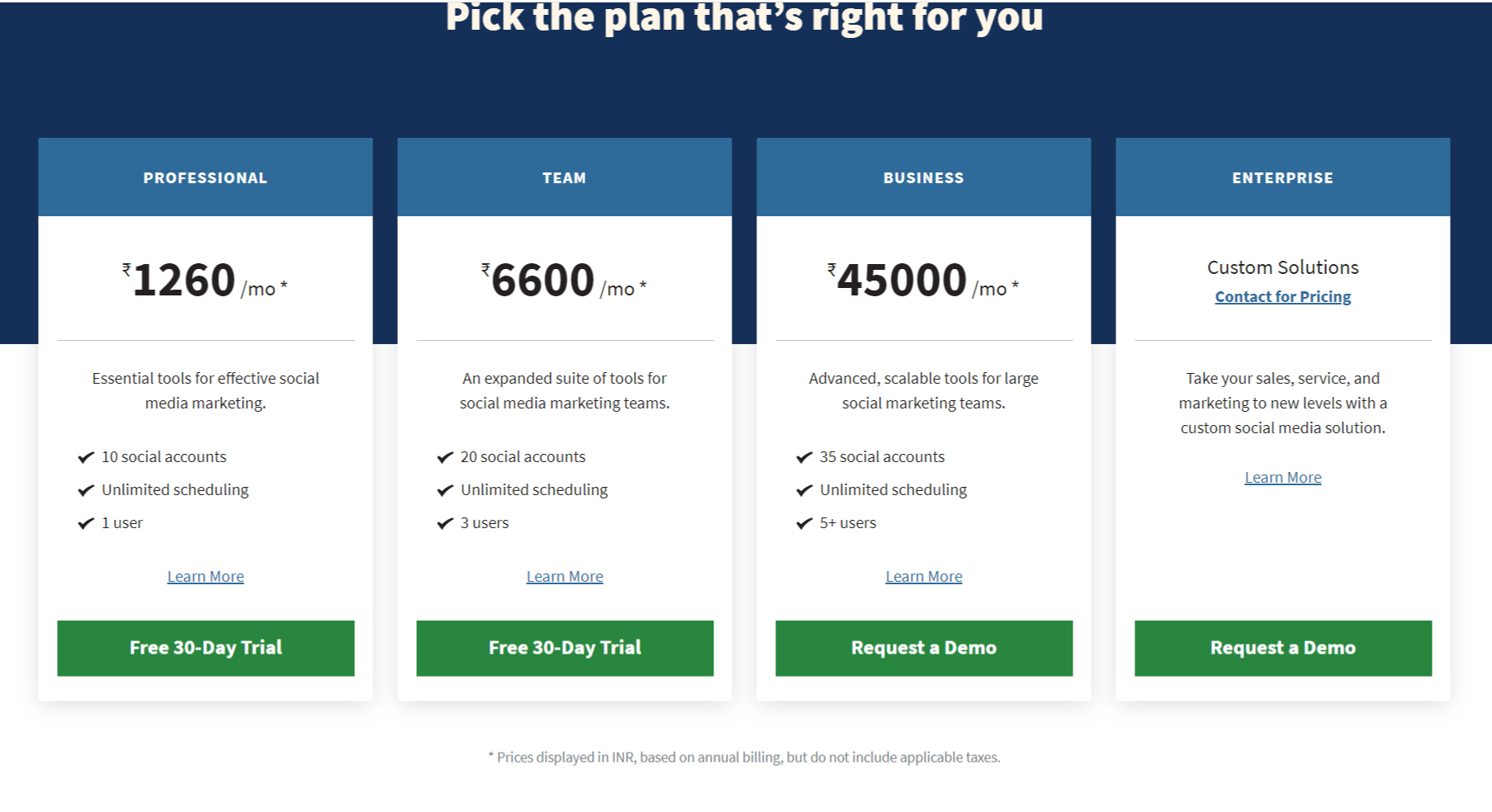 3. SocialPilot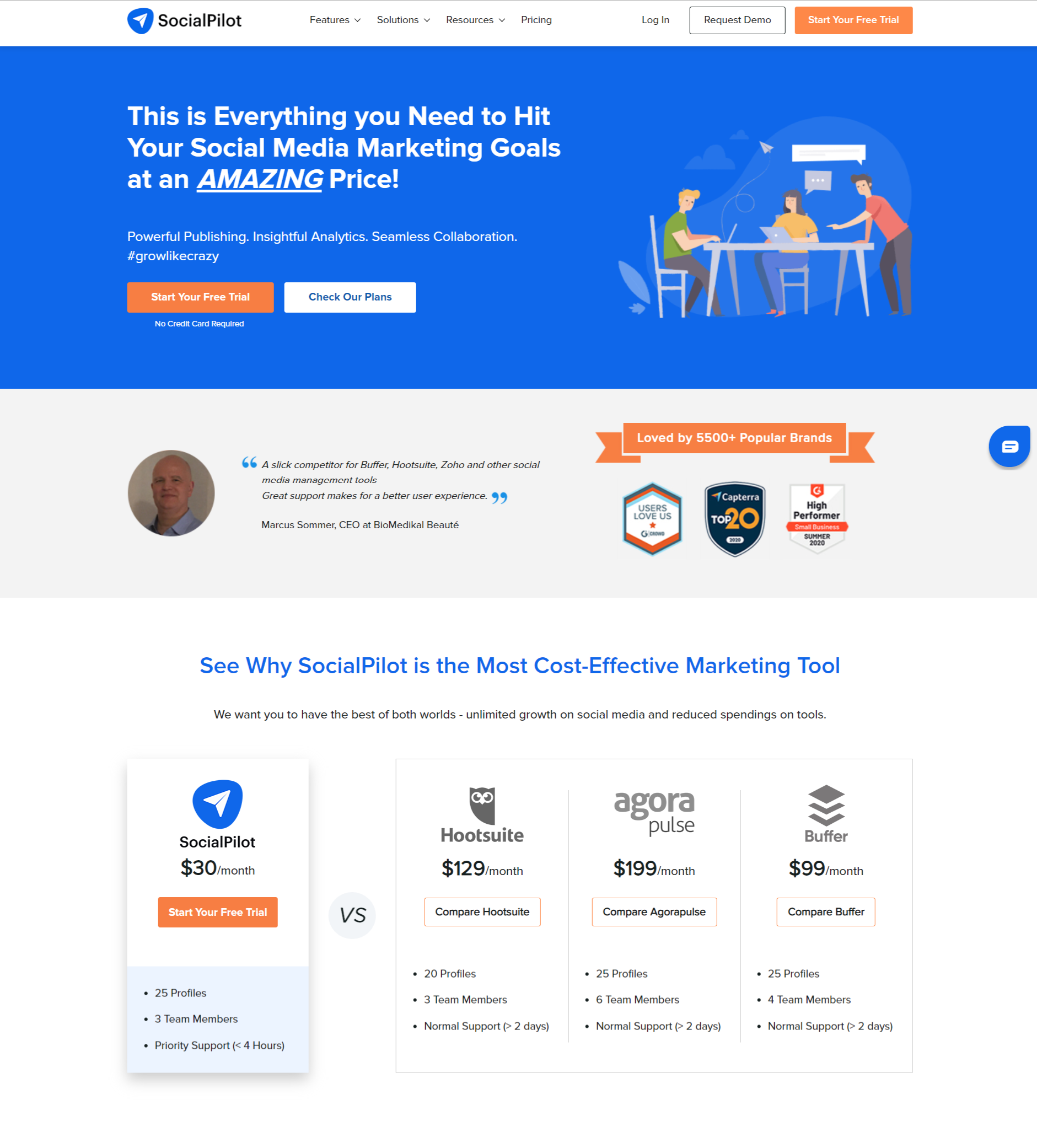 (Image Source:SocialPilot)
SocialPilot is one of the most comprehensive and straightforward social media marketing tools mentioned in this list. It lets you post on various social media platforms like TikTok, LinkedIn, Facebook, Instagram, Google My Business, Twitter, Tumblr, Pinterest, and VK. 
Every feature present in SocialPilot is in line to add more value to the social media schedule and marketing efforts. 
How can SocialPilot Assist Your Business? 
Aids you to create customized posts for individual social platforms

Provides analysis, monitoring, and reporting of your social performance

Generates super-swift white-label reports

Leverage social inbox to revert without any hassle

Manage team members seamlessly with collaboration features

Manage your multiple client's social accounts in an effortless manner

Manage ad campaigns

and boosts post

Suggests new content with the help of the content curation feature

Gives you the ability to share blogs using integrated RSS Feed automation

Helps you upload 500 posts using the bulk scheduling feature

Visualize content strategy using the social media calendar

Contains a smarter URL shortener feature

Supports Native mobile apps seamlessly
Pros
Very cost-effective

Supports all major social media platforms, including TikTok

Provides almost all social media management functions like scheduling, social listening, etc.

Contains advanced analytics

Comes with reseller and content curation feature

Gives you the scope to

bulk scheduling with images

SocialPilot is now Instagram approved for direct posting 

You can also access smooth integration with Instagram starting 8th February 2021
Cons
Does not include Instagram analytics

Absence of a completely free plan
Unique Values
Only social media scheduling tool that provides the most reliable and express support to users through chat, email, social media, and phone

Consists of suggestions-Content Discovery feature wherein you can easily share exclusive and exciting updates to engage more audiences

Helps you to connect unlimited accounts, including all your Facebook, Twitter, and LinkedIn accounts like Facebook pages and LinkedIn pages 

Consists of a specially designed managing groups feature to categorize all connected accounts in groups
Pricing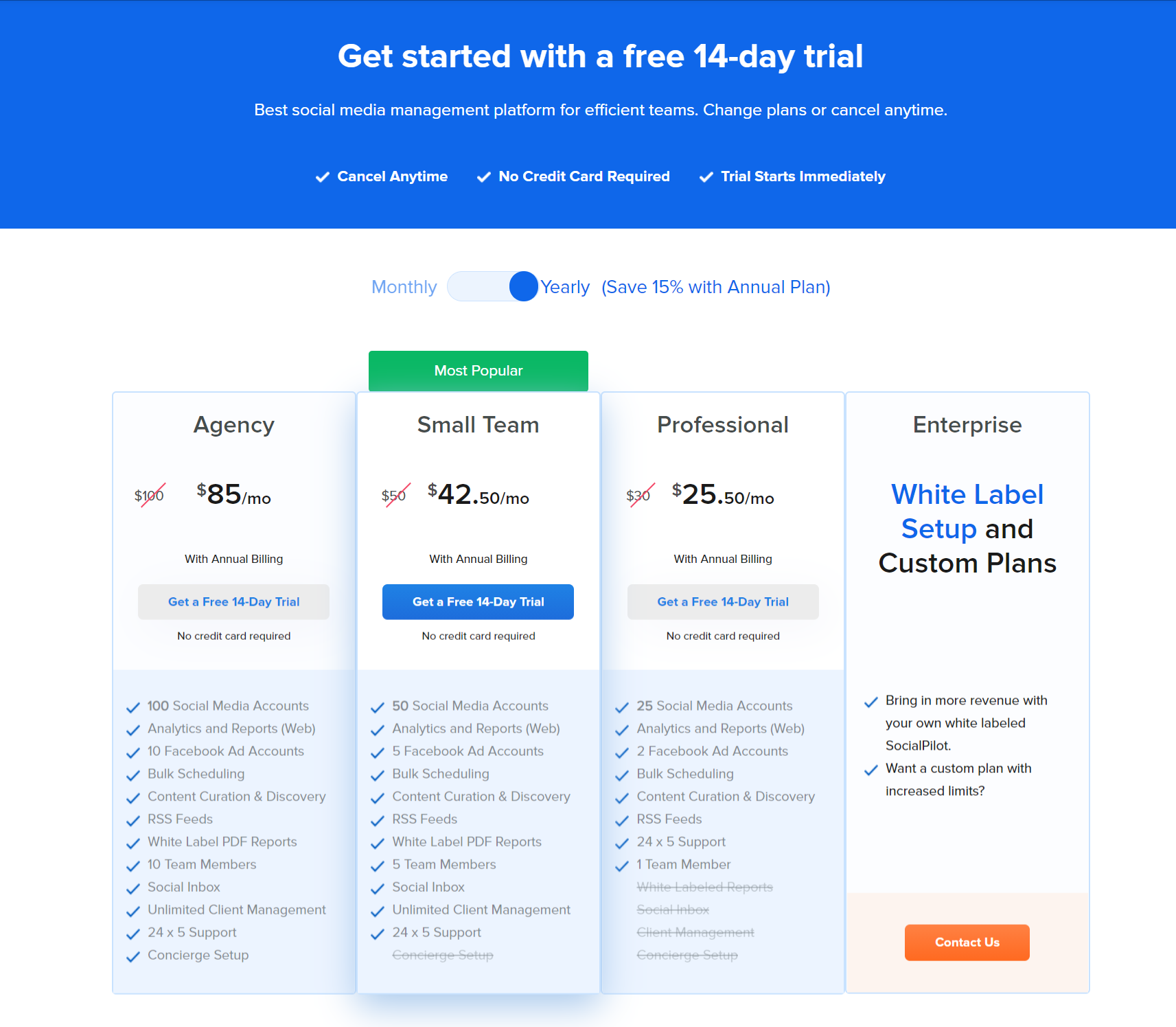 4. Loomly

(Image Source: Loomly) 
Loomly is one of the most effective social media scheduling tools available online. It matches up with the tedious demands of your target audience by transforming your business digitally. 
Irrespective of whether you are a freelancer or an enterprise looking to meet the staggering social demands, Loomly is the best social media scheduling app that provides insightful social media posting schedules in quick turnaround time. Just sit back and relax while Loomly helps you manage comments, messages, tags, and track mentions.
How can Loomly Help You?
Consists of analytics

Comes with automated publishing content management 

Provides comprehensive customer targeting

Filters keyword 

Schedule posts conveniently
Pros
Comes with calendar templates

Consists of audience targeting

Get all your assets at your fingertips

Get your posts reviewed and approved by your collaborators before even hitting the publish button

Create post & ad mockups

Create automated publishing for Facebook, Twitter, Pinterest, LinkedIn, and Google My Business

Create

objective-driven Facebook ads

and Instagram ads

Provides the option of data filtering and period comparison
Cons
A bit expensive

Need a bit of technical knowledge to take maximum advantage of this social media scheduling tool
Unique Values
Provides the ability to create a master message that can be personalized for different social media platforms

Tells you for each channel if it is an excellent time to post, if your text is too long, etc.

Effortless collaboration, hassle-free approval process, and simple mechanism to post comments for your team

Consists of an individual calendar in case you are managing more than one company

PDF export available with the PRO version of the tool
Pricing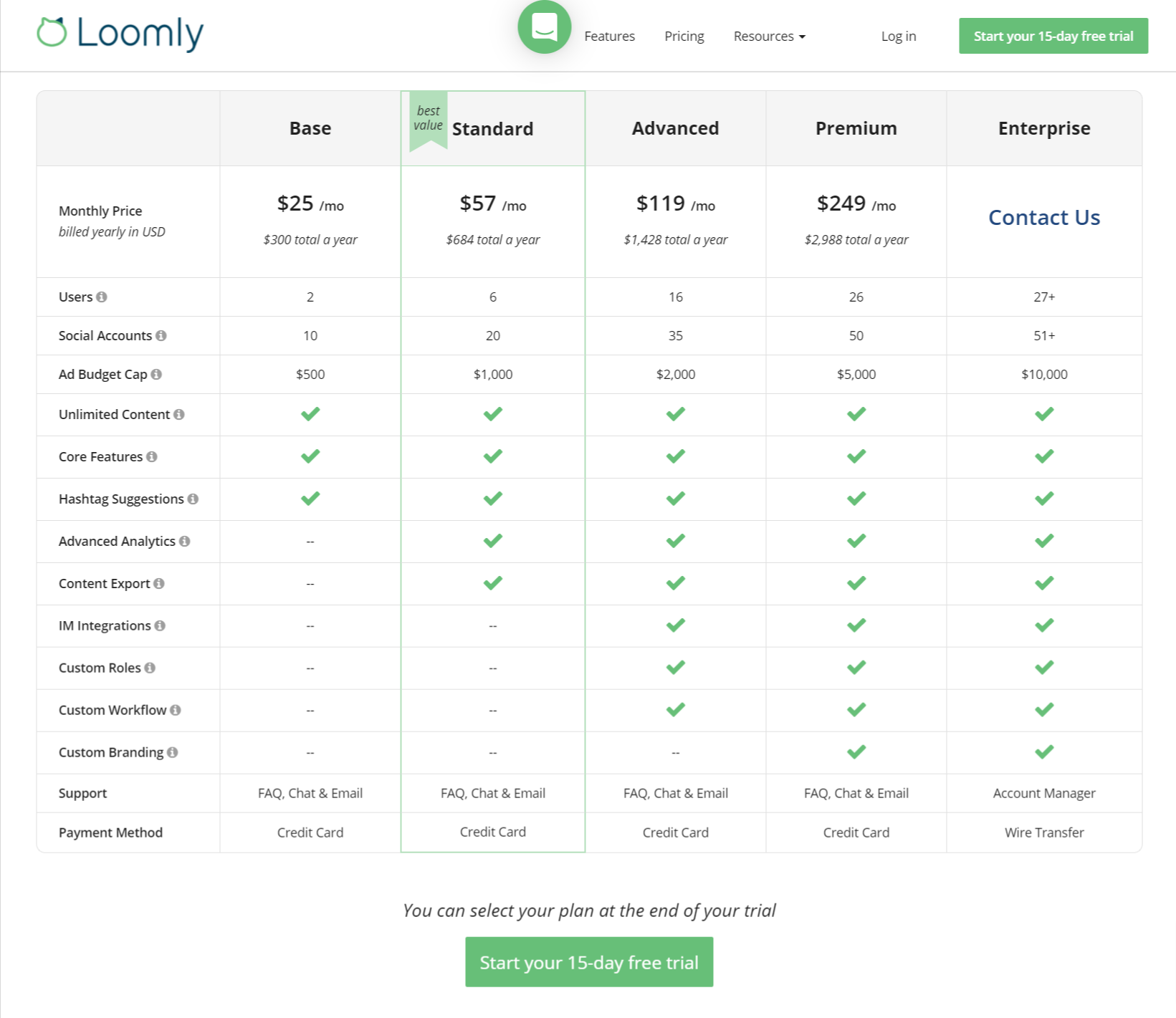 5. Agorapulse

(Source Image: Agorapulse)
Agorapulse is a smart social media scheduler that assists agencies and teams work in unison. 
With the help of this social media scheduling tool, marketers can engage, listen, collaborate, and even measure social media efforts. It is compatible with major social media platforms such as Facebook, Twitter, YouTube, and Instagram. 
It gives you the option to centrally post to all your social media accounts, with a queue or schedule that ensures that your content is delivered at the best possible times. 
You even have the option to re-queue or reschedule evergreen posts. 
How can Agorapulse assist you?
Comes with a

social media calendar

that gives you a better view of your scheduled posts with the help of its unique color codes

Provides comprehensive social media message management

Get instant information about your followers

Consists of a robust social media analytics feature with reports

Ability to perform brand-related search results to see what people are saying about your brand

Share evergreen content now and then using the queue functionality

Organize and categorize your queued contents based on the time slot and topic

Gives you the ability to schedule and queue content on your Android or iOS device
Pros
Comes with analysis tools

Can be utilized as a browser extension

Can be utilized as a

mobile app

Perfect for scheduling social media posts

Consists of a social inbox
Cons
Consists of limited functionality

Can be used only by two users
Unique Values
If you hate scheduling post-by-post, Agorapulse provides the option to plan and schedule a campaign offline like image posts, text/link posts, or posts from your favorite RSS feeds and then bulk upload in a single .CSV file to the social media platform

It comes with an Instagram view feature, which gives you a preview of what your post is going to look like directly in the post creation pop-up

Provides time slot options for your queues

You can set up a default time slot for each day of the week; that way, when you add your posts to your queue, it is automatically set up to be published at the best time of that day
Pricing

6. Sendible
(Image Source: Sendible)
Sendible is one of the best social media scheduling tools if you wish to manage social media marketing for multiple clients at a time.  It's a tool that has been developed, keeping the needs of agencies in mind. 
This fantastic social media scheduling app supports reputed social media networks like Facebook, Twitter, Linked In, Google My Business, YouTube, and Pinterest, along with other blogging platforms like WordPress, Medium, and Tumblr.
How can Sendible Help You?
Schedule social media posts, videos, and images on an individual basis or in bulk

Plan a complete campaign offline, then import in bulk to the scheduler

Tailor content for each social media network to maximize organic reach

Categorize posts into campaigns and schedule on separate queues

Recycle your evergreen posts with repeating schedules

Represent and reposition content on the interactive publishing calendar

Create and share high-quality content with the RSS Auto Posting feature
Pros
Great integration with all the reputed social media networks like Facebook, LinkedIn, Twitter, Pinterest, Google+, and Instagram

Consists of an RSS Feed Poster, content suggestion, and a built-in library with effortless access to the Canva, the

design tool

Ability to bulk-schedule content like images through the upload of a CSV file

Consists of several automation tools that assist in driving engagement and increasing social followers

You can even use it as a mobile app for iOS and Android

A great-looking tool that provides the ability to create precise custom reports in a quick turnaround time

Effortless to set up and utilize workflows and user permissions
Cons
Currently, there is no free plan available. However, Sendible is available at the 30-day trial

The geographical keyword monitoring provided by the tool is not always accurate

At present, there are no apparent plugins to utilize with WordPress
Unique Values
Sendible has exclusive integrations like the Canvas graphics editor, royalty-free image search, and

YouTube search

Its content recommendation tool lets you search by a topic and virtually pulls up a never-ending list of trending articles to share

Comes with a simple built-in CRM that not only aids you in automating everything but also allows you to interact and build relationships with other social media users

Offers Twitter auto-replies and auto-tweets by monitoring Twitter for certain keywords or hashtags and then post an automatic reply or retweet
Pricing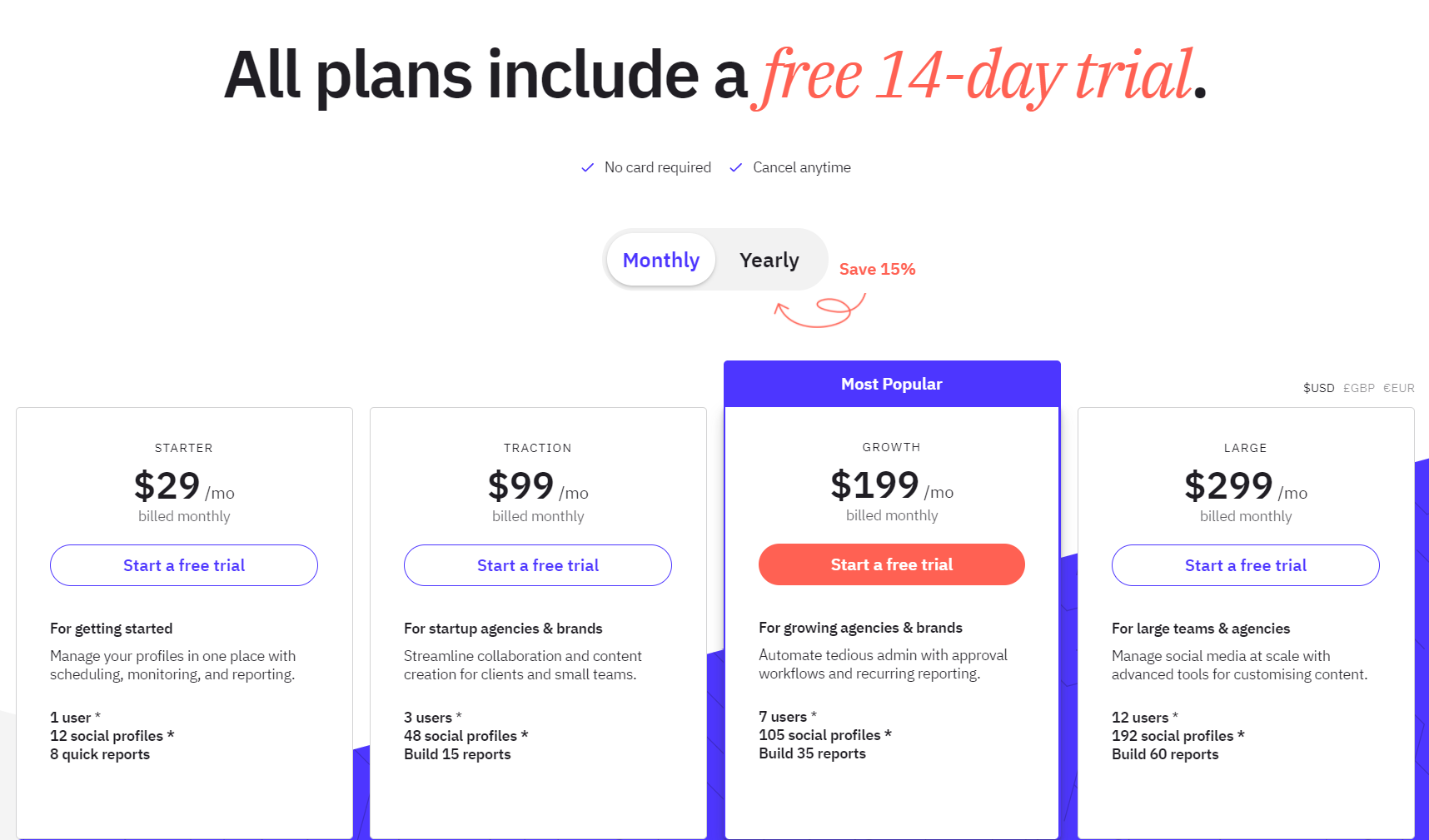 7. PromoRepublic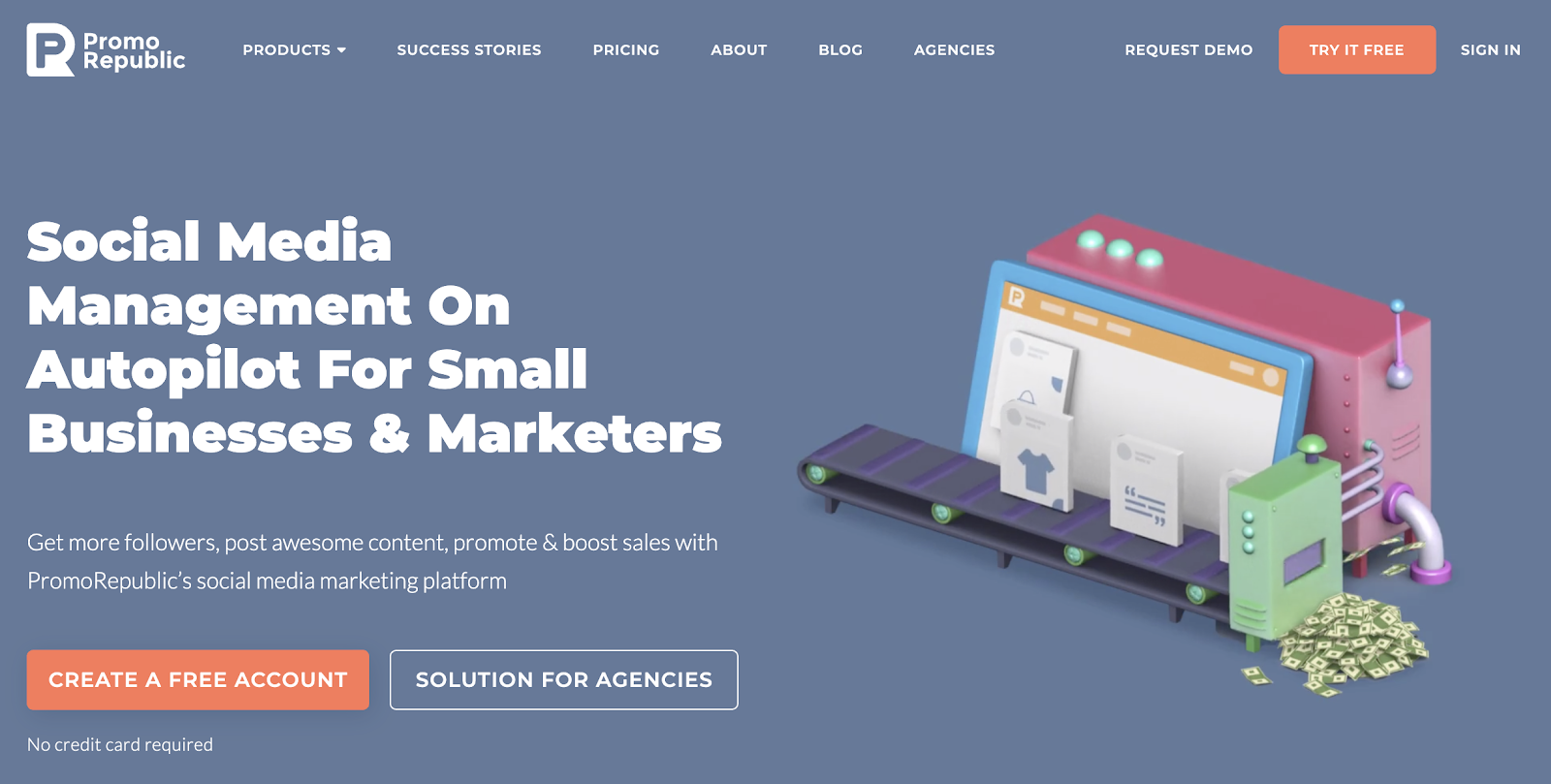 (Image Source: PromoRepublic)
PromoRepublic is a social media scheduling tool launched in 2004. It provides content creation, publishing, and analytics as a part of its services. It includes a visual editor built-in to the interface. 
With the visual editor's help, it becomes easier for you to apply fonts, shapes, and images directly to your post content during drafting. It also comprises analytics with reports to directly be exported to PDF for easy sharing amongst your team.
It can even be used as a monitoring tool that helps track and analyze your social media performance. Once you give the green signal, this fantastic social media scheduling tool posts at the best time for optimal reach. 
How can PromoRepublic Assist you?
Post idea library consisting of more than 100,000 visuals and templates

Integration with all major social media platforms

Easy application of more than 200 fonts, shapes, and banners to the posts

Comes with an events content calendar to create beautiful social media posts for holidays, trends, events, etc.

Comprises of Momento optimal timing tool that aids in publishing content at the most suitable time on the basis of your location and followers activity on Facebook

Integration with Buffer, Hootsuite, Yext, and Hubspot
Pros
Suggests personalized, automated post ideas

Consists of an advanced graphic-creation tool

Utilizes artificial intelligence

(AI) to derive maximum engagement

Comes with a 14-day free trial

A very versatile tool that isn't just optimized for Instagram alone but also other social media accounts

Comes with a straightforward and compact user interface

Provides comprehensive reports and stats

Presence of a great help center consisting of an extensive library of tutorials
Cons
Does not enable bulk upload posts

Unnecessary pop-ups come up while you are using the tool

No refunds available

No live chat on weekends
Unique Values
What makes PromoRepublic different from other social media scheduling tools is a post ideas library of more than 6,000 ready-made templates, packed and ready to be published

Thanks to its insightful built-in analytics, you get the suggestion to publish the posts at the best time for different industries
Pricing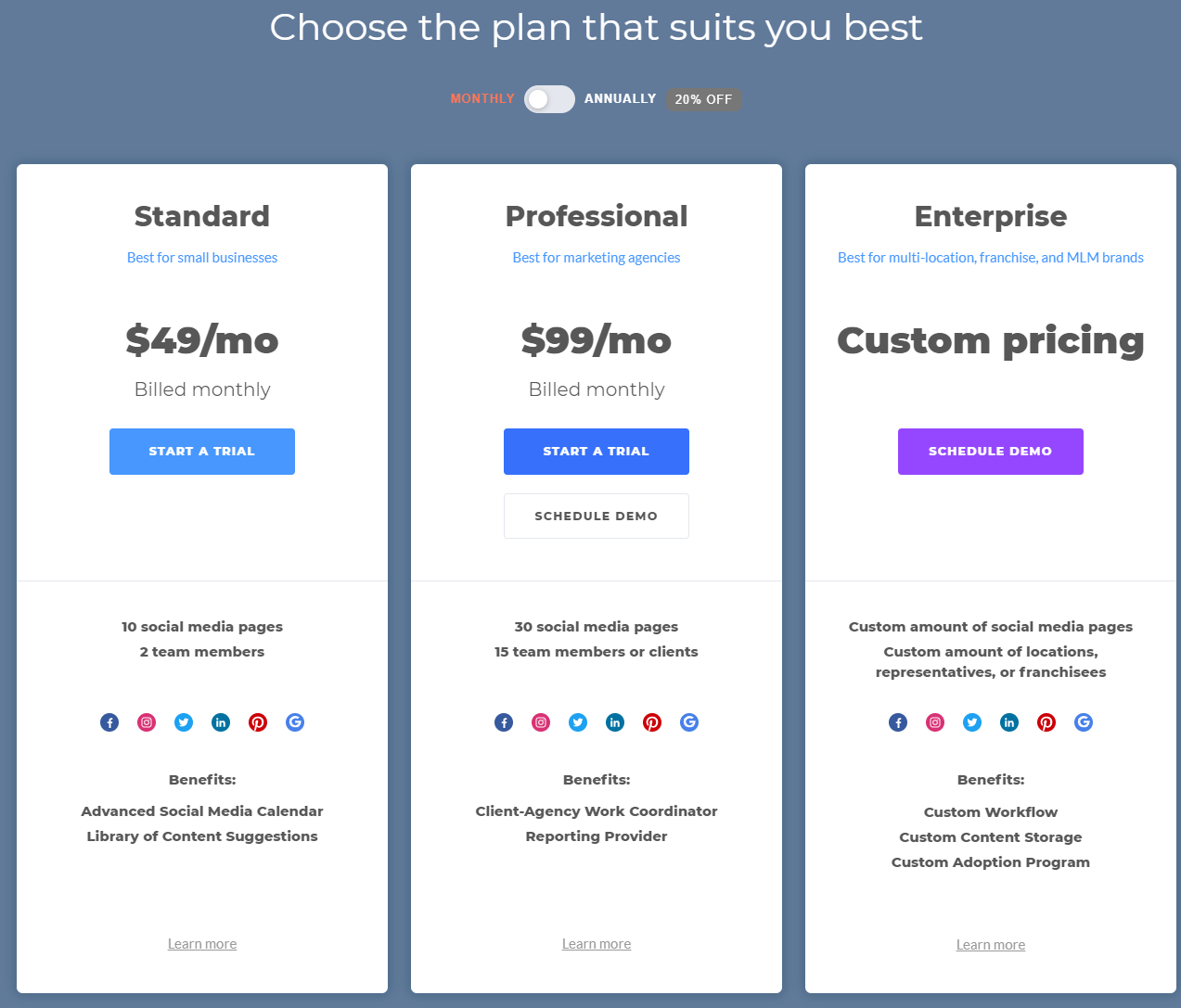 8. ContentCal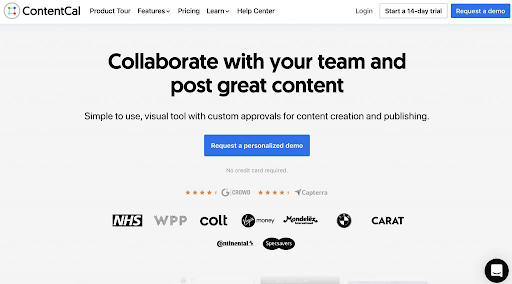 (Image Source: ContentCal )
ContentCal is an all-inclusive social media scheduling tool that consists of an in-built visual calendar. From the main view, you can schedule your posts, review post previews before publishing, and customize header colors, etc. 
It comes with integration for hundreds of apps that enables you to post on all your social media channels. You even have the option to perform analytics by tracking the performance of your posts.
How can ContentCal Help You?
Integration with

reputed collaboration tools

like Slack and Trello

Functionality to drag and drop posts through a pinboard to your calendar

Add custom tags to content for effortless categorization

Comprises of publishing calendar to gain a solo view of your content plan to get daily, weekly, or monthly view

Effortless organization of your blog content, emails, webinars, or press releases apart from your social content

Color code your content to better organize your themes, topics, and campaigns to make reporting simple

Utilize the analytics feature to understand the type of content that is working the best and the reason for it

Respond to comments and messages across social media channels from a unified inbox
Pros
Very cost-effective, especially for teams who wish to avail of similar features from reputed social media scheduling tools

Effortless customization of team workflow to meet the individual needs of your team

In case you have separate calendars, it is possible to have a distinct workflow approval system for each

The calendar feature in this social media scheduling tool is perhaps the highlight that makes you use this ingenious scheduler

Comes with an excellent planning feature where you can plan for posts ahead in the year for scheduling

You can add information to the scheduled posts, which can come in handy for your entire team

Ability to create "placeholders" that act as a digital sticky note and remind you of what's happening on the date before you are ready to create a post to schedule

For every campaign, you also get an area to add useful information,

videos

, or images that your team can use at a later date

Each campaign is given a distinct header photo to make it look different on the calendar

The planning feature is truly a blessing for teams as they no longer have to search for an email trail or Trello board; you can have a comprehensive correspondence trail right there using ContentCal

Consists of a "Pause All Content" button, which can be employed in case something has happened when you do not wish to post the content
Cons
While videos can be easily stored, they need to be redownloaded by each team member each time they want to use it

ContentCal is not compatible with Snapchat, Pinterest, or Facebook groups; however, you can still plan content in the planning boards in case it cannot be scheduled since there is no integration for these platforms

Analytics is not robust enough

The pricing is costly, particularly if you fall between the category of the Individual and the business plans

No presence of integrated link shortener
Unique Values
ContentCal really shines when it comes to managing the content process. Whether it is planning and creating to approve, schedule, and publish content, it is the best.
Pricing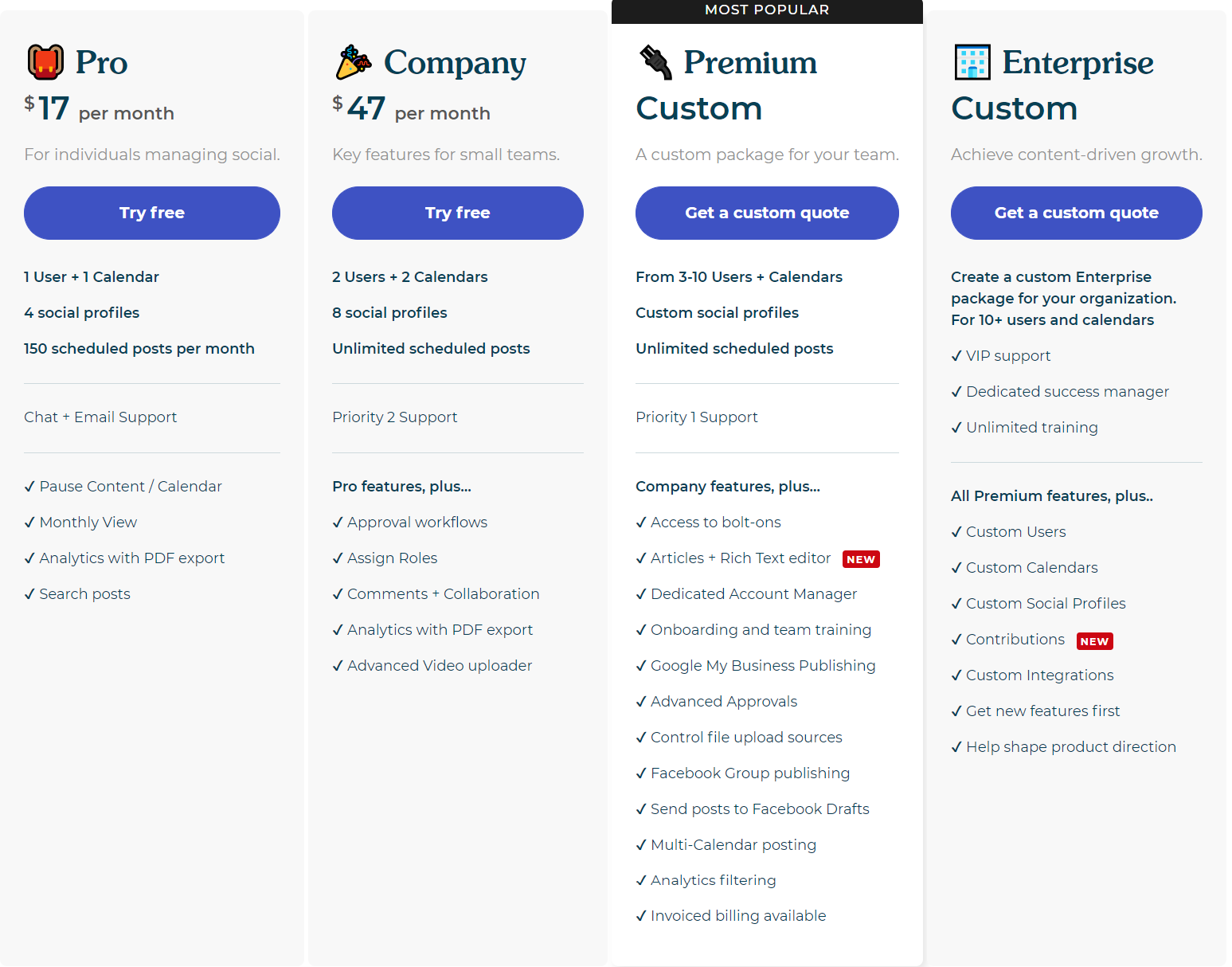 9. SocialOomph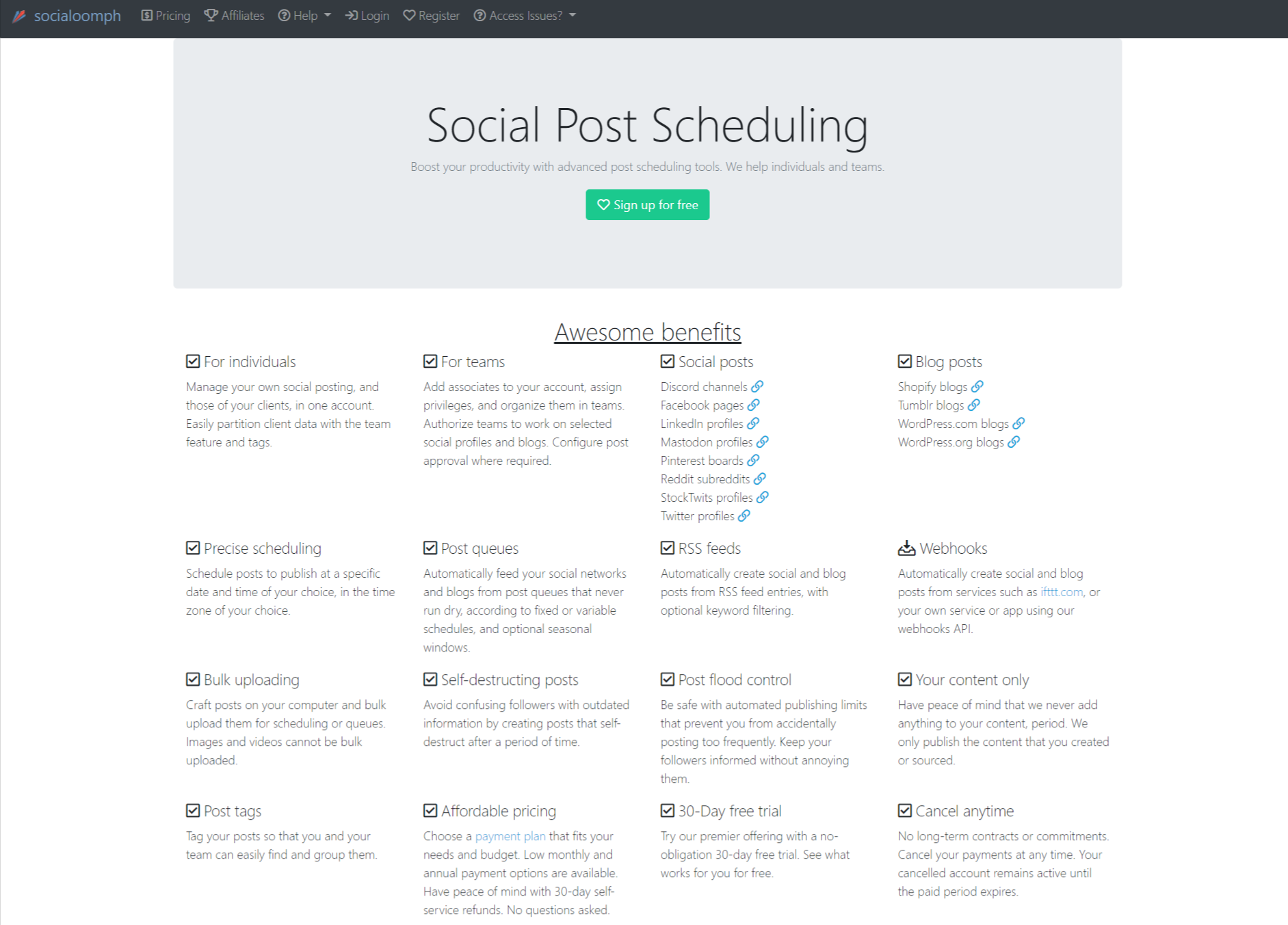 (Image Source: Socialoomph)
Socialoomph is a comprehensive social media scheduling tool that is tailored for individuals and teams. With its help, you can effortlessly manage your posts and even of your clients from a single account. 
Its team feature enables you to organize content by clients efficiently, and this way, post approvals can be effectively managed for your entire team. 
Socialoomph allows you to link up with different social and blog platforms like Facebook, Twitter, Tumblr, and Shopify.
How can SocialOomph Assist your business?
Lets you schedule social media posts on Facebook, Twitter, LinkedIn, Pinterest, Discord, StockTwits, and Reddit

Effortlessly schedule your blog posts on WordPress.com and .org, Shopify, and Tumblr

Create post queues

Comes with bulk uploading functionality

Consists of self-destructive posts feature

Ideal for individuals or teams
Pros
Saves a lot of valuable time

Exclusive features for social posting

Assists in

boosting followers on social media

Ability to automate the posting on social media

Assists in monitoring your activities on social media

Aids in scheduling posts in an effortless manner
Cons
Limited usability for Instagram
Unique Values
One attribute that makes Socialoomph different from other social media scheduling tools is its self-destructing (time-limited) updates for Twitter and Facebook 

Once you opt for this feature, it enables you to post updates to Twitter and Facebook that will get automatically deleted from your Twitter/Facebook feed after a specific period that you opt for.

It even gives you the option to set up periodic updates, which get published at regular intervals (hours, days, or weeks)

You can also opt for alternative text options to make each social media post different
Pricing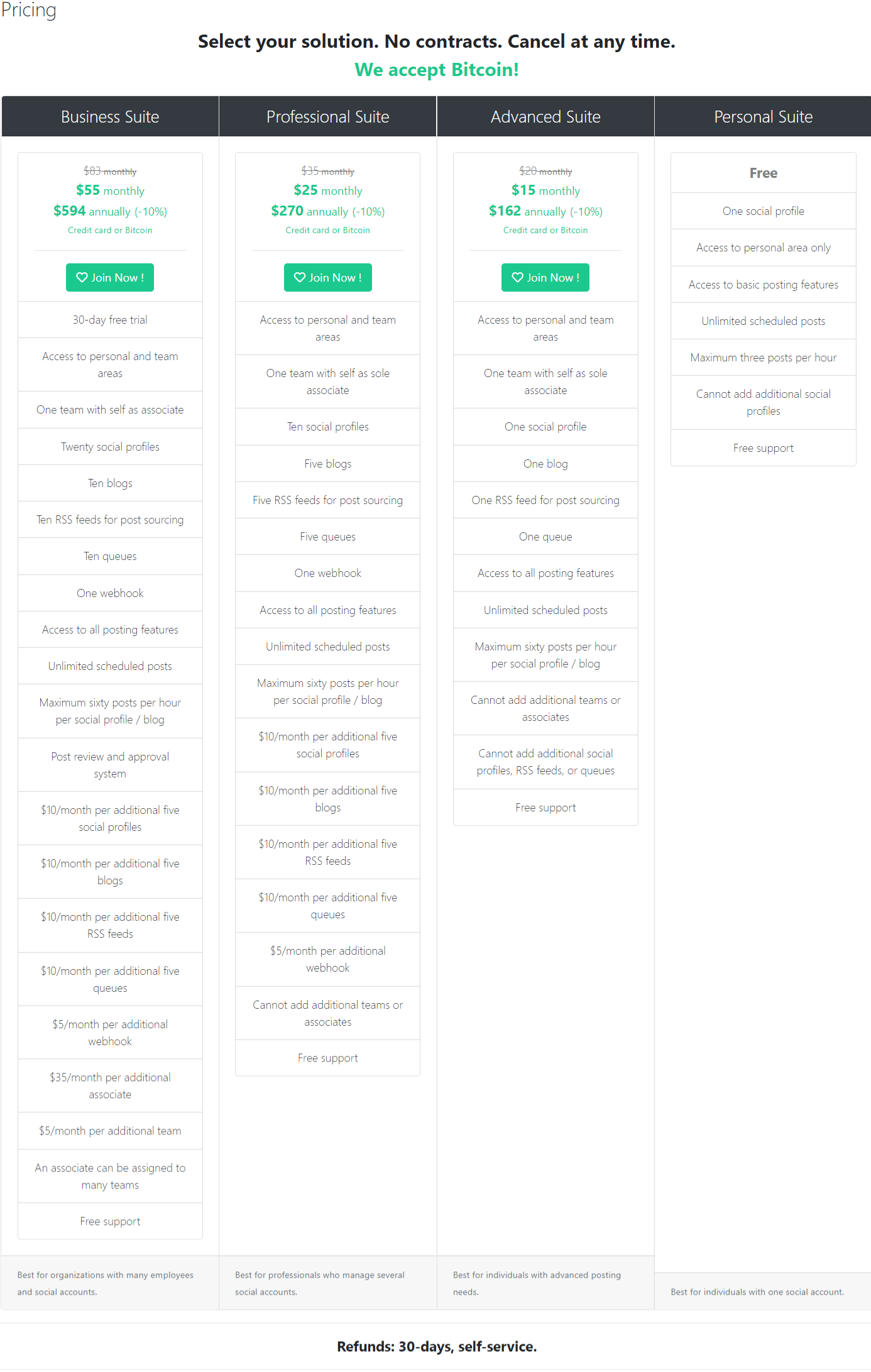 10. MeetEdgar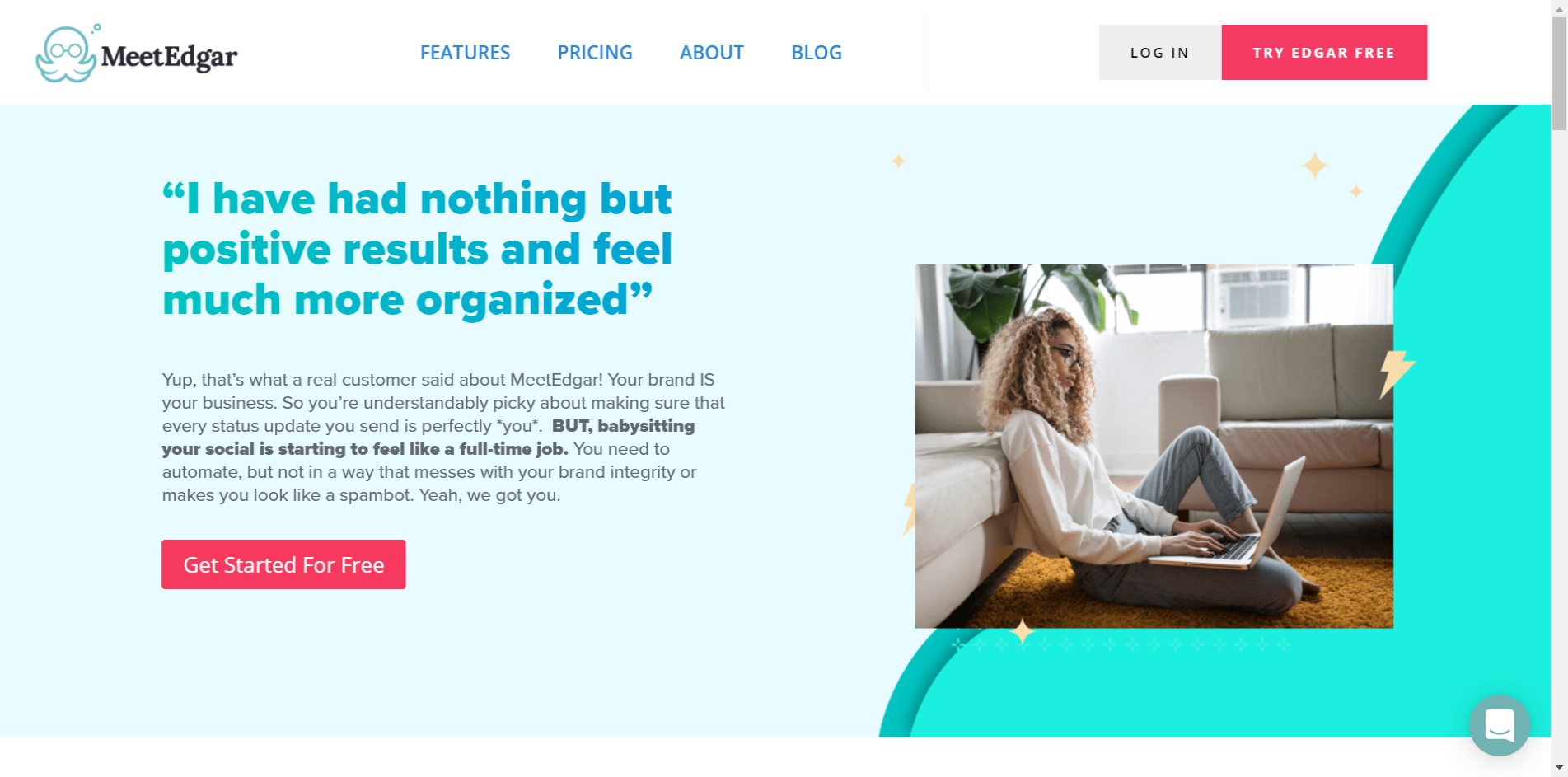 (Image Source: MeetEdgar)
MeetEdgar is a multi-purpose social media scheduling tool that makes it effortless to publish your content on Twitter, Facebook, LinkedIn, and Instagram. It lets you schedule, share, and recycle the posts you want when you want. 
You can employ its category-based scheduling like "Blog Posts on Tuesdays," "Inspirations on Friday," and "Motivations on Mondays." 
The particular thing is, each category has its own color-coded queue. This aids in seeing it at a glance what type of content is on the schedule. 
The good news is, it continues to publish and reshare content, even when you get to the end of the queue. It simply goes back to the onset and starts again.
How can MeetEdgar Assist Your Business?
Manually upload your content utilizing bulk import

Import blogs or articles automatically using an

RSS feed

Effortlessly organize your content with the help of color-coded categories

Schedule distinct categories for set times

Utilize auto-generated content to keep scheduled content fresh
Pros
Ability to organize content by category

Provides a constant flow of content for social media

Comes with a single login to post to all your social media accounts

Gives an analytics review of the posts

Set the post and forget about it

Keeps links to your old blogs in front of your audience, which ensures that the epic posts keep on getting the ongoing attention

Great for planned posts like a topic that talks about a specific topic on a particular day of the week, for example, #MotivatedMonday
Cons
Gives you the ability to post only on three platforms

No apparent access to manage the real conversations

Need to login to each platform individually to retweet, share, comment, etc.

Provides only a single-way control

Posts get added to a library with only a scramble option to select the order they wish to be posted in

Restriction over the number of posts that can be added to the library. 1000 for entry-level at $49 per month and 5000 for the second level at $99 per month. The more accounts to manage, the larger the plan you will need
Unique Values
Twitter rules prevent you from reposting the same content. This is where MeetEdgar has developed its 'Variation' tool that allows you to reshare the same content with a unique twist. It gives you the scope to add as many variations as you wish to keep your posts live & kicking. 

In case you are looking for motivation, MeetEdgar's 'Auto Variations' tool automatically generates a selection of quote-worthy text from already published blogs or articles that you can utilize
Pricing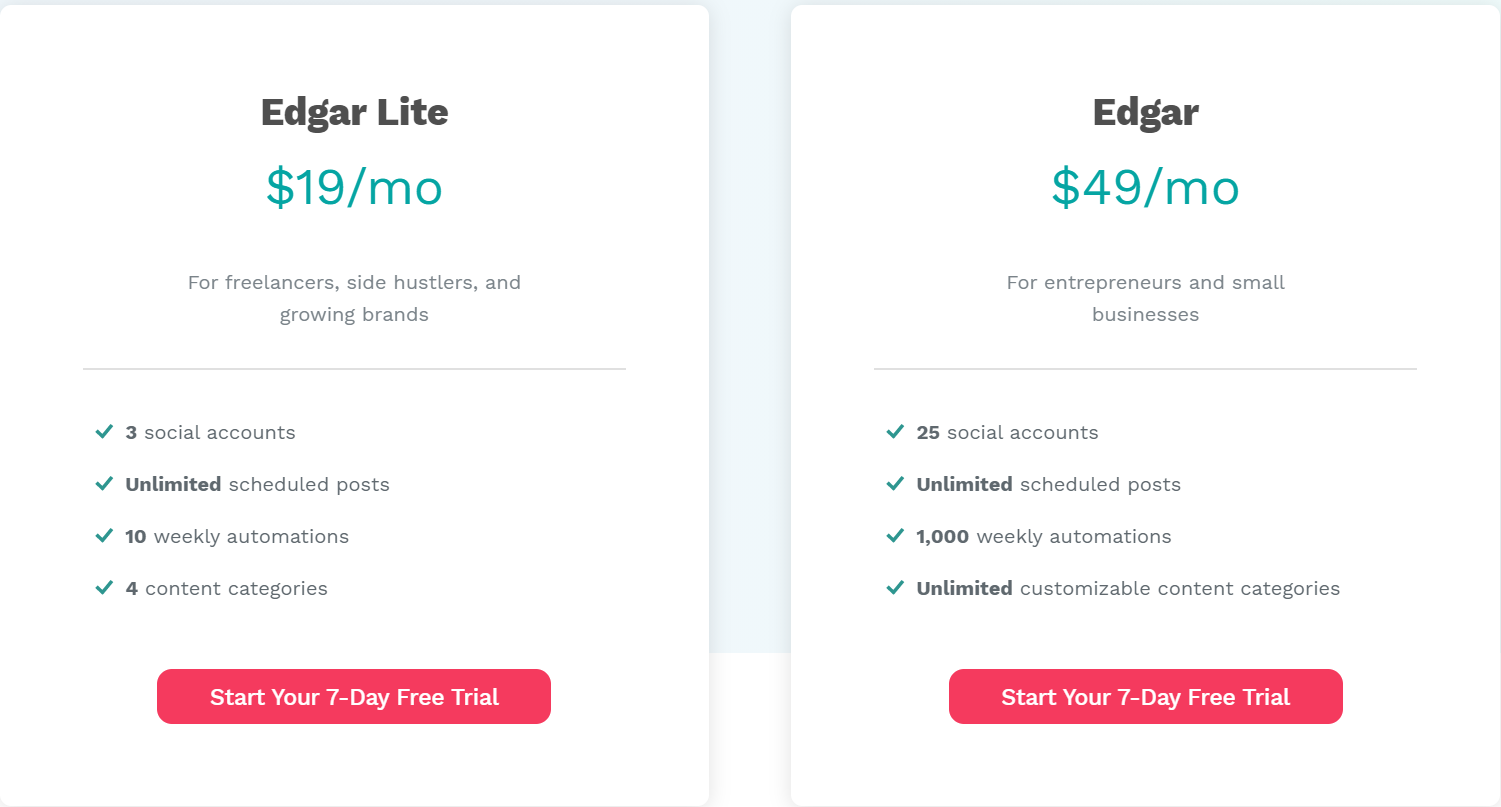 11. CoSchedule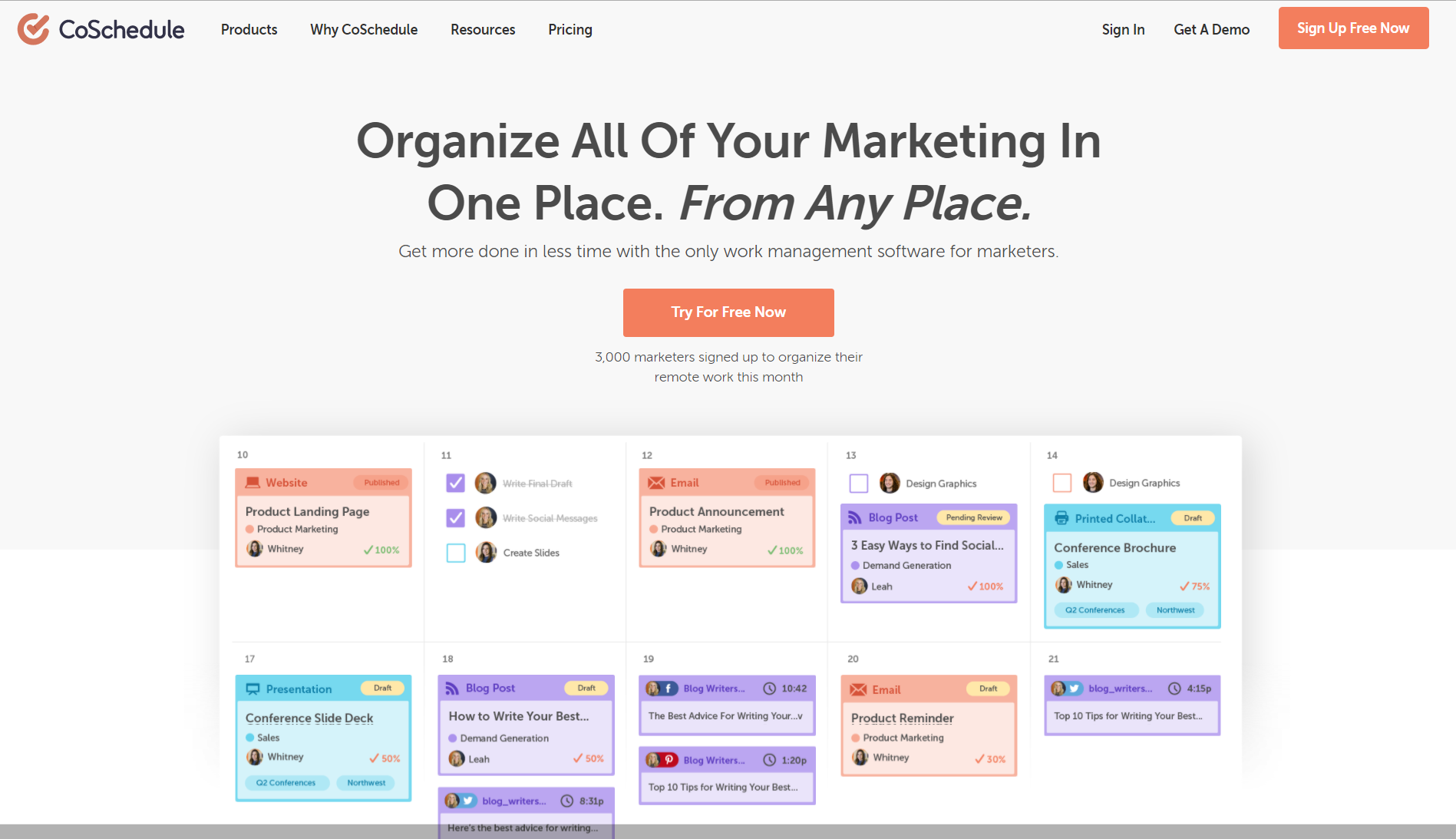 (Image Source: Coschedule)
Coschedule is an exclusive social media scheduling tool that concentrates on publishing. It is well-known for its content calendar feature. 
With the help of coschedule, you can easily manage your Twitter, Facebook, Instagram, Pinterest, LinkedIn, and Tumblr social media accounts. 
You can even integrate with blogging tools like Hubspot and WordPress, which aids in organizing and publishing your blogs directly from your Coschedule account.
How can CoSchedule Help You?
Real-time reporting and analytics at your fingertips

Comes with an editorial calendar

Helps in scheduling and publishing posts

Perform social media monitoring activities

Visually preview social media messages before sending

Re-promotion of most popular past posts
Pros
Ideal not only for individuals but also for marketing teams

Gives you the ability to combine with blogs and pages

Comes with a

user-friendly dashboard

Gives you the ability to create entire media campaigns

Popular content gets automatically "ReQueued" - in simple words, it means that it never totally disappears

Consists of a very effortless and clean user interface

Comes with a 14-day trial plan
Cons
Does not provide 24x7 support

Comes without review on page

Expensive

Users have to pay extra to avail of the Re-Queue feature

Social media analytics are not included, which means users have to pay extra again
Unique Values
What makes Coschedule unique is its ability to organize all its projects, including social media, content, events,

emails

, etc., all in a single place

Its ReQueue feature aids you automatically find optimal posting times and filling gaps in your social media schedule with your best posts
Pricing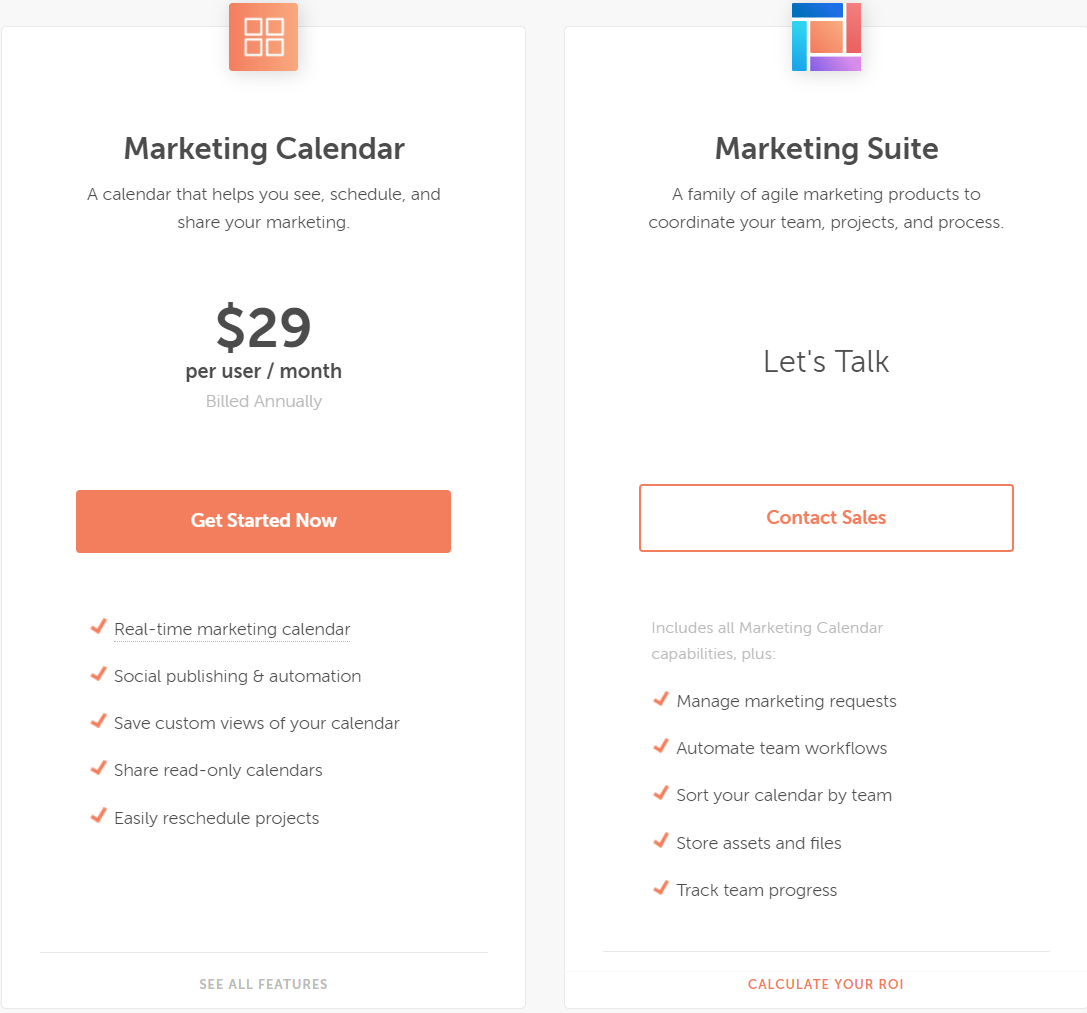 12. Tailwind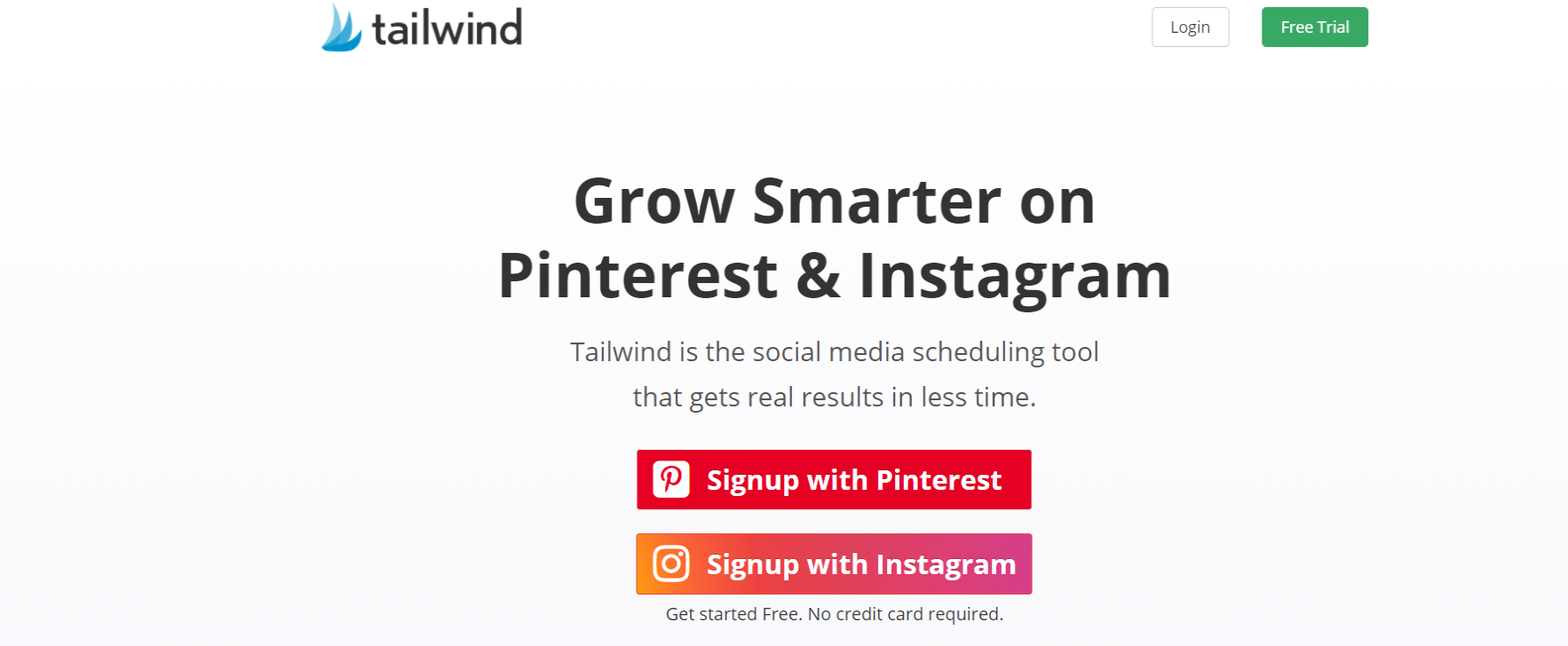 (Image Source: Tailwind)
Tailwind is one of the best social media scheduling tools for Pinterest and Instagram. It assists you in scheduling posts, monitoring conversations, and measuring results. 
Tailwind even provides recommendations for enhancing your Pinterest and Instagram performance. 
You can easily schedule your social media posts and even rethink and re-post with higher-performing social media content. It even consists of an image crop feature that enables you to post images of any size on different social media platforms. 
This is the best social media scheduler for influencer marketers. 
How can Tailwind Help Your Business?
Comes with a smart schedule that aids in selecting the time when your target audience is most engaged

Consists of features for scheduling posts, discovering content, monitoring comments,

analyzing trends

, and tracking results

Has a Hashtag Finder that recommends the hashtags to be used in your posts

Effortless to drop pre-saved lists of hashtags into posts
Pros
Suggested hashtag features are quite useful

Conducive for scheduling Pinterest pins

Ideal for batch working

Effortless scheduling of Pinterest pins

Effortless scheduling of Instagram posts
Cons
Does not come at a competitive price

Its load time is pretty slow
Unique Values
Tailwind is perfect for Pinterest and Instagram marketers. The reason being, it consists of a wide range of features specifically targeted to these social media platforms like Pinterest content promotion and Instagram

UGC content management

.

It comes with an interval scheduling tool that comes in handy to prevent the same pin from being published to different boards at the same time; you can keep a minimum time interval in between the pins

Consists of a smart loop feature that enables you to re-publish your old content to keep your traffic flowing

Comprises of Tailwind Tribes feature to find fresh content for your Pinterest account, enabling you to join tribes related to your own website

Comes with the Pin Inspector feature that saves your time scheduling pins by reflecting your best performing content
Pricing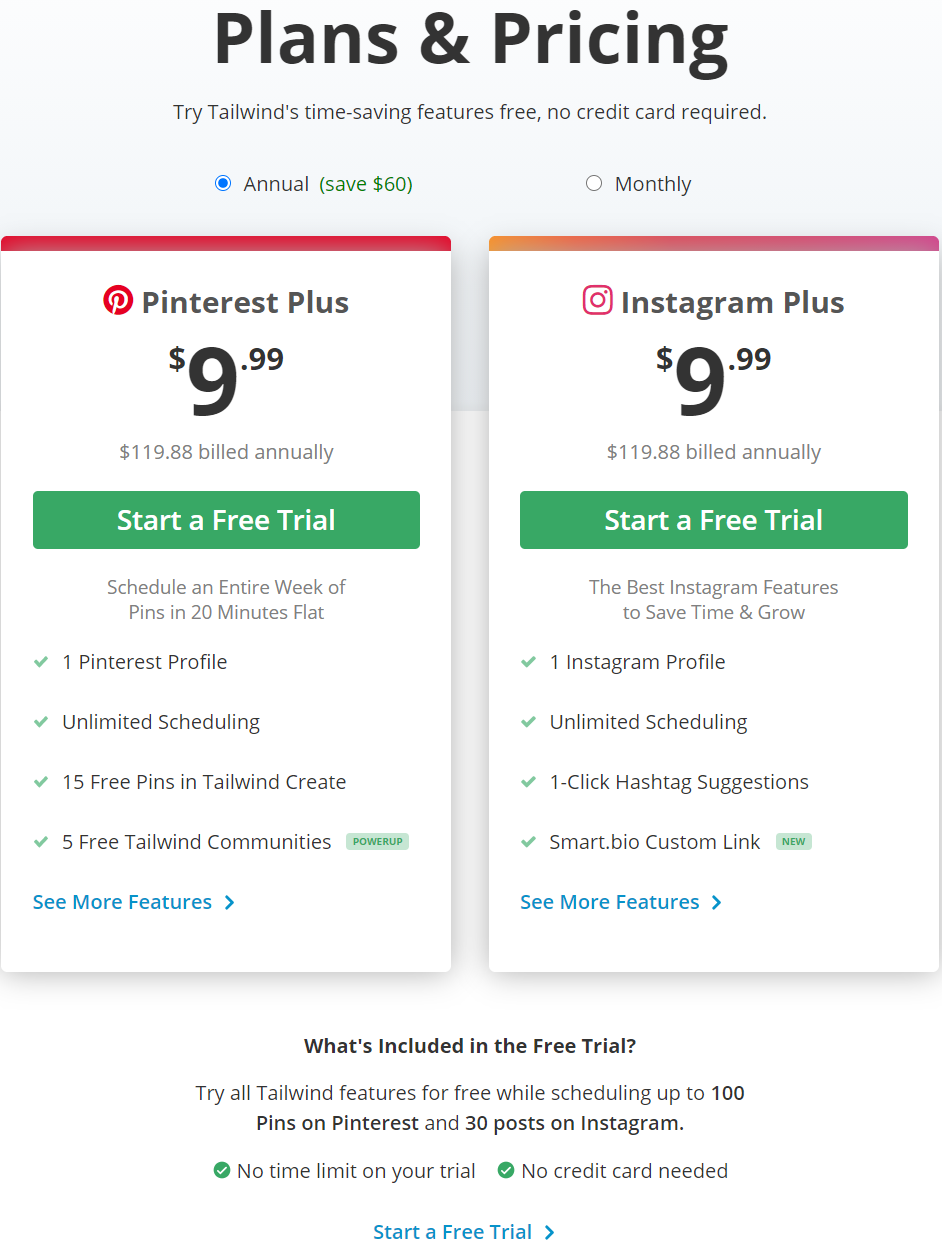 13. Everypost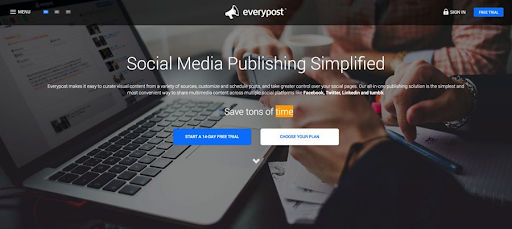 Everypost helps you create visual content that can be published on your social media profiles. You can even publish and schedule updates for Twitter, Facebook, Google+, Tumblr, and Pinterest. 
It also helps you customize your post scheduling and delete any previously scheduled posts you want to remove. Apart from this, you can also get analytics for your social media profiles. 
It lets you collaborate with other team members and customize curated posts before publishing them. 
The only problem is, Everypost does not have analytics or reporting capabilities. In simple words, it means that you cannot view how your content is performing or analyze other vital metrics. 
Here, you will need to use another analytics tool to prove the results to your clients.
How can Everypost Assist Your Business?
Helps in creating content from different social media platforms like YouTube and Flickr

Ability to customize post before posting on multiple social media platforms

Compatible with Facebook, Twitter, LinkedIn, Tumblr, Google+, Dropbox, and email

Posts to WordPress and Evernote through email

Helps in team collaboration
Pros
Enables you to publish your own videos from YouTube

Allows you to post to multiple social media accounts at the same time

Consists of a simple text editor

Gives you the ability to post pictures from your camera roll as well

Access previous posts at any given point in time

Makes it an effortless and straightforward task to add social media accounts
Cons
The interface consists of small fonts

The free version provides limited access to the number of accounts you can employ on each

social media service
Unique Values
Everypost is amongst a few social media scheduling tools that enable you to customize your social media post for every social media platform

With its visual content curation feature, you can effortlessly search for and attach the multimedia content you want

Consists of an exclusive functionality that enables you to post content without having a 140 characters restriction that most post schedulers have
Pricing
14. Crowdfire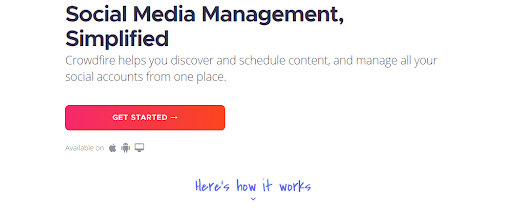 (Image Source: Crowdfire)
Crowdfire is one of the best social media scheduling tools for startups and entrepreneurs. Ideally, one would not like to hop between different social media posting tools to manage various networks. This is the main reason why I love Crowdfire.
It is branded as "the only social media manager you'll ever need," this platform lets you handle Facebook pages, Twitter, LinkedIn, Pinterest, and Instagram in a single flow. 
The ultimate objective of this smart post scheduler is posting and scheduling. Crowdfire aids you in searching for relevant content from across the web. With the help of its curation feature, you can effortlessly filter content by topic. 
Apart from that, you can even convert existing content on your website into shareable posts. This can come in handy, especially while promoting blogs and new products. 
The platform consists of a pop-up calendar that aids you in scheduling posts in advance. Alternatively, you can even enable Crowdfire to suggest the best time to share. 
Before posting, tailored previews provide a small preview of how your post will look on each platform.
To help you figure out your ROI, Crowdfire provides comprehensive analytics reports. Apart from the views, likes, and other standard metrics, you can even use the app to keep track of your competitors. 
You can even manage incoming replies, messages, and comments with the help of Crowdfire. With the help of a unified inbox, you can respond to people of all networks. Crowdfire is an all-inclusive platform for small businesses and startups. 
How can Crowdfire Aid Your Business?
Helps you to manage Twitter, Instagram, Pinterest, and LinkedIn

Consists of potent curation and scheduling features

Gives you the ability to share content directly from the blog, website, or even online store

Comprises of comprehensive analytics reports that encompasses competitor analysis

Allows you to handle comments and messages in a single workflow
Pros
Utilize the scheduler free for a maximum of two accounts of the same network. For example, two of Twitter, two of Instagram, two of Pinterest, etc. In case you need to post more than two, you have to pay annual subscription fees

Ability to get followers with a guaranteed growth to your social media accounts

Provides daily reminders to take action and perform the tasks

You can spend dedicated time to scrutinize the suggestions and recommendations it has in terms of growing your social media accounts
Cons
Crowdfire recommends your articles and images to share that have been posted by other Crowdfire members. This is a self-limiting feature, especially when you wish to share useful content in a small niche. Specific niches didn't exist at all on Crowdfire, which makes the whole recommendation feature useless

The only new followers you get are the ones who have followed tens or even hundreds of other people with no apparent intention of ever seeing anything that you post on social media accounts again

Does not allow more than three accounts to be registered on-site and on the application

Comes with unstable prices

The quality of their images shared degrades

Does not provide discounts for loyalty members

Does not have the ability to promote your blog in case it is on a self-hosting variety
Unique Values
Crowdfire is the very first social media scheduling tool that supports posting to Tiktok

You can use this fantastic post scheduler to post on every major social media network

It also enables you to share material to a larger section of blogging platforms, video sites like YouTube & Twitch, and online sites

Allows you to send automatic welcome DMs to new followers
Pricing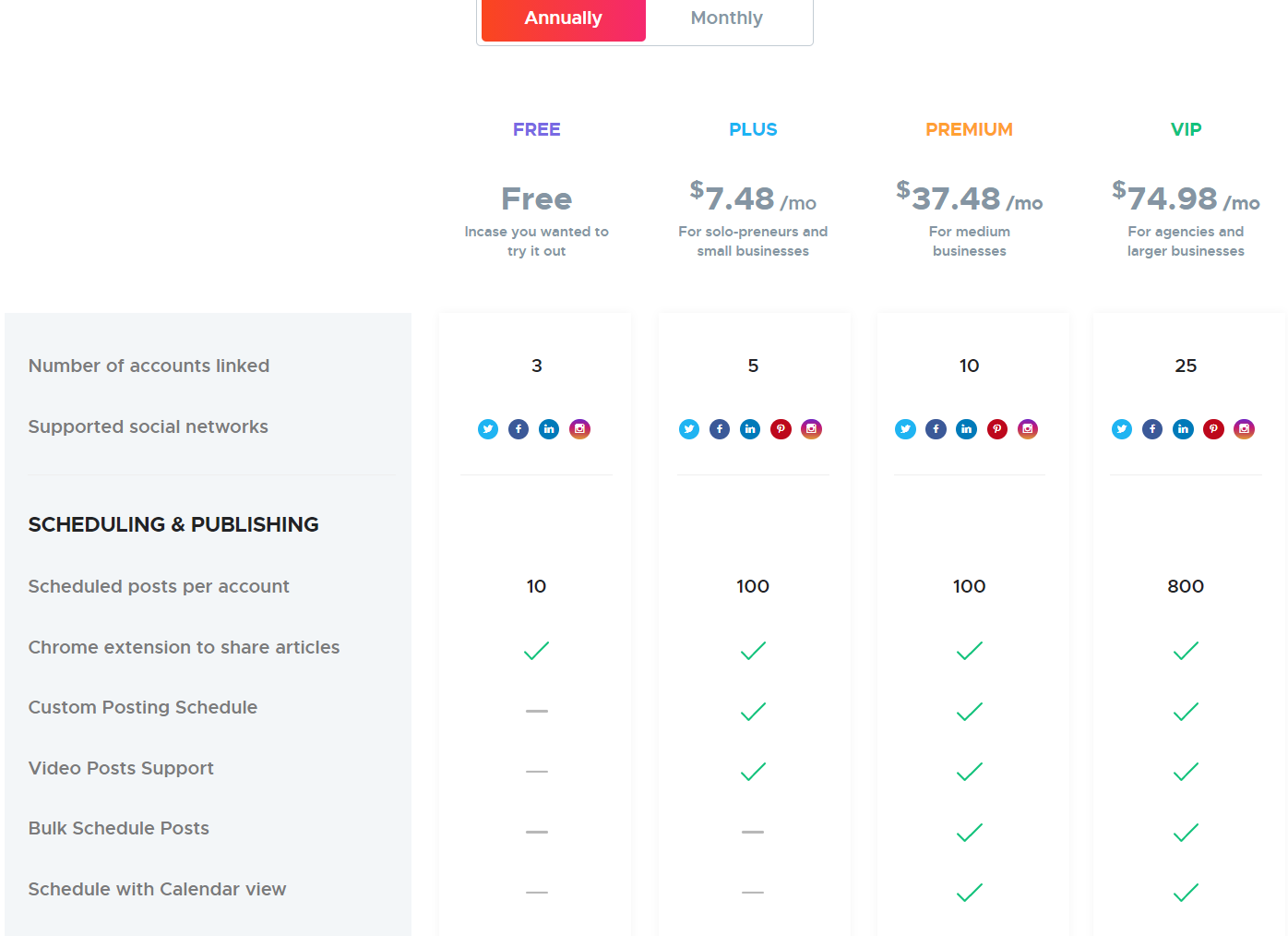 15. Later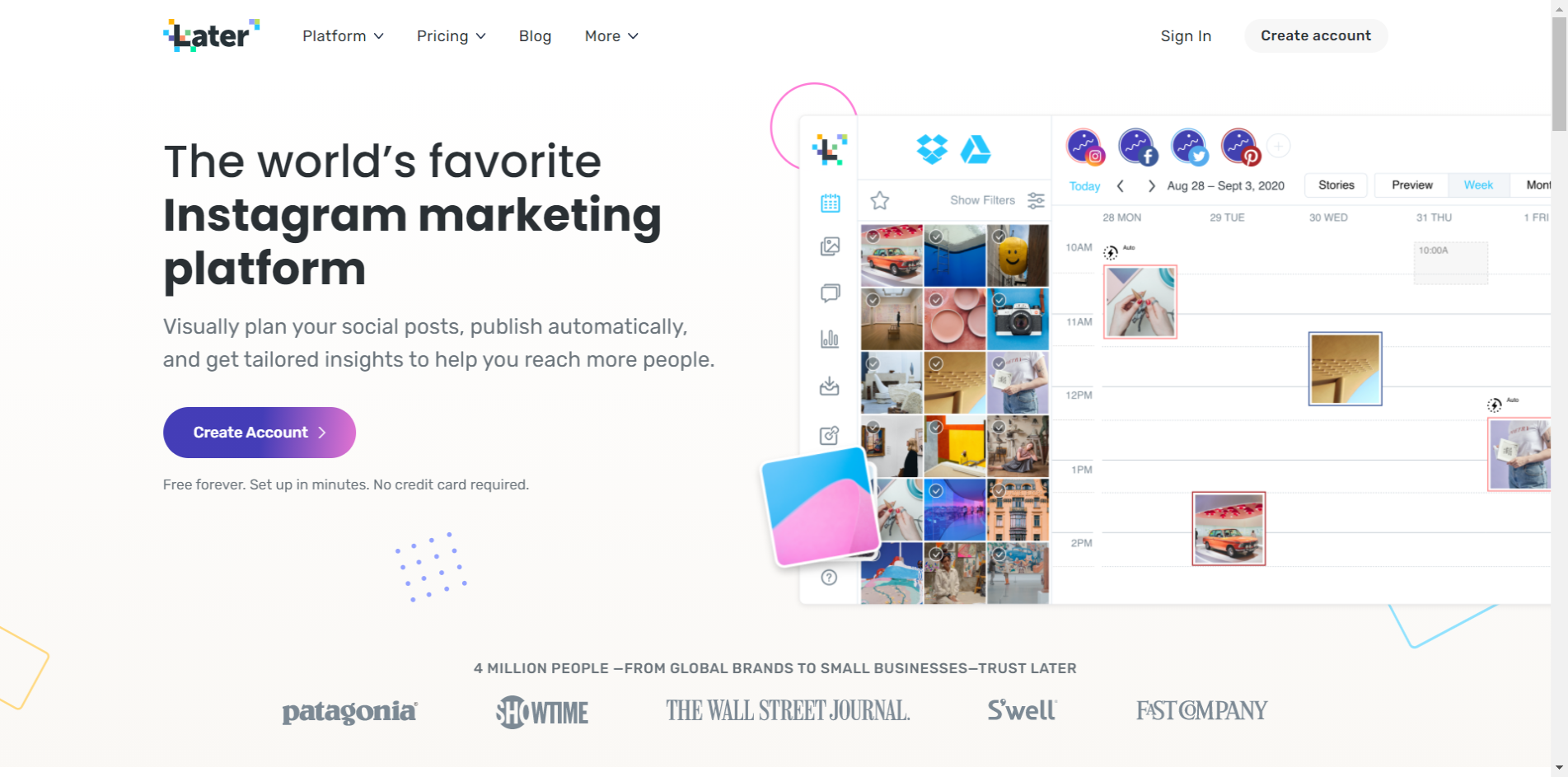 (Image Source: Later)
Later is one of the best social media posting tools that lays emphasis on Instagram. 
Unlike various other social media posting and scheduling tools, you start a post in Later by inserting an image instead of a text. You can upload the image to Later and then create the accompanying caption.
Due to Instagram's updated API, it can be tricky to set up Later to post directly on Instagram. However, once you have altered your Instagram account to either a Business or Creator account, the process becomes more straightforward. 
Later consists of a Media Library wherein you upload images, and they become available for future posts. 
It is even possible to add notes and labels to your media items and add a star to any image that you want to highlight. You can also filter your images in different ways. 
With the help of the Quick Schedule feature at Later, it becomes possible to drag-and-drop posts into time slots in your schedule. This is equivalent to a queue. 
Later informs you about your next available time slot in context with your media content. In case you have one of Later's business plans, it gives you access to Conversations.
With the help of Conversations, you can manage your Instagram comments directly inside Later.
How can Later Help Your Business?
Assists in post scheduling

Supports multi-account functionality

Comes with a monitoring feature to check whether your social media posts are successful in engaging customers

Utilizes auto-schedulers to assign social media posts at different times

Consists of a drag-and-drop design for easy use
Pros
Gives you the ability to pre-schedule everything 

Allows you to create Instagram posts from your computer

Ability to create long descriptions

Comes with a more regulated posting system

Free to use
Cons
Posts do not post automatically

Need to sign-out of multiple accounts and sign in to the appropriate social media account since Later does not read which account you are signed into
Unique Values
What makes Later unique from other social media scheduling tools is its visual content calendar

The good news is that it enables you to effortlessly drag-and-drop images to schedule them

It also provides a free link tool that can be employed on your Instagram profile to link to a shoppable Instagram feed or different websites and blog sites

Lets you select the option to see only the content you haven't posted or content that you've starred

Allows you to add labels to your images which can even be filtered only to see certain types of images.
Pricing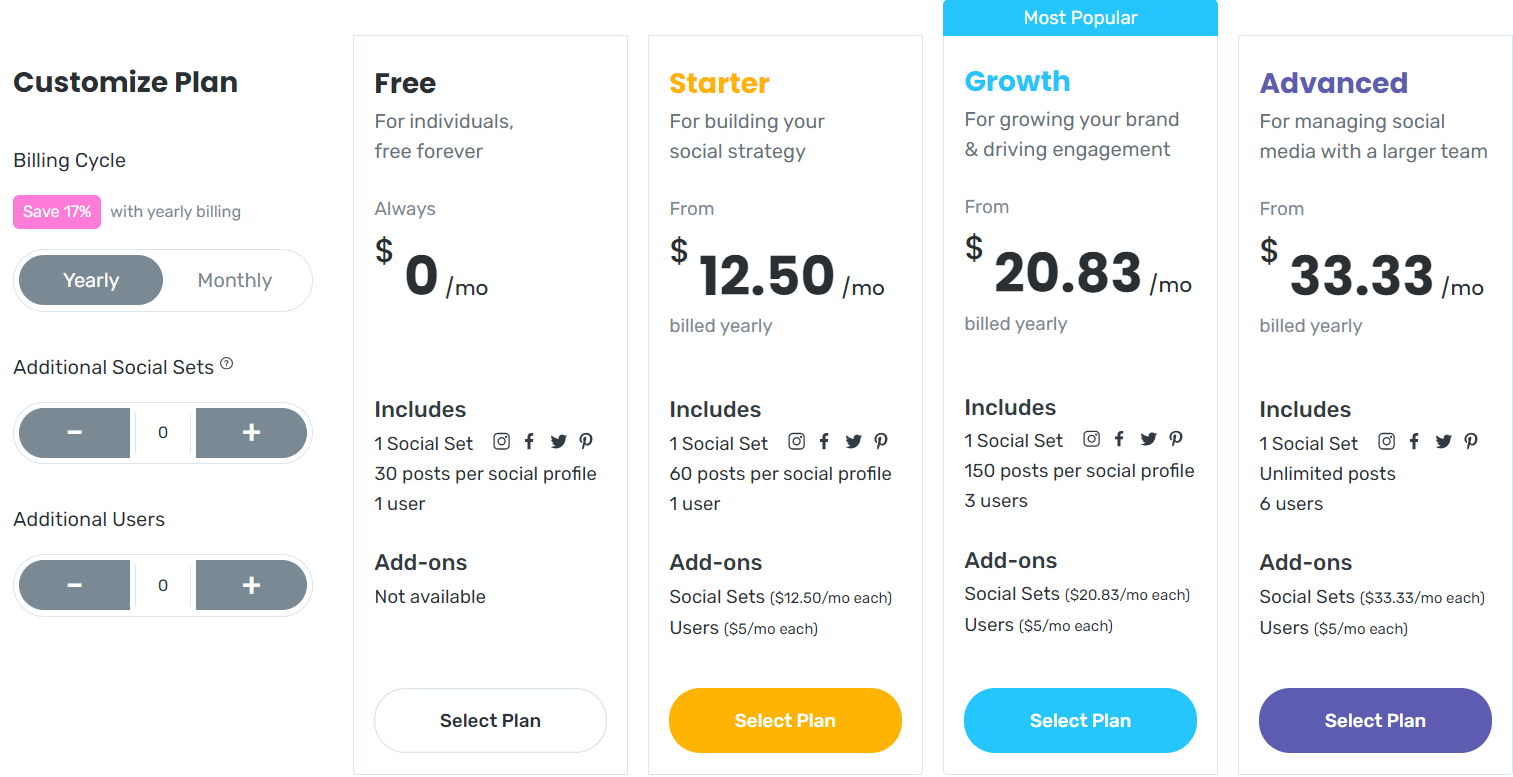 16. Planoly 
(Image Source: Planoly)
Planoly aids you in creating a cohesive Instagram feed and managing various social media accounts. It is one of the premier visual planning and marketing solutions for brands and influencers on Instagram. 
With the help of Planoly, you can easily plan, curate, schedule, and post automatically to Instagram. 
Being an official Instagram partner, it provides you with advanced Instagram features and integrations that help you with Instagram marketing. Ultimately, this results in maximum growth in the quickest possible time. 
With Planoly, you can rest assured that your account is optimized for Instagram. It also follows current Instagram's best practices. 
On top of that, you can use this amazing social media scheduling tool to manage, plan, and schedule content for Twitter, Pinterest, and Facebook.
How can Planoly Help Your Business?
Functionality to drag & drop your content till you're satisfied with the look

Ability to schedule posts in advance

Helps you in auto-posting images and videos

Helps you in the auto-posting first comment

Assists in product tagging and location tagging

Suggests the best time to post

Comes with a comment inbox

Easily manage multiple Instagram accounts

Find out relevant content with the help of usernames or

hashtags

Report user-generated content in a single click

Utilize the Linkit feature to create a beautiful micro-landing page with multiple links

Aids in scrutinizing your audience, post, and story engagement
Pros
Enables two social profiles

Integrates basic metrics

Effortlessly manages photos and videos

Does not expire

Allows to schedule a maximum of 60 posts in advance
Cons
Comes with a limited inbox

Can be used by one user only
Unique Values
Unlike other social media scheduling tools, you can do much more with Planomy

With the help of the Comment Inbox feature, you can effortlessly manage and reply to comments directly from the tool without requiring to log into your Instagram account

Its Linkit feature allows you to share multiple links in your Instagram bio

And in case you sell physical or digital products, its Sellit feature enables you to create a social storefront to sell anything to anyone using a single link without needing a typical website!
Pricing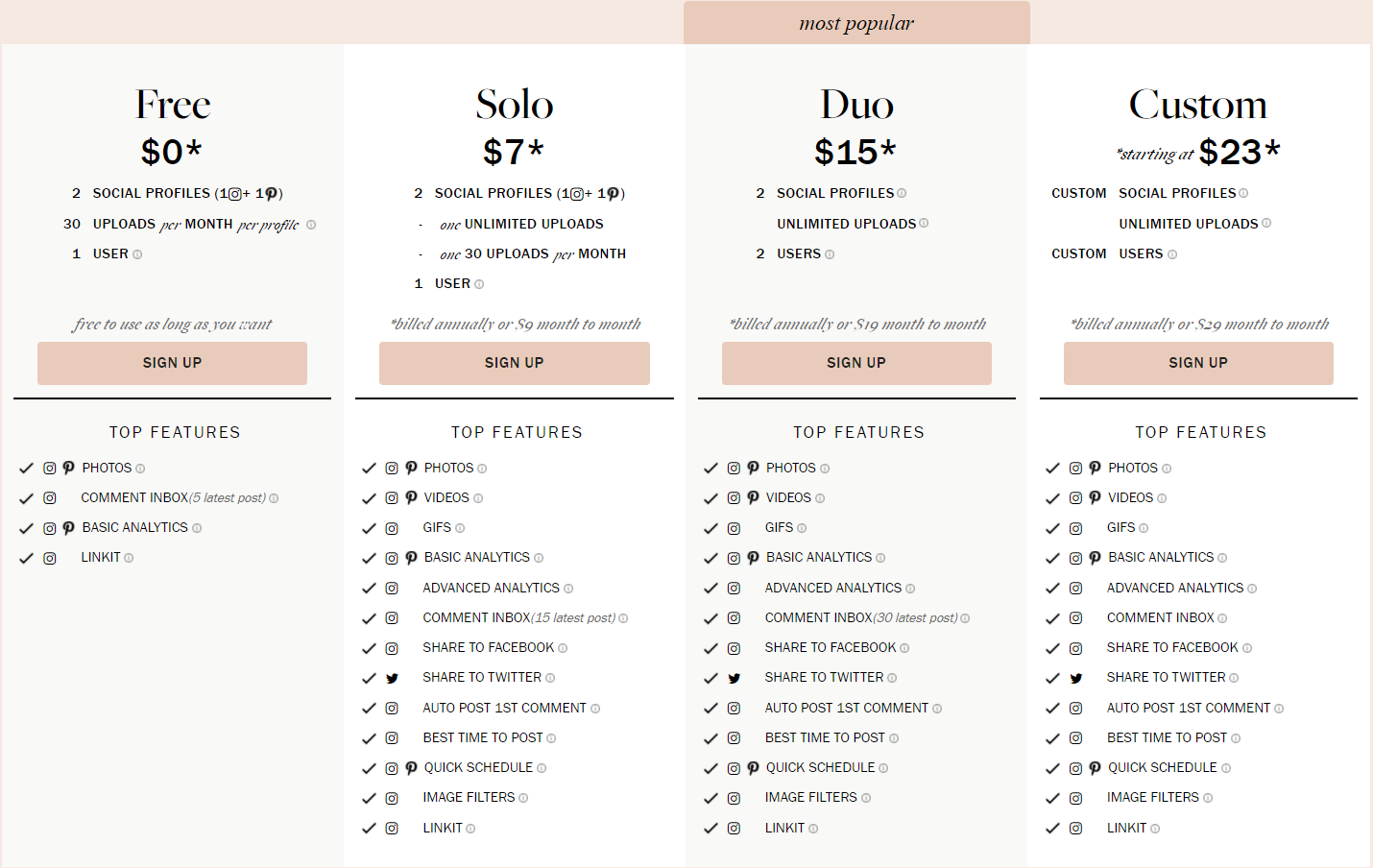 17. Feedly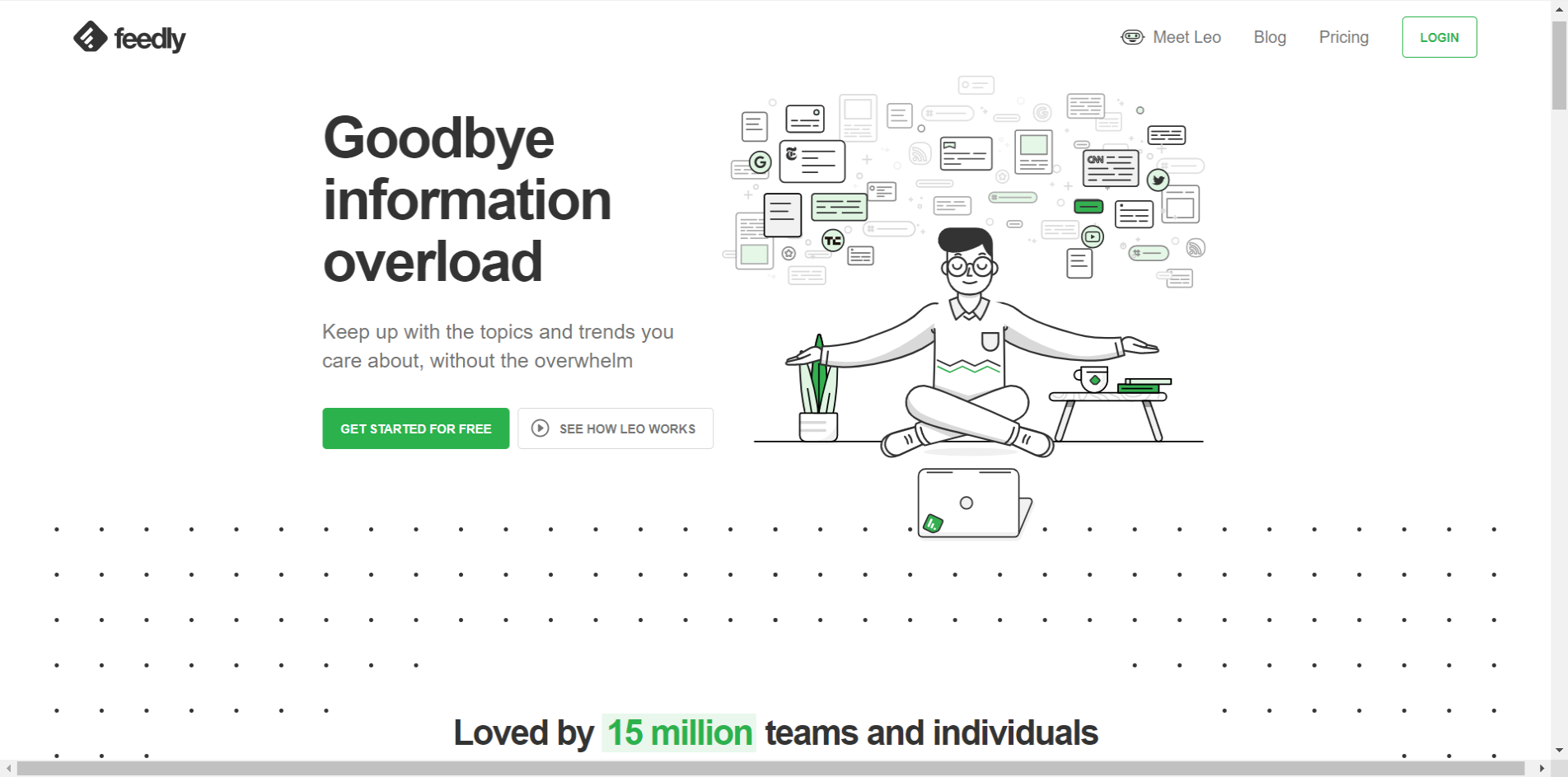 (Image Source: Feedly)
Feedly's platform lets you automatically curate content to fill up your social media calendar. One of the biggest challenges of social media scheduling is, no doubt, content curation. It can be a tiring process to dig out fresh pieces of content. The other thing, you do not want to post your stuff on a regular basis solely. Do you? This is where Feedly comes in handy. 
You do not have to waste your time scrambling for news or searching for relevant pieces to publish to your target audience in-between your scheduled social media posts. Feedly does this task for you!
The good news is that Feedly instantly integrates with Sprout Social. Isn't that amazing?
How can Feedly Assist Your Business?
Helps you with social media content discovery with ease

Assists in social media scheduling

Comprises of social media analytics to analyze your social media activities

Comes with a social media team management feature

Enables you to automate your social media platforms like Facebook, Twitter, LinkedIn, and Pinterest

Integrates with Buffer
Pros
Comes with a clean, easy-to-navigate RSS reader

Utilizes Facebook and Twitter to showcase links

Gives the users the ability to tag stories

Consists of a site discovery tool

Recommends great articles

Provides multiple choices of layouts

Supports a list of UI similar to Google Reader

Its extension allows users to add feeds directly from websites

Users can easily curate pages, save them to Evernote or Facebook, email, or Tweet pages

Enables users to create unlimited Boards (sets/collections/folders) at a premium price and utilize them to organize their saved content.
Cons
No push notifications are available

Log-in can be quite a struggle as the site becomes unresponsive and force closes at times

Provides only a few basic free features with a long list of paid-only features

Does not have the ability to filter a feed through keyword as a lot of RSS readers do

No offline support with the official client

Users are forced to log in using their Twitter, Microsoft, or Google credentials

Past issues with hijacking page views from original publishers

Does not provide the option to sort feeds within a folder, and moving feeds between folders is a difficult task, especially in case you have lots of content

Comes with a slow interface
Unique Values
It integrates with other scheduling tools as Buffer and Hootsuite mentioned in this list so that you can share and schedule your posts from directly within the dashboard

Another good thing about Feedly is that it allows you to keep a tap at other

influencers

by following their blogs or keeping a tap at the industry news by adding all those RSS feeds to Feedly and seeing them all there! Isn't that a great time-saver feature?
Pricing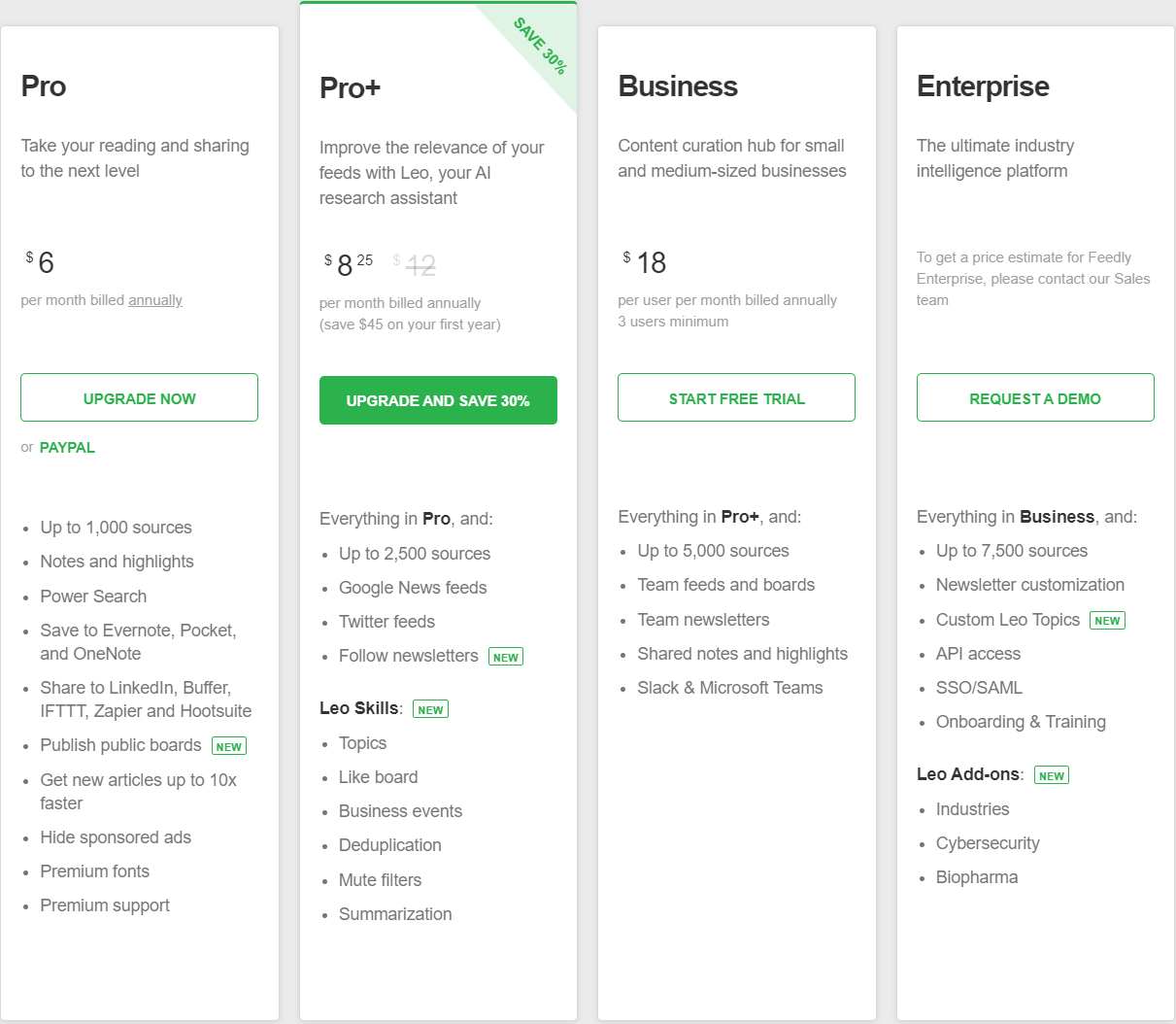 18. Sked Social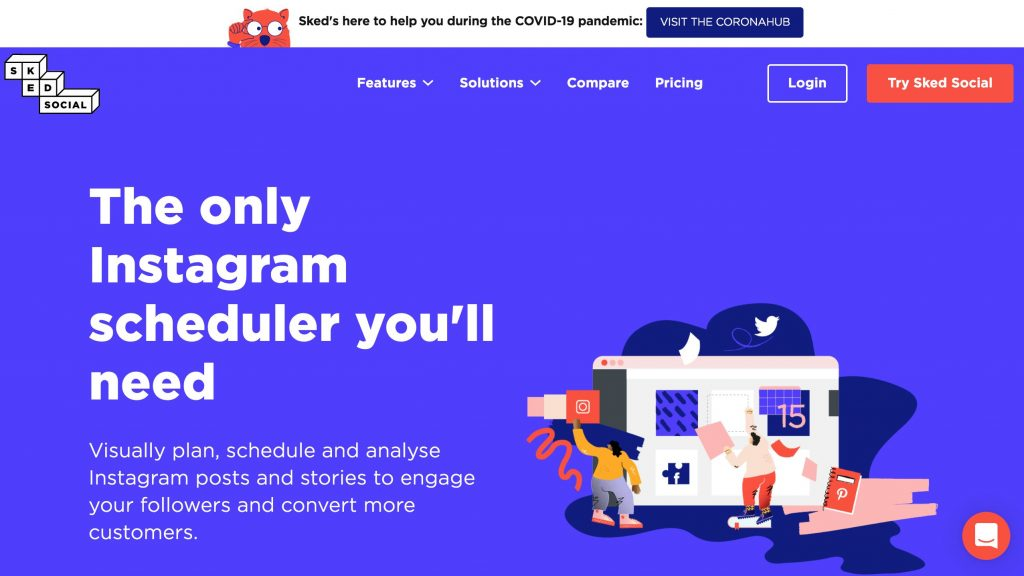 (Image Source: Sked Social)
Sked Social, formerly known as Schedugram, is a time-saving social media scheduling tool. This Instagram scheduling tool enables users to auto-post, schedule & track the post's performance and measure the ROI of social media efforts compared to the target set. 
Like most Instagram posting tools, Sked Social provides bulk uploading of content. It comes with an all-inclusive in-app photo editor that allows users to edit both text, filters and even add stickers and fun overlays to images. 
Apart from posting on Instagram images, Sked Social will enable users to post onto Facebook, Twitter, stories, carousels, and videos.
How can Sked Social Help Your Business?
Enables automatic publishing 

Consists of a beautiful visual planner to maintain the aesthetic in your feed

Suggests the best time to post and what hashtags to use to ensure maximum engagement

Allows bulk upload directly from Canva and Dropbox

Allows you to schedule, upload, and automatically post video content to your Insta story

Comes with

Instagram analytics

to gauge the growth and engagement that your account is getting

Compatible with iOS and Android mobile apps

Find & repost content with a single click

Unlimited team members can access the Sked Social account

Helps you set a Sked bio link in your Instagram account, which showcases multiple destinations for your user to go
Pros
Ability to schedule Instagram, Twitter, Facebook, Google My Business, and LinkedIn on a single website

Schedule Instagram stories

With the help of Instagram Feed Planner, users can easily drag and drop to visualize their future posts in comparison to others

Sked's Instagram Management Tool comprises of a built-in Photo Editor which enables for adjusting shades of color, contrasting of clients' photos, exposure levels, and applying various filters

Enables for bulk uploading and queuing of posts

Provides advanced analytics for every feature employed for future improvement

Gives you the ability to provide relevant hashtags suggestions that best suits your posts and target market

Provides unlimited Team Member Collaboration on a single account
Cons
Does not schedule

Instagram IGTV

, a popular IG feature that attracts the algorithm

Cannot scrutinize Facebook and Instagram messages

Monthly subscription fees on this platform are higher in comparison to Hootsuite or Later
Unique Values
What makes Sked Social different from other social media scheduling tools is its ability to post stories automatically on your Instagram account

It enables you to customize (crop, filter, or edit) images for bulk sharing

Allows you to upload to multiple Instagram accounts through an easy-to-use interface
Pricing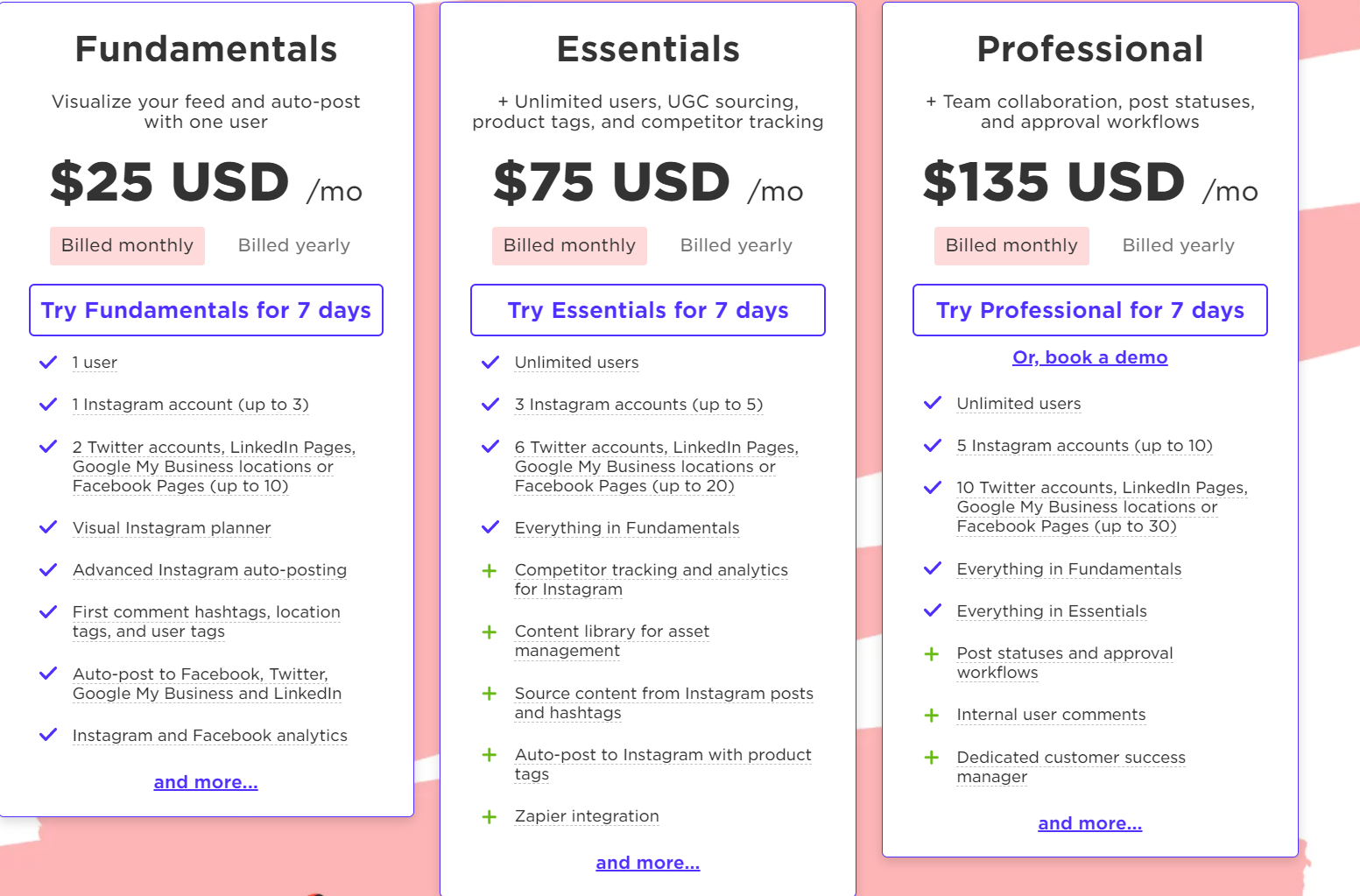 19. Zoho Social

(Image Source: Zoho Social)
Zoho Social is a reputed social media scheduling tool that aids businesses and agencies in enhancing their online presence on social media. It is a perfect social media solution for organizations looking to grow their online presence. 
With this platform, businesses can reach the right target audience at the right time and engage them with the right messages. Users get the opportunity to manage multiple social media accounts and schedule posts effortlessly.
Your social media team also has the opportunity to collaborate with multiple accounts using the same standardized dashboard. It even assists you in tracking your ROI over social media. 
It aids in publishing relevant content to your target audience in an effective manner. You can make more informed publishing decisions with the help of data analyzed by Zoho Social's prediction engine. 
Businesses get the opportunity to understand the market's pulse and sentiments surrounding their products, services, and brands. 
You can avail of these data in the form of reports that can be shared with your social media team, other departments, or senior executives. Zoho Social is compatible with Instagram, Twitter, Google+, Facebook, and LinkedIn. 
You can even utilize it in an integrated way with Zoho CRM and other modules in the comprehensive Zoho Suite.
How can Zoho Social Help Your Business?
Offers the best time slot to schedule your posts thanks to its SmartQ feature that finds out when your target audience is most active

Consists of

CRM integrations

where you can engage with prospects and generate potential leads from social media

Comes with an integrated content calendar

Create automated reports to deliver in your desired format and frequency of your choice

Include team members in your delivery list and add a personalized message

Comes with a zShare browser plugin that lets you curate exciting articles as you discover them

Helps in monitoring and publishing your social media posts
Pros
Effective in managing your content pipeline with the help of a single screen

Comes with a SmartQ predictions feature that informs you when to post based on when your audience is most active

Comprises of the bulk scheduling feature that saves time and enables you to concentrate on your core business

Ability to create columns to track reviews, keywords, and mentions in such a way that you always stay on top of what people are saying about you

The live stream feature lets you see engagements as and when they occur

Gives you the option to pay subscription fees annually instead of monthly to save money
Cons
Does not allow you to post to Pinterest using Zoho Social

Like all other free social media management tools, you need to pay to upgrade to access the features that will allow you to grow your brand on social media
Unique Values
What makes Zoho Social exclusive from other social media scheduling tools is its zshare browser extension that allows you to directly share

social media posts

from the web through Facebook post scheduler and more

Comes with a SmartQ prediction engine that utilizes integrated data to customize the messages, media, and posts on the basis of the liking of the audience in such a way that they can be published at a time when your target audience is active
Pricing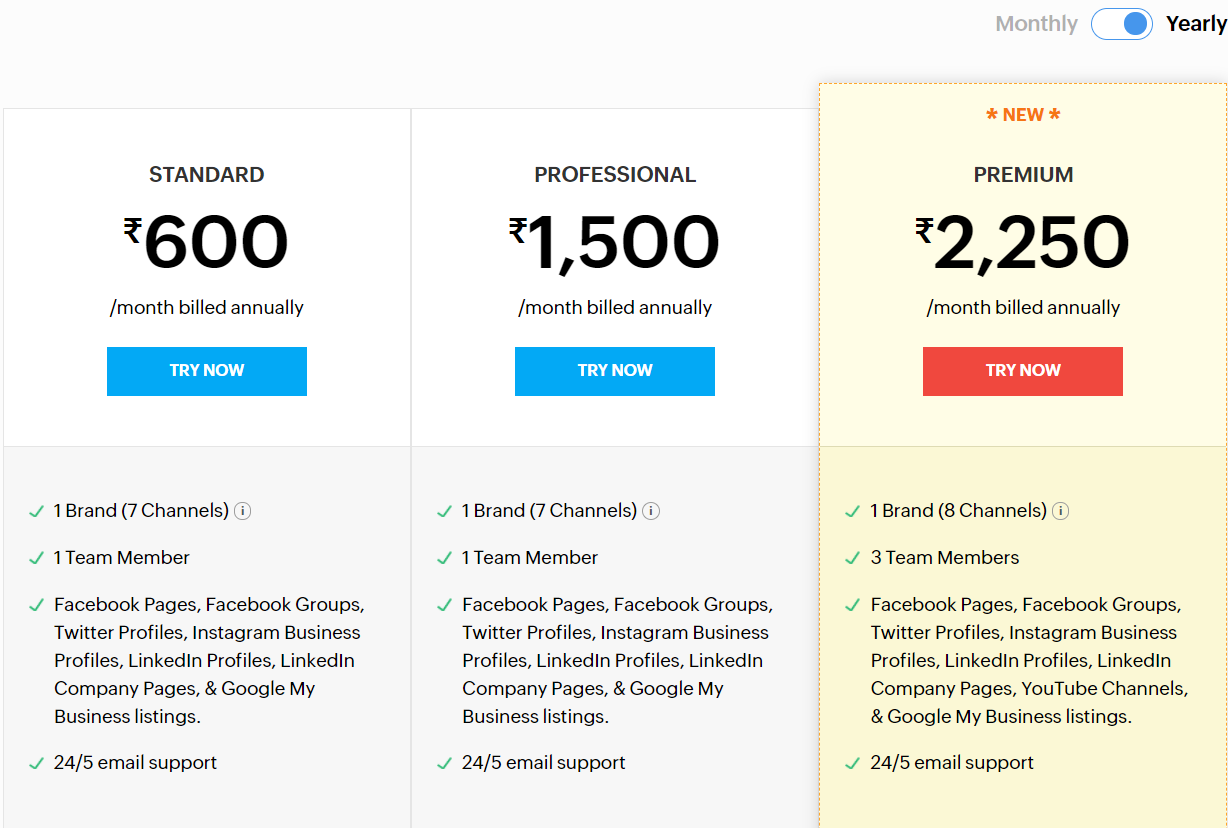 20. SocialBee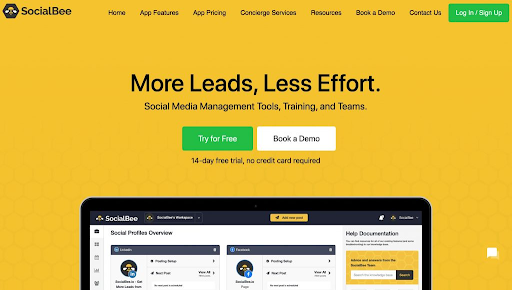 (Image Source: SocialBee)
SocialBee lets you concentrate on content more and its scheduling aspect less. It is an excellent social media scheduling tool that focuses on scheduling posts to different social media platforms. It then scrutinizes their performance later. 
Unlike Hootsuite, SocialBee does not contain features like social media listening and engagement, content curation, A/B testing of posts, and PDF report generation.
The good news is that SocialBee comes with its mobile application for performing social media management on the go. 
It lets you assign posts into categories, making it easier to schedule different types of posts instead of granularly set them. However, you can even put them individually if you wish. 
Since setting posting schedules is a tiring process, this feature is a huge bonus. SocialBee notifies you in case the scheduled posts get over or anything goes wrong. 
It enables you to study your competitors' followers on Twitter and recommend good ones. Then the next step is to reach out to them and build your engagement. 
How can SocialBee Help Your Business?
Schedule all posts across reputed social media platforms

Segregate your content into categories for optimal posting mix

Utilize content automation post variations and evergreen recycling to save time and reuse the best content

Connect your RSS feeds to social media profiles to share content when a new blog gets published automatically

Create a workspace and add accounts to share content for a specific client

Schedule posts on Twitter, Instagram, Facebook, LinkedIn,

Google My Business

, and Pinterest

Comes with collaboration tools

Enables you to set post expiration dates

Check post previews

Comprises of hashtag collection

In-built audience analytics
Pros
Comprises of solid content scheduling features

Aids users to scrutinize their competitors using Twitter

Allows you to import posts from the Pocket app, making it a highly innovative social media scheduling tool

Avail at cost-effective pricing

Compatible with third-party shorteners like RocketLink and Switchy
Cons
The mobile app of this social media scheduling tool consists of limited features

Not an all-inclusive social media scheduling tool

Does not comprise PDF reporting

You can track competitor analytics that is limited to Twitter

Does not provide the option to perform A/B testing of social media posts
Unique Values
SocialBee consists of Concierge services that assist in maximizing your social media presence, including  hiring social media specialists, content writers, guide creators, community managers, Twitter community managers,

LinkedIn lead generators

, hiring them, and saving you valuable time

It notifies you in case you run out of scheduled posts or something goes wrong

It enables you to study your competitors' followers on Twitter and recommend potential good ones.
Pricing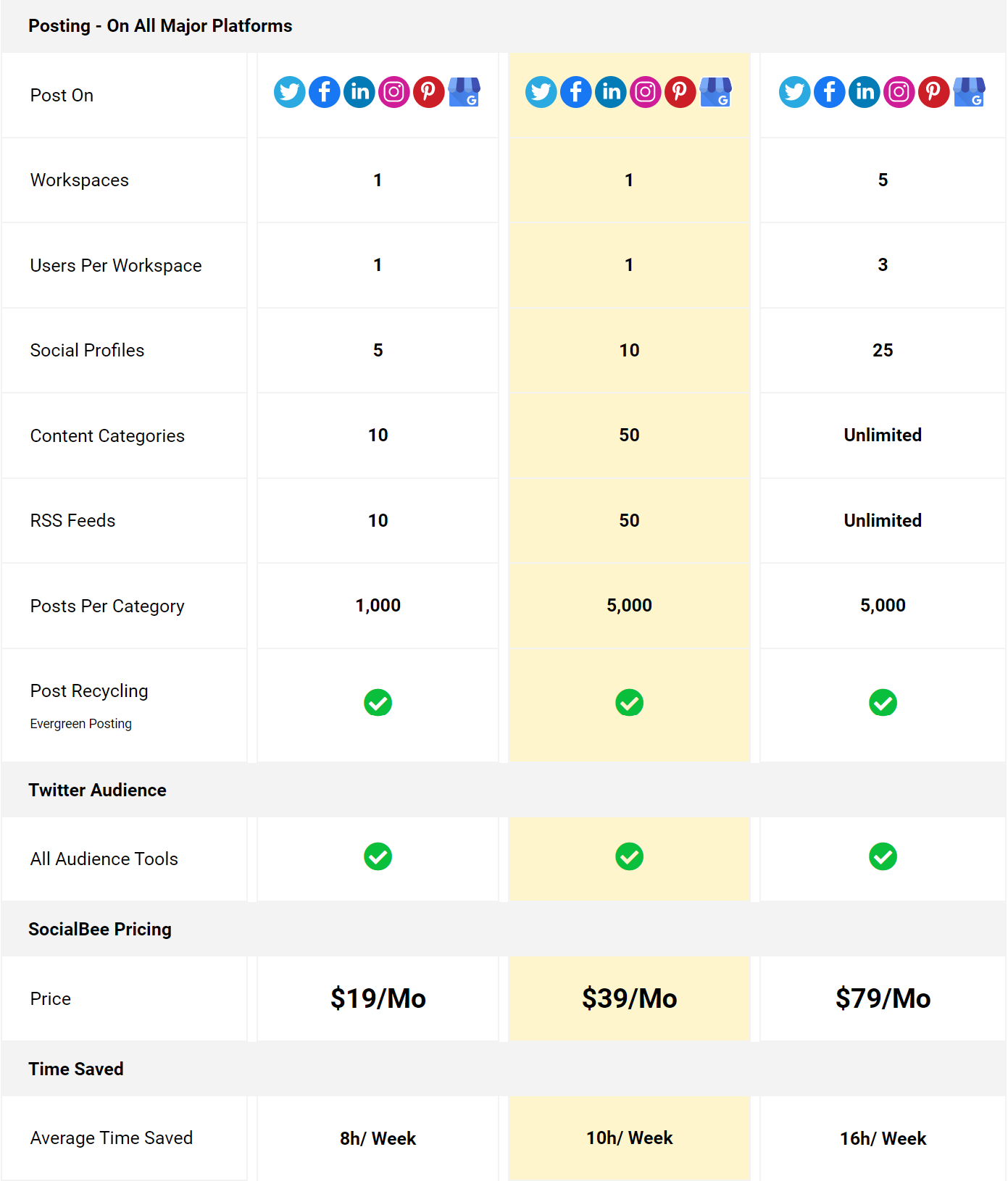 Concluding Thoughts
Whether it is small or large, all types of brands utilize social media scheduling tools to grow their followers, save time, and provide more content. 
Given the fast-paced business world we live in, having these tools onboard is crucial for making your business' content visible on major social media networks.
So, which of these social media scheduling tools mentioned above are you planning to get today? Do post your invaluable comments below and let us know.