LinkedIn is not only helpful in building new business connections and hiring talent, but it is also beneficial in lead generation to upscale your business. 
Look at some of stats… 
LinkedIn's lead conversion rates are 3X higher than other major ad platforms, including Google Ads.

(LinkedIn)

Roughly 15% of marketers are creating content for LinkedIn.

(HubSpot)

Only 10% of marketers say they're investing in LinkedIn. (HubSpot)

In a study of over 5,000 businesses, HubSpot found that LinkedIn's traffic generated the highest visitor-to-lead conversion rate at 2.74%, almost three times or 277% higher than both Twitter (.69%) and Facebook (77%).

(HubSpot)
Source: https://blog.hubspot.com/marketing/linkedin-stats 
Having said that, doing LinkedIn lead generation efforts manually is rudimentary. 
Just like every other marketing endeavor, lead generation on LinkedIn mandates for automation as well. In this blog I will list out 17 best LinkedIn Automation tools for you.
But first, know why do you need a LinkedIn Automation tool. 
Reasons for leveraging Linkedin Automation Software for lead generation
In 2020, there has to be no doubt in bringing automation to any business vertical, especially lead generation. Even then, here are some of the key points that might not be eye-opening but useful reminders as to why automation is needed for LinkedIn lead generation efforts.
LinkedIn automation tools help you target audiences based on several demographics and filters like designation, industry, age, interest, and many more. 
Smart LinkedIn automation software uses Machine Learning. Through ML, they recognize patterns and suggest the best messages and InMail subject linesto reach out to connections.
These tools reduce the repetitive work like finding the right prospects, sending them a connection request, and then setting up a meeting. These tools automatically message your 1st contacts and send connection requests to 2nd and 3rd contacts. So, now that you know the importance of LinkedIn automation tools for a lead generation, here is an exhaustive list of our recommended LinkedIn lead generation tools for 2020.
17 LinkedIn automation tools for companies to fuel-up lead generation in 2020
1. Expandi
Deployment
: Saas/Web/Cloud
Expandi is a safe and reliable cloud-based LinkedIn automation tool for lead generation. Amongst all the potent features this easy to use LinkedIn lead generation tool offers, here are the ones we like the most.
Expandi helps you connect with the LinkedIn profiles of potential audiences from any Facebook or Twitter group. 
It helps you scrape the people who are most interested in the type of products and services you offer and allow you to target them automatically on LinkedIn.
Here's the tool in action: 
Features
:
Unlimited campaigns and automated sequences

Analytics dashboard for A/B testing

Zapier/Integromat and API integration

Blacklist function

In-app LinkedIn chat, and many more
Pros
Has best-advanced targeting features. You can find people who engaged with a specific LinkedIn post, and extract their profiles to target them with a custom message in few clicks.
Cons
At $99 per month, Expandi has a higher price than its competitors
Price:
Just like the lead generation tool itself, it's pricing plan is easy and convenient as well. Expandi charges a flat fee of $99/month/user packed with all its features.
You can read more about the features here. 
2. Kennected
Deployment
: Chrome-based browser extension
Kennected is a LinkedIn automation platform that helps small and medium businesses, large businesses, and startups to optimize their LinkedIn marketing efforts.
It is not only a LinkedIn automation tool but also a platform that provides education as to how to leverage LinkedIn to generate leads. 
Here's a screenshot of its dashboard
Features
:
Automatically find relevant prospects

Allow to contact up to 100 prospects in a day 

Sync prospect details and activity to Hubspot in one click

Easily collate

business emails

 

Follow-ups automation and reply detection
Pros
Unparalleled customer support 

Helps in developing messages and traina to use this tool effectively with their 1-1 session
Cons
Doesn't offer a free trial 

It could have offered lead scoring and lead capturing features, considering the price 
Price
: 
Kennected has three plans to choose from according to the business needs. 
Professional - $59.95/month/user
Grow - $89.95/month/user
Ultimate - $115.95/month/user
Detailed pricing plan here.
3. Cleverly
Deployment
: Web app 
Cleverly is one of the most sought-after LinkedIn automation tools with clients like Lego, Amazon, Sony, Hulu, Marriott, and others.
This LinkedIn automation tool helps you build detailed lists of your ideal prospects on LinkedIn. It then helps you create A/B-tested and customized cold outreach messages that are most likely to be responded to.
Along with leveraging automated prospect lists, persuasive copywriting, automated outreach, and a data-driven strategy, this LinkedIn automation tool also has the following features.
Features
:
Intelligent response handling dashboard 

Real-time campaign metrics reporting

Automated follow-up messages to prospects

Send 1000s of custom messages to your ideal prospects every single month
It gets easily Integrated with customer support software like Zendesk and others. Here's an picture of the same.
Pros
Intuitive interface and easy to use 

A/B tested copywriting
Cons
It is pricey, if you don't need to send 1000 new invites on LinkedIn every month
Price
:
Cleverly has three pricing models according to your business needs.
Silver - 197/month/user
Gold - 397/month/user
Platinum - 597/month/user 
See the detailed pricing plan here. 
4. LinkedIn Helper
Deployment
: Chrome-based Browser Extension
This LinkedIn automation tool helps businesses in LinkedIn lead generation in more than one way. 
It helps businesses scrap and export data to CSV files (Google Sheets/MS Excel) from LinkedIn contacts, targeted prospects, and even those who have visited your company's LinkedIn page.
Here's a screenshot of the tool in action
Features:
Allows shooting personalized invites to 2nd & 3rd generation contacts

An efficient auto-mailing system

Sequential Messaging to 1st generation connections or LinkedIn Group Members

Automatically endorse contacts to get endorsements in return

Automatically add your signature to LinkedIn messages
Pros
Quick to deploy, and easy to use

Store all LinkedIn contact data in .CSV files 
Cons
Does not allow you to search for connections from a LinkedIn group 

On overusing this tool, your LinkedIn account can be terminated
Price
:
LinkedIn Helper has four payment plans.  
$15 per month (1 month payment $15)
$13.33 per month (3 months payment $40)
$10 per month (6 months payment $60)
$8.25 per month (12 months payment $99)
Get a free trial here. 
5. Clickedin
Deployment
: Web-based software
Clickedin leverages artificial intelligence to empower your lead generation process on LinkedIn. 
It gauges negative and positive sentiments of people towards your business or industry and filter leads accordingly through AI.
This LinkedIn automation software promises that you'll get a prospects' verified email address, full name, phone number, business name, address, and others.
Here's the tool in progress.
Features
:
Easy follow-up automatically by email or on LinkedIn

Export data in a CRM or G-Suite

Allows for email and

social media marketing

Targets people based on several parameters, including a time when they're most likely to convert
Pros
Ease of Use, Automation, Analytics, Support, and Continuous Improvement with new Features/Enhancements

Good customer support 
Cons
It is pricey in regards to what it offers
Price
:
Business - $1197/3mo/1 license
Team Plus - $1497/3mo/5 licenses
Know the detailed pricing plan here. 
6. Getprospect
GetProspect is easy to use and an effective LinkedIn email address finder. All you have to do is enter search criteria like designation, company size, industry, etc. and you'll get a list of all the prospects. 
Features
:
Import or export prospects to apps like Salesforce, Pipedrive, and Gmail

Collaborate with team to find prospects quicker

Easily export prospects to XLS file format

Gather important information like company website, physical address and phone number, company size, number of employees, and more
Pros
Attractive dashboard

Very easy to use 

Helps you quickly save data of LinkedIn connections 
Cons 
Customer support lags at times

In the "search by filter" feature, entering company name or domain doesn't always work perfectly
Price
: 
It's pricing plans are designed according to the number of email ids one can extract
100 emails per month - $0

1000 emails per month - $49

5000 emails per month - $99
7. Aeroleads
Deployment
: Chrome-based browser extension
Aeroleads is another lead generation tool for business-people. This tool helps businesses generate leads in real-time, which are very accurate. It does this by gathering as many as 15 data points like full name, job title, location, generic company emails, and business phone numbers from a single LinkedIn search. 
This lead generation tool has bagged clients like IBM, Gartner, Domino's, and others.
Here's an insider look on how it helps you find and connect with LinkedIn contacts
Features:
Export data to Salesforce, HubSpot CRM, Pipedrive, Zoho CRM, FreshSales, Zapier, and others

Easy to use user interface

Optimum

customer support
Pros
To track down individual email address of prospects is very easy

Export data to 3rd party CRMs

Export up to 15 data points off Linkedin like Name, Job, Position, Email etc.
Cons
Can be blocked by Linkedin, it is unlikely though
Price
:
Take off - $49/month
Climb - $149/month 
Cruise - $599/month 
They also have customized pricing plans for enterprises. Know more here.
8. Lead Connect
Deployment
: Chrome-based browser extension
Lead connect is another LinkedIn automation tool that helps with quick and efficient lead generation. It helps businesses use LinkedIn Sales or LinkedIn Navigator to find prospects and convert them into leads automatically.
Here's a look of its dashboard, how it lets you connect with LinkedIn members and schedule follow-ups: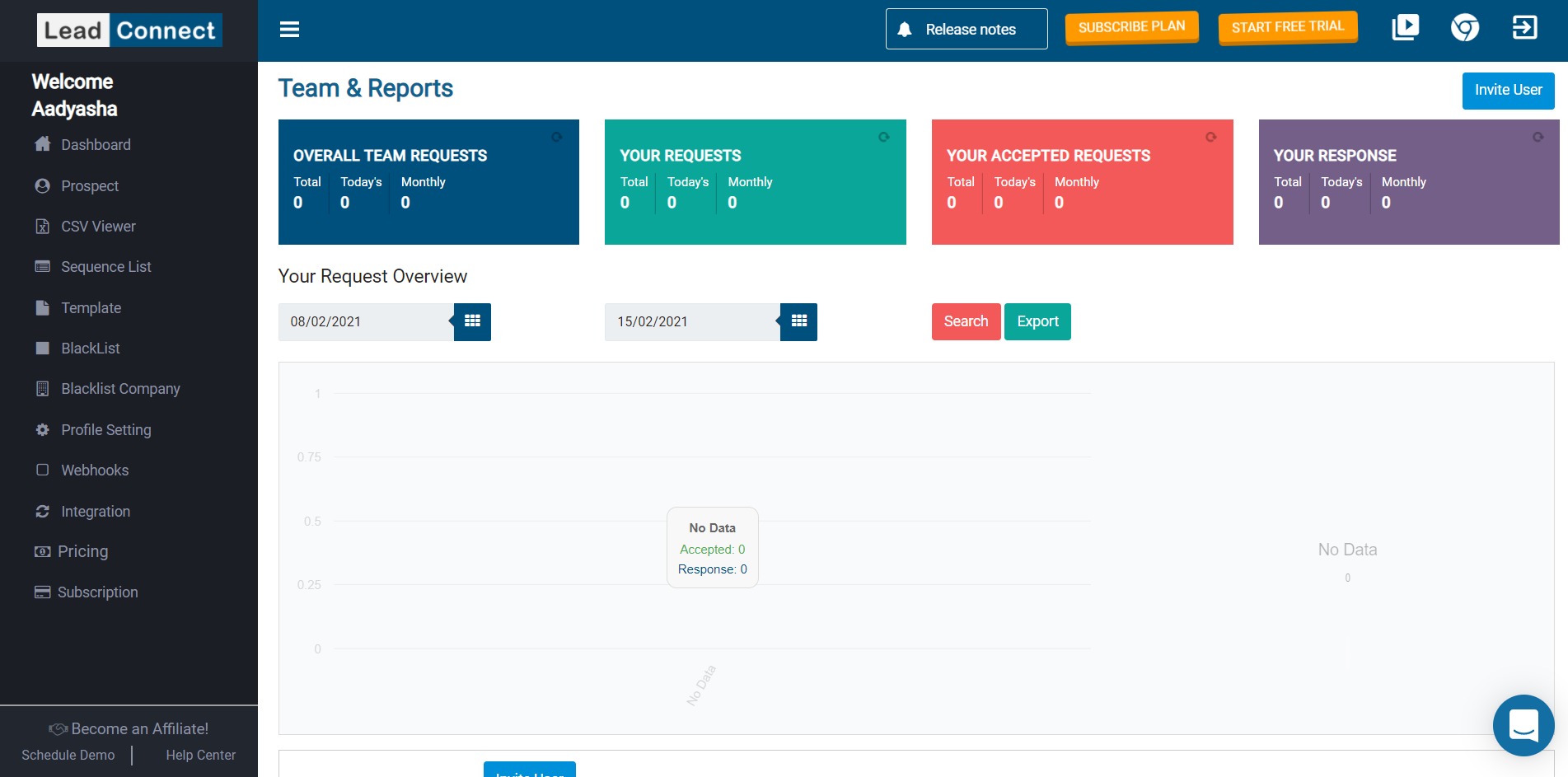 Features
:
Sends a follow-up, up to 10 times till you receive a response

Automatically stops following-up after receiving a reply

Collaborative features for teamwork

Blacklisting option 
Pros
Ease of use, intuitive user interface

Responsive support team 

The ability to create an automate the cascading messaging system from the initial connect message to follow up messages
Cons
Refund process is difficult 

If there are multiple messages threads, it gets difficult to know if you are repeating the message or not
Price
: 
Lead Connect has 3 plans according to your business needs:
Professional - $22.95/month
Grow - $40.95/month
Ultimate - $77.95/month
See the detailed price list here.
9. Very Fast
Deployment
: Chrome-based browser extension
Very Fast is a LinkedIn automation tool that promises to give the best help to your lead generation efforts but also make the process very quick! 
This lead generation tool helps you connect to prospects, follow-up with them through custom templates. And it does this very fast, saving you your precious time.
Features
: 
Works anywhere on LinkedIn 

Ready to use, quick and easy templates 

Recommends you smart subject lines
Pros
Value for money 

Simple user interface
Cons
Could host more features, customers wouldn't mind a price hike for a UI as theirs 
Price
:  
This LinkedIn automation tool costs $20 for 3 months. Know more here. 
10. Crystal
Deployment
: Chrome-based Browser Extension
This LinkedIn automation tool uses ML (machine learning) to predict any prospect's personality based on the information they have put on LinkedIn and other social media platforms. Crystal leverages this information to help you effectively write InMails.
These automatic messages would reflect the unique personality of the targeted prospects.
Here's how it shows you the personality of LinkedIn profiles: 
To improve LinkedIn sales, it's imperative to become a better communicator. It's automatic suggestions help you communicate better on LinkedIn.
Here are its main features
Features
:
Instant access to millions of personality profiles

Tailor your emails, phone calls, and meetings for every customer's unique personality
Pros
Sinceit uses AI you can predict your LinkedIn connection's next move by analyzing assessment responses and text samples

You not only get a personality report on connections but also insights on how to approach them 
Cons
Free tool only allows you to analyze 10 people per month 
Their might me bias in reports as people taking the DISC test might not give all true answers
Price
:
You can start using this tool free here.
11. Discover.ly 
Deployment
: Chrome-based Browser Extension
Discoverly is another LinkedIn automation tool that can be used by small and medium-sized businesses. It helps businesses find prospects, target them, follow-up, and set up meetings automatically.
Here are some of its unique features:
Features
: 
Alerts you if you have any mutual Facebook friends each time you visit someone's Linkedin profile

Reveals the person's recent tweets to help you build their profile

Works with Boomerang, Rapportive, Hubspot, Buffer, Hunter, Yesware & Right Inbox
Pros
Free 

Chrome Linkedin extension to ease of use 

Shows the social media data of connections
Cons
Doesn't show email addresses
Price:
N/A
12. Intouch
Deployment
: Chrome-based browser extension
Intouch is an intuitive LinkedIn automation tool that can automate LinkedIn invitations and automatically follow-up your connections. It automatically sends personalized messages based on your connections in order to prompt them to respond.
It helps you target only those prospects interested in your product/services and not those at the top of the funnel.
Here's the tool in action: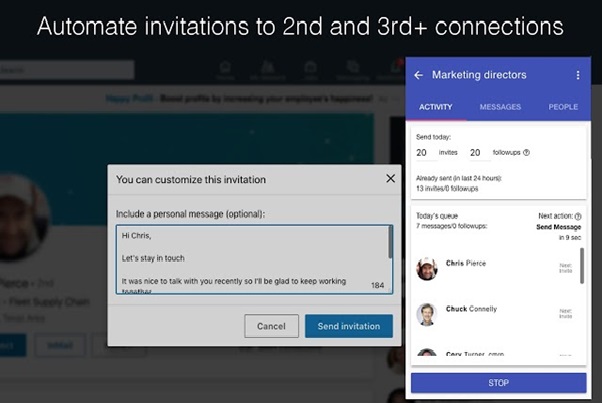 Features
:
Sends auto connection requests to 2nd and 3rd-degree connections

Automatically send drip campaigns to your 1st-degree connections

Sets up your message sequence

Sends tailored follow-up messages according to your schedule
Pros
Easy follow up 

Easy to navigate, good user interface 
Cons
Difficulty while switching geographic locations on LinkedIn
Price
:
BIZ – $29 user/month
START $19 user/month
It also has a free plan for limited functions. 
Get detailed pricing information here.
13. Octopus
Deployment
: Software 
This LinkedIn lead generation platform helps thousands of LinkedIn users simplify prospecting efforts and grow their business with its advanced marketing automation and lead generation tool.
Octopus helps you create your personal LinkedIn lead generation funnel. You can remove and combine features quickly and easily, save all your prospects in your personal dashboard, and build a broader client base.
It also generates attractive analytics reports to watch and measure your KPIs.
Here's the Octopus pop-up window on a LinkedIn page:
Features
:
Sends personalized connection requests to 2nd and 3rd level connections on LinkedIn

Shoots bulk message 100s of 1st level connections

Automatically endorses up to 7 skills of your LinkedIn contacts
Pros
Automatically see hundreds of LinkedIn profiles 

Automatically endorse skills of your contacts 

Generates good reports 
Cons
You will have to use a LinkedIn premium to use Octopus CRM with, as normal Linkedin has a cap on the number of outreach messages you can send on it 
Price
: 
Octopus has 4 pricing models according to your business needs. 
Starter - 6.99$ per month
Pro - 9.99$ per month
Advanced - 14.99$ per month
Unlimited - 24.99$ per month
Visit the website to know more about pricing. 
14. Zopto
Deployment
: Cloud-based software
Zopto's LinkedIn automation tools are mainly used by sales teams to automate their LinkedIn lead generation efforts. However, due to its various engagement features, it can also be used by startups to attract investors and by recruiters to find the right candidates.
The advantages of integrating Zopto tools into your lead generation efforts can add huge value to your marketing efforts. You will not only be able to automate your lead generation process but also acquire new customers outside of your network within days.
Here's how the Zopto's of the dashboard looks like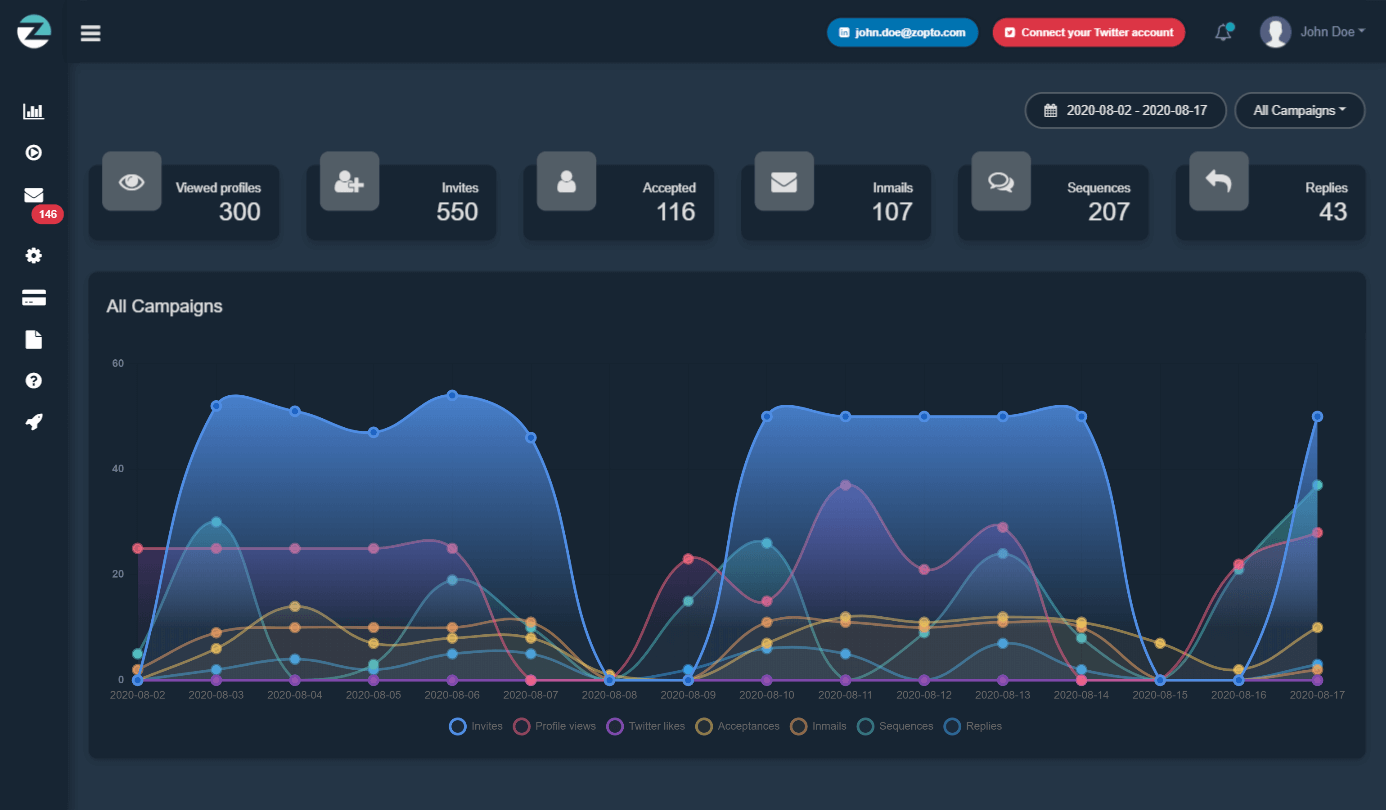 Features
: 
Agency Dashboard to view everything at one place 

Profile View Generator to automatically visit thousands of LinkedIn profiles to show them your presence

Free InMail Messages to 1000s of premium LinkedIn users

A/B Testing

and Advanced reporting
Pros
Advance filters to and target by Title, Seniority Level, Location, Industry, Company size, Technology that the company uses, Number of followers, and much more.

Enable settings like Free Inmails,  Connection Invites, Sequential Messaging, Twitter Engagement or Profile View Generator to get the amount of engagement desired
Cons
No option to cancel the campaign midway, if you accidentally contact the wrong people.

Won't send clear notifications when the free trial ends.
Price
:
Zoo has three pricing models according to your needs
Personal: $215/m
Grow: $395/m
Agency: $895/m
Visit the website to know more about the pricing plans. 
15. Dux-soup
Deployment
: Chrome-based Browser Extension
Dux-soup is another LinkedIn automation tool that helps you generate leads in many ways. With Dux-Soup, it's easy to find, attract, and engage with your prospects on LinkedIn. Let Dux-Soup automate your LinkedIn lead generation leg-work, so you can focus on growing your business and closing deals.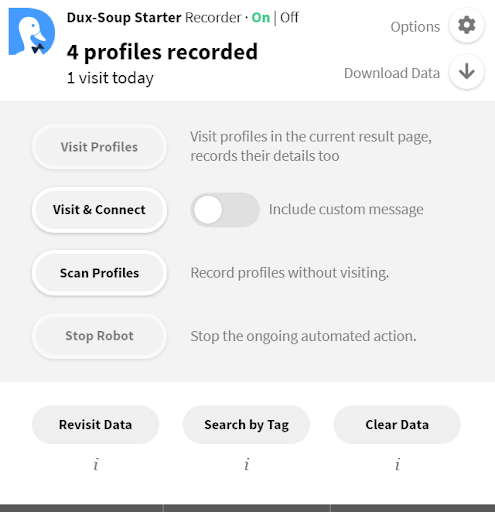 Feature
:
Automatically follow and endorse connections

Visit based on previously downloaded CSV and tagged profiles

Filter out '

Influencers

', 'Premium Members', 'Job Seekers', 'Open Link members', 'CRM imports' and customize campaigns for each 

Auto-skip previously visited profiles
Pros
Easy to use even for beginners to start their first drip campaigns on LinkedIn 

Customer support round-the-clock
Cons
After installing this Chrome extension your browser will slow down and LinkedIn will load slowly as well
Price:
Free: Auto-visit 100 profiles per day
Professional Plan: $15 per month. Auto-visits 1,000 profiles per day, plus the functionality listed below
Turbo Plan: ($55/month)
Click here to know more about pricing. 
16. Meet Alfred
Deployment
: Web app
Trusted by businesses like Deloitte, Airbus, Cocacola, and others, Meet Alfred is one of the most sophisticated LinkedIn automation tools out there. 
Not only does it provide you with the best LinkedIn lead generation tools, but it also ensures that you do it cost-effectively. 
Features
: 
Create and execute multiple sophisticated messaging campaign sequences easily

Helps you engage with your LinkedIn network using your Gmail or G Suite account.

Allows you to ensure your Linkedin account is within its commercial limits.
Pros
Track every action of each lead from one dashboard 

Auto-detects Linkedin warnings made when you surpasses limits of campaigns based on your Linkedin membership
Cons
No credit card is accepted. You need to have American Express or Master Cards

You get to manage only 1 LinkedIn profile with $30 per month
Price
: 
Essential - $39/month
Advanced - $59/month
Professional - $99/month
Get the detailed pricing plan here.
17. We Connect
Deployment
: web app
We Connect is another LinkedIn automation software that comes with an array of more than 55 features like interactive inbox, API & zapier, reports & charts, duplicate suppression, blacklist, and auto-withdrawal to make your lead generation efforts on LinkedIn more effective. 
Features
:
Easily import your search results. Save unlimited lists and

start outreach campaigns

Invite up to 100 people a day. 

Automatically send follow up messages

Automatically get dedicated IP addresses based on your location, inbuilt randomization, and usage limit protections to avoid detection. Automate, yet look human 
Pros 
Good user interface

Good customer support
Cons
You can't run more than 1 campaign at a time
Price
: 
It has a flat fee of $49. Know more here.
Conclusion
LinkedIn has remained the most sought-after professional social media network to grow your business and business network. As mentioned above it has always surpassed other social media networks in generating quality leads. 
It is only wise to know the right tools and techniques to utilize the full potential of this potent social media platforms for professionals.
We hope this exhaustive list of LinkedIn automation tools will help you find the right ones for your lead generation endeavors on LinkedIn.