There are hundreds of digital marketing tools available in the market that can assist businesses in different ways, like researching your market niche, creating effective landing pages, SEO reports, reviewing campaign analytics, etc. However, it can be difficult and more time confusing to figure out which digital marketing tools you should use if you do not have a marketing budget constraint.
But don't worry, you will be pleasantly surprised by my latest research.
In this write-up, I have tried to provide you with a comprehensive list of inexpensive digital marketing tools to drive your business to the pinnacle of success in the year 2021 and beyond
We have broken down this list in the form of different categories, including:
Read the following sections to get comprehensive information about these tools and their salient features and pricing (if applicable).
Industry Research Tools
The marketing strategy of a business heavily relies on solid research about your industry and customers. Let's now look at some of the inexpensive digital marketing tools you can utilize to bring your business to the right path.
1. Data Scraper
(Source)
Description
Data Scraper is a data extraction tool that is used to extract data from the HTML web pages and then import it into Microsoft Excel spreadsheets.
It helps you to scrape any HTML web page. You can easily extract tables and lists from any pages and then upload them to Google Sheets or Microsoft Excel.
In case you are looking for contact information from professional profiles or social media connections to support display campaigns and outreach, opt for this digital marketing tool.
A prime example of that is, you get the opportunity to extract the names and phone numbers from an online directory. The only thing needed is defining the filters and then downloading the spreadsheet.
This scraper helps you to export web pages into XLS, CSV, XLSX, or TSV files (i.e., .xls, .csv, .xlsx, and .tsv).
Features
Automated crawling of paginated websites
Scrape single page or multi-page crawl and scraping
Automatic navigation to next page
Extract emails with RegEx (regular expressions)
Download completed pages complete with images scraping
International language support with UTF-8
Price
Data Scraper is available for FREE if you opt for the starter subscription plan. In this plan, you will get 500 free page-scrape credits per month. This way, you can try how Scraper works and what you can export with no risk.
Apart from the free plan, there are also paid plans that offer more scraping features.
There are four different plans apart from the free one. These include:
Solo costing $19.99/month
Small Business costing $49/month
Business costing $99/month
Business Plan costing $200/month
With the paid plan, you can expect more features like API and many anonymous IP proxies.
To know the features covered in each of these plans, click here.
Ideal for
Smaller commercial projects & startups
Those who require to scrape specific or niche data without the knowledge of coding
Anyone looking for a streamlined scraper for collecting data from popular sites
2. Google Alerts
Description
Google Alerts is one of the best industry research tools that you will ever find.
It consists of a very intuitive interface which is very easy to use.
The only thing that you need to do is insert the keywords for monitoring and indicate the sources.
It can be news, blogs, videos, and discussions.
You can even set the frequency of message alerts like you wish to receive the message on a daily basis or weekly basis.
It can even be on the basis of volume like all results and best results.
Once you set the alert to your registered email address, the system sends you materials corresponding to the given settings.
You even have the opportunity to influence the market.
It also gives you the option to search for prospective clients for expanding your business.
There are quite a limited number of settings available.
If you wish to receive data by any other criteria you need to utilize other payable services.
Features
Track mentions of significant names
Track your company's brand
Monitor your keywords
Build links
Price
Available free of charge
Ideal for
Marketers
Social media managers
Customer Engagement Tools
In today's dynamic business environment, it is essential to engage the customers throughout their purchase journey. Hence, to aim at better results, it is imperative to use specific customer engagement tools to enhance business. Here are some of the customer engagement tools that you can opt for your online business.
3. Acquire
Description

(Source)
Acquire is one of the best customer engagement tools available in the market.
The fantastic part is, it works as a perfect online collaboration tool from startups to established enterprises.
Most of the customer support representatives have a heavy workload. To ease it off, Acquire utilizes AI-based chatbots that help in automating routine questions, prioritize customers, and scale up your support efforts.
You can even utilize Live Chat support from Acquire to engage prospective customers who visit your website.
The fantastic part is, Acquire comes with a centralized shared inbox that helps you connect your customers through different channels like live chat, chatbots, social media, and much more.
It even consists of an intelligent email support feature that forwards emails to the right subject matter experts.
Key Features
Automate repetitive work with chatbots
Connect with video, voice, and co-browse
Help customers self-serve with knowledgebase software
Target chats to specific segments
Easy chat routing option to help with tricky questions
Measure the engagement levels of the customers
Personalize your messages by segmenting and sending proactive messages to customers based on visitor location, web pages, device type, visitor behavior, etc.
Analyze and track your chat performance by measuring and improving inbound chat volume
View answered and missed chats along with average wait times.
Price
For the pricing information, contact the company directly at hello@acquire.io.
Ideal for
Customer care executives
Sales professional
4. Zendesk
 (Source)
Description
Zendesk is everything that you ever need from a customer engagement tool. It comes with a handful of features that are needed to carry out a help desk job.
The app comprises a flexible ticketing system with advanced reporting and analytics.
If you are a design agency or a freelancer with a few clients, this ingenious software offers a feature that enables you to host communities and forums from which your clients can effortlessly share and exchange answers.
There are more than 100 integrations present in this ingenious tool like CRM, cloud storage, and productivity apps.
This comes in quite handy for freelancers and small agencies that have a very stringent budget to work with.
Instead of running all these applications separately, you can now integrate them into Zendesk.
Key Features
Enables customers to connect with you through web or mobile. Alternatively, they can even initiate conversations directly through Facebook, Twitter, or any other channel of your choice
Ask the right questions and get all the relevant information from your customers upfront using the ticket forms
Accumulate all the relevant information that you ever need from your customers through additional or conditional fields which is made available to both agents and customers
SLA views feature enables your team to effortlessly see SLA status without any breaches
Agents have the option to work in their preferred language with a localized admin interface available with more than 40 languages
Supports a maximum of 300 brands, products, services, tiers, or regions and the data & activity are centrally managed with a single account
Price
A free trial of the tool is available without any need to put in credit card details.
The pricing for the Zendesk Support starts at $5 per agent and scales up across 5 different pricing plans:
Essential
Team
Professional
Enterprise
Elite
For pricing details for each of these plans, click here.
Ideal for
Customer care representatives
Sales professionals
Keyword research Tools
Keyword research is a critical part of modern SEO. Irrespective of whether you are revamping an old blog or developing your content strategy for a new one, right quality keywords are quite important. The reason being, they help in attracting consistent, quality traffic on your site. Here are a couple of keyword research tools that every digital marketer should use.
5. Google Keyword Planner
Description
Google Keyword Planner is one of the best keyword tools that are available freely. It is not only a great choice, especially for starting a new site but also when you wish to grow and produce more content.
The good news is, this tool helps you pull up information directly from Google, which is the ever-reliable search engine you are likely to target while optimizing your website.
The results also integrate quite well with AdSense monetization.
Features
Helps to find out commercial keywords using "top of page" bid range
Provides information on precise search volume directly from Google's search engine
Best choice for business websites
Price
Google Keyword Planner is available at free of cost.
Ideal for
Business websites
6. UberSuggest
Description
UberSuggest is a unique online tool that provides useful insights about a website, including Domain overview, Top ranking pages, Keyword suggestions, content ideas, Backlink data, Site Audit, etc.
This tool is a blessing in disguise for digital marketers, especially the ones who are into SEO. The unique part is it provides keywords that are not available through the Google keyword planner.
Features
With the help of an intuitive display, you can view the following metrics for your URL:
Organic monthly traffic
Domain score
Backlinks score
Traffic
Check out which pages are moving traffic to your website. Discover the origin of the countries for your traffic, and if the incoming traffic originates on Facebook or Pinterest. Also, find out the estimated number of visits the page gets, the precise number of backlinks, and those backlinks.
See the organic search terms that are moving traffic on your website.
Get a comprehensive SEO report and check out the volume, estimated visits, cost-per-click (CPC), buyer intent, and the likelihood your site would rank for a particular keyword.
Find out what sort of content people are linking to in the industry your website serves, who's doing the linking, and different metrics on those backlinking sites.
Price
There are three paid plans:
Individual
Business
Enterprise/Agency
The individual plan starts at $12 a month. The business plan costs $20 a month. While the Enterprise/Agency plan costs $40 a month. In case you opt for an annual plan, you'll be charged for ten months for 12-months access, and you get two months free.
For further details on features for each plan, click here.
Ideal for
Individuals
Business
Enterprise / Agency
SEO & Rankings Tools
It can be challenging to master SEO and ranking, especially when you are just starting. Fortunately, there are some best SEO & ranking tools available that can help you track your website's SEO rankings and make it reach the pinnacle of success. Let's look at them.
7. SEMRush
Description

(Source)
SEMRush is one of the best keyword tracking tools in the market as it does not differentiate between your site and competitive sites.
It is straightforward to use. With the help of the tool's search bar, it is possible to ask SEMRush to rank a site or pages on Google or Bing results with the help of URLs.
Once the results are received, you can compare them with other sites and page ranks by opting for a keyword.
It even provides you useful recommendations on how to improve your website's performance.
Features
Comes with Position tracker & SERP Features tool
Provides On-Page SEO checker and keyword alerts
Consists of a competitors' external links project dashboard
Provides backlinks gap and site audit
Complete domain overview
Comprehensive content marketing toolkit and content optimization
Price
SEMRush provides three standard monthly subscriptions starting at the following prices:
Pro - $99.95
Guru - $199.95
Business - $399.95
Enterprise Solution - contact corporate@semrush.com for details
For more details on pricing and features offered for each plan, click here.
Ideal for
Small & medium-sized businesses
Large enterprises
8. Ahrefs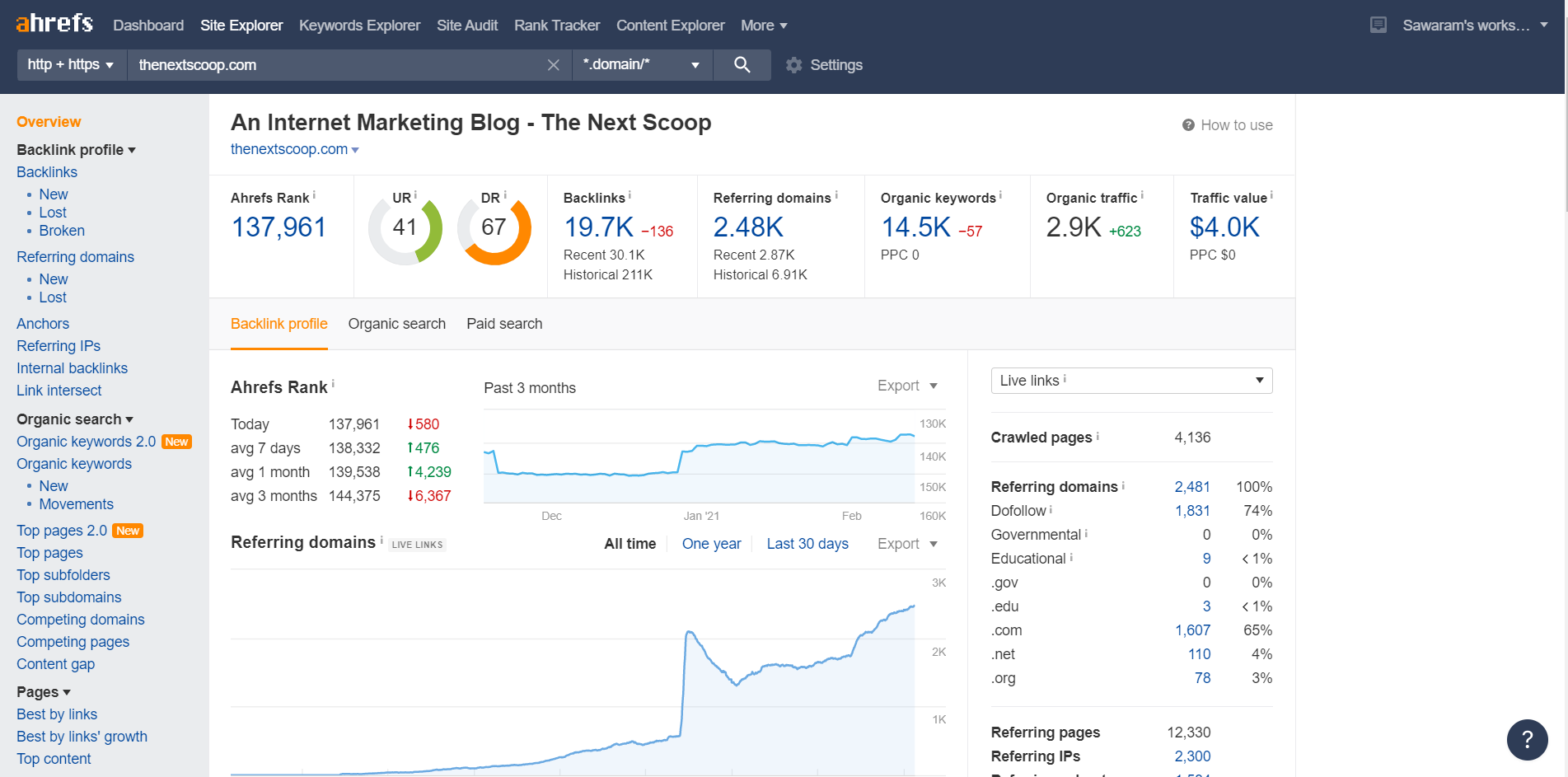 (Source)
Description
Ahrefs is one of the hot-favorite keyword ranking tools available online. It is primarily used in combination with another keyword ranking tool. The reason being, it mainly focuses on backlinks. However, it is equally competent as a keyword ranking tool.
With this tool's help, you can check your competitors' external links, their top pages, and IPs. It also comprises excellent customer service, including support. Hence, you always have assistance ready to help you operate the tool.
There are lots of features provided by this fantastic tool. However, as a keyword ranking tool, its primary function is to search your site's keywords automatically.
It is even possible to specify which country's search engine results you want Ahrefs to analyze your site. This way, you can get a localized report.
Features
Perform keyword research for search engines
See "clicks" data
Get total search traffic estimations
See keyword click distributions
Analyze SERP history
Uncover content gaps
Monitor outbound links
Find link prospects using Content Explorer
Get keyword ranking alerts.
Price
There are four paid plans:
Lite at $99 per month with a start trail of $7
The standard at $179 per month with a start trail of $7
Advanced at $399 per month
Agency at $999 per month
If you opt for annual billing, you get two months of subscription-free.
To learn more about the features in each plan, click here.
Ideal for
Digital marketers
Small & medium-sized businesses
Large-scale organizations
Email Marketing Tools
Social media remains to be the undisputed king in the marketing domain. However, email is not far behind. It can be considered as the grandparent of social media marketing. If used properly, it can drive great results. Hence, it becomes imperative to utilize right email marketing tools like those mentioned below to skyrocket your marketing efforts in the digital era.
9. Mailchimp
Description
Mailchimp is a popular email marketing service provider in the world primarily because it offers a free email marketing service plan.
It comes with a drag-and-drop email builder, autoresponders, segregating contacts into groups, and simple analytics tracking.
You also get the option to schedule the emails according to the time zone of your email recipients.
It is also possible to set up segmenting based on geolocation.
You can effortlessly integrate Mailchimp with WordPress, Magento, Shopify, and other platforms.
It provides support in the form of email, live chat, and other tutorials knowledge-base.
Features
Ready-to-use campaign templates and email designer
Get product recommendations
Merge tags
Advanced segmentation
Distribution by time zone
Comparative data report
Campaign sharing on social media
Price
The pricing starts at $10 per month. You can avail of a free trial period without putting in credit card details.
Mailchimp can be used freely for a maximum of 2,000 subscribers and 12,000 emails every month. If you have more than 2,000 subscribers, Mailchimp consists of monthly and pay-as-you-go plans:
1,001 - 1,500 subscribers with unlimited emails per month - $20.00/month
1,501 - 2,000 subscribers with unlimited emails per month - $25.00/month
2,001 - 2,500 subscribers with unlimited emails per month - $30.00/month
2,501 - 2,600 subscribers with unlimited emails per month - $35.00/month
+ $199.00 for pro subscription
For more information on the different pricing plans and features provided by them, click here
Ideal for
Digital marketers
Small & medium-sized businesses
Large-scale organizations
10. Constant Contact
Description
Constant Contact is one of the emerging email marketing services across the globe. It is very user-friendly. You can easily manage your email lists, contacts, email templates, the marketing calendar, etc.
Every account grants you the access to effortlessly track and report, utilize built-in social media sharing tools, free image library, list segmentation, Facebook Ads integration, and a robust eCommerce integration for Shopify stores.
The company offers unparalleled customer support with live chat, phone calls, emails, community support, and a vast library of helpful resources.
Apart from online training, it also offers in-person live seminars across the U.S. This way, small business owners can quickly understand the basics of email marketing and start using it to grow their business.
Features
Free no-obligation trial
Massive variety of engaging templates to suit your individual needs
Get easy to read customized reports with the help of reporting tools
Easy adding of images to your emails
Set up an event with a few clicks
Send coupons to customers that you can track
Have an email on autoresponder
A robust contact management system that is endlessly customizable
Price
There are two monthly pricing plans with a 2-month free trial and a 15% discount in case companies pay annually.
The Email plan consists of basic features and starts from $20 per month for a maximum of 500 contacts.
The Email Plus plan integrates multiple users, subject line A/B testing, surveys & polls, event marketing, coupons & dynamic content. It commences at $45 per month for a maximum of 500 contacts.
For more information on the different features in the various plans, click here.
Ideal for
Digital marketing professionals
Small & medium-sized companies
Large organizations
11. Sendgrid
(Source)
Description
Sendgrid is one of the most widely used email marketing platforms across the globe.
With its help, you can build effective email campaigns to expand your business.
It consists of drag & drop tools and dynamic template for effortless email creation, audience segmentation for personalizing emails and different features & integrations to smoothen the process.
You can easily scrutinize different aspects of your email campaigns with the aid of powerful and insightful analytics.
Although you might see that Sendgrid is not the most intuitive tool, you can totally count on it especially for 24x7 customer service in case of any enquiries.
Features
Email scheduling parameter helps you to send large number of emails in queued batches with the help of a UNIX timestamp parameter
IP warmup  through an API  with the assistance of Sendgrid Support or Account Manager
2-Factor Authentication while sending emails to add an additional layer of security in case your password gets compromised
SSL-enabled click and open tracking feature ensures Sendgrid to provide SSL encrypted connection between the receipt to protect their confidential user information
Track the people who have unsubscribed your email services
Provides 24x7 support through phone and chat in case you face an emergency in the middle of the task
Consists of an email template engine to frame your responses for future use
Assists in monitoring your reputation through the reputation monitoring feature
Price
Sendgrid offers 3 pricing plans on top of a 30-day free trial period that gives you access to the Essential 40,000 email plan.
It gives you the scope to send 100 emails on a daily basis for free forever and store a maximum of 2,000 contacts within Marketing Campaigns
The three plans are:
Essentials plan
Pro plan
Premier plan
For details of features and pricing of each plan, click here.
Ideal for
Digital marketing professionals
Small & medium-sized companies
Large organizations
Content Editing & Proofreading Tools
Everyone today knows that content is the real winner in the digital era. Today, with significant industries working online, it becomes imperative to design the content so that it engages the customer and makes them take some action whenever they come to your website. Here's a list of content editing & proofreading tools you need to use to grow your business exponentially.
12. Grammarly
Description
Grammarly is an online app that is used to check spelling and grammar in writing. The great thing about this tool is, it highlights any grammar mistakes present in the write-up and gives suggestions.
This tool finds mistakes that Microsoft Word, Google Docs, and other word processors cannot detect.
It also comes in the form of a Google Chrome extension that helps check the document while writing. However, we would not recommend you to use Grammarly while you type because it slows down the typing speed.
The extension scrutinizes writing informs, online writing apps, and the word editor in a CMS like WordPress.
The only glitch is, Chrome extension does not work with Google Docs.
So, if you are writing in Google Docs, you have to copy and paste the write-up into the Grammarly editor manually.
Here's the comparison of features in free version v/s. Premium version
| | | |
| --- | --- | --- |
| Features | Free | Premium |
| Grammar and spelling checks | ✓ | ✓ |
| Checks punctuations grammar, context, and sentence structure | X | ✓ |
| Vocabulary enhancement | X | ✓ |
| Genre-specific writing style checks | X | ✓ |
| Plagiarism detector (checks over 16 billion web pages) | X | ✓ |
Features
Comma splice
Integration with Gmail
Finds out missing articles, weak adjectives, misspelled & repetitive words
Picks outdated spellings
Ascertains whether you have done proper comma usage
Integration with social media
Price
There are three options available:
Grammarly Premium with a monthly subscription costing $29.95 every month
Grammarly Premium with a quarterly subscription costing $19.98 every month, billed as one payment of $59.95
Grammarly Premium annual subscription costing $11.66 every month, billed as one payment of $139.95.
Ideal for
Professional writers & editors
13. Hemingway Editor
Description
Hemingway Editor is a minimalist but a powerful tool to enhance the writing style.
It achieves this by highlighting your work in different colors while you either paste your work or write in the Hemingway Editor environment.
Every color represents a different type of improvement Hemingway suggests.
Let's now look at what the different colors represent in the Hemingway Editor tool.
Yellow Sentences
These are the sentences that are too long or structurally complex. Here, Hemingway Editor suggests to divide it into two sentences or simply the Yellow highlighted sentences.
Red Sentences
According to Hemingway, these sentences confuse the readers. Hence, it is recommended to rework these sentences until the red highlight disappears.
Purple Words
The chosen words here suggest that there is a more appropriate alternative to the story. Simply hover over the story to see Hemingway's suggestion.
Blue Words
Blue words are adverbs, or weak and hesitant language that Hemingway feels needs to be omitted.
Green Phrases
Green phrases are words written in the passive voice. While it might sound appropriate in some cases, an active agent is preferable.
Features
Highlights the writing problems in the form of color-codes
Ability to import from and export to Microsoft Word
Highlights common grammar errors
Provides readability grade
Gives you the ability to publish your content directly to Medium
No internet connection required
Gives you the option of write & edit modes
Ability to publish instantly to WordPress
Price
Hemingway Editor is free of cost.
However, the Hemingway app's desktop version is now available for a one-time payment of $19.99. The price remains the same for Windows and Mac versions of Hemingway.
Hemingway Editor vs. Hemingway App
| | | |
| --- | --- | --- |
| Distinguishing Factor | Hemingway Online Editor | Hemingway App |
| Price | Free | $19.99 (one time) |
| Ability to Save and Export? | No | Yes |
| Full Hemingway Analysis? | Yes | Yes |
| Ability to Publish Directly? | Yes | Yes |
| Export Formats Offered? | N/A | Text, PDF, Word, HTML, Markdown |
| Direct Publishing Options? | N/A | Medium or WordPress |
Hemingway vs. Grammarly
Distinguishing Factor
Hemingway
Grammarly
Price
$20 Lifetime Access
$140 Per Year
Free Version
Yes
Yes
Downloadable App
Yes
Yes
Browser Plug-In
No
Yes
Windows Compatible
Yes
Yes
Mac Compatible
Yes
Yes
Integrations
-WordPress
-Word
-Medium
-Chrome
Grammar Capability
2nd
1st
Writing Analysis Capability
1st
2nd
Style Improvement Capability
1st
2nd
Overall Recommendation
1st
2nd
Ideal for
Professional writers & editors
Landing Page Creation Tools
Landing pages are a great way to market your website. You can presume them to be like an online flyer for your business – except you can directly sell your product or service or get your potential customer to sign up to your email list.
There are different landing pages for each of the offerings or to target different types of customers. However, if you think that landing pages are only for large corporations, then you are incorrect. If you use any of the great landing page builders mentioned below, you can get positive results. So, let's get started.
14. Unbounce
(Source)
Description
Unbounce is one of the oldest landing page builders founded way back in the year 2009. The great part is that it is not only the best landing page builders but also quite a handy pop-ups and sticky bars creator to assist you in improving your conversion rate.
The only loophole of this fantastic tool is it is certainly not the cheapest initial offering. However, even its lowest level plan consists of quite an impressive set of features.
For starters, it consists of 75 landing pages and eight pop-ups and sticky bars.
It even enables subscribers to customize pop-ups, sticky bars, and other conversion-focused elements. It also consists of a user-friendly drag-and-drop editor.
The editor is relatively standard in terms of looks, but when it comes to quality, the templates stand out from other landing page builders.
A prime example of that is that if you wish to reduce the number of visitors who abandon a specific page, Unbounce can help you create exit-intent popups that match the rest of the page's content.
You can even customize the triggers for these pop-ups and set your targeting preferences so that you have complete control over which visitors see them. This will ensure that you serve a relevant offer to the visitors.
Features
Helps you build landing pages along with other tools
Effortlessly create popups and sticky bars to generate leads
Test and enhance your landing pages using A/B testing
Measure your landing pages' performance using reports & analytics feature
Dynamic text replacement to match your landing page content to the search queries visitors typed in to maximize relevance and increase conversions
Comes with a Smart Traffic AI-powered conversion tool that automatically sends traffic to the most relevant landing page
Creates AMP landing pages with a loading speed of a maximum 85% than standard mobile pages
Create & form add forms to your landing pages using lead form builder
Price
From $80/month for the launch plan, for up to 500 conversions, 20,000 monthly visitors, and one custom domain.
Ideal for
Small businesses with a limited budget
15. Landingi
Description
Landingi is a perfect landing page builder that consists of a wide range of professional templates. These templates target different industries, including wedding photography or construction work, or other products like a free eBook download or webinar signup.
The most important thing is, each of these templates provides a fresh idea. Hence, each of your clients will have an exclusive landing page.
This ingenious tool also consists of one of the most influential editors. So, once you start with a great template, it becomes easier to push things the way you want them.
Click on any design element, and you get the editing option in the sidebar on the right.
In case you know a little bit of coding, it becomes easier to drag a text box or enter a width value to resize it. Then opt for the color with the help of a standard color picker or with a hex code.
It is perfect when you wish to employ the brand colors of the client.
And, in case your clients wish to host their very own landing page, it gives you the option to export whatever you make in Landingi to either WordPress or a custom server.
The good news is, you can still utilize its analytics and tracking features.
Features
Hundreds of landing page templates
Helps in conversion rate tracking
Comes with drag & drop visual editor
Consists of A/B testing & CRM integrations
Utilizes HTML editing
Provides real-time lead notifications
Helps in customizing the branding aspect of businesses
Consists of a centralized inbox
Price
From $47/month for the Core plan, it is limited to 5,000 unique visitors, from $199/month for the Agency plan with up to 10 sub-accounts for different clients.
Ideal for
Business Owner
Marketing Expert
Agency
Enterprise
Social media management tools
As a social media marketer, it is imperative to stay on top of all your social media marketing activities. The question is, how to do it most effectively? Social media marketers have to create & publish content and then perform analytics & reporting, which can be overwhelming. However, with the help of these best social media management tools mentioned below, as a social media marketer, you can streamline your workflows, save time, and ensure that the content reaches the target audience at the right time.
16. Hootsuite
Description
Hootsuite is probably one of the most significant social media management tools used by more than 15 million people and more than 800 Fortune 500 companies.
It provides a comprehensive solution to all your social media management needs.
You can use this app with over 35 social networks, including Facebook, Twitter, YouTube, Instagram, and Pinterest.
It is even possible to get more network connections with the Hootsuite App Directory's help, a user-maintained database of extensions.
There is also a full scheduler present in Hootsuite that enables queuing posts at your convenient time of choice.
You can create your schedule or use the AutoSchedule function to schedule your updates at optimal engagement times.
Simply upload a CSV file with pre-prepared updates, then you can fill your queue for days, weeks, months, or the duration of the entire social campaign. Once the information has been filled in the queue, it is easy to see your outgoing posts from the Content Calendar and re-order your update schedule with a simple drag & drop.
The Hootlet extension for Chrome helps you to schedule updates while browsing the web. It also consists of the AutoSchedule feature.
With the help of the mobile apps for iOS, you can schedule, edit, approve, and manage updates from anywhere.
Features
Monitor the top conversations on key topics
Measure and scrutinize your social performance
Effortlessly create and manage advertising campaigns
Easily create, curate, review, and publish content
Monitor & engage incoming messages
Consists of hundreds of integrations
Price
The free plan includes one user, three social profiles, and 30 scheduled updates; from $29/month (billed annually) for the Professional plan that provides for one user, ten social profiles, and unlimited scheduling; team plans start at $129/month (billed annually).
Ideal for
Individuals
Professionals
Team
Business
Enterprise
17. Buffer
Description
Buffer is an ingenious, streamlined social media management tool that is trusted by brands, businesses, agencies, and individuals across the globe.
It assists them to derive maximum engagement and results on social media.
It consists of a suite of products for publishing, engagement, analytics, and team collaboration.
The product assists social media marketers and teams to work more efficiently and effectively in a cohesive manner.
The USP of the tool is its clean and intuitive way of performing, its timely customer support, and not to forget the ease with which you can post the content on social media platforms.
Features
Create a custom schedule for each platform, each profile every day
Plan ahead your biggest contents, months before with an integrated social media calendar
Share articles you love in a matter of seconds with the help of Buffer browser extension
Effectively measure your social media engagement on a weekly, monthly, or quarterly basis
Ascertain your top-performing posts in just a few clicks
Supports native video and animated GIF support
Schedule retweets to share at the right time
Integrate Buffer with your most-used apps
Price
There is a forever free plan with a 14 day free trial and no credit card required.
However, if you have a high number of scheduled posts on a monthly basis, we suggest you opt for the paid plans.
There are 3 paid plans:
Pro
Premium
Business
For details on the features and pricing for individual plans, click here.
Ideal for
Individuals
Professionals
Team
Business
Enterprise
Web Analytics Tools
Today the amount of data churned out by websites is quite huge. Hence, it becomes imperative to track your site's most important metrics to scrutinize whether your SEO strategy is working well or not. It also informs you what your typical customer does on your website, and even what your competitors are doing differently.
To ensure that you remain on top of your web analytics, it is imperative to utilize the right tools. Let's look at a few best web analytics tools that you might want to include in your business.
18. Google Analytics
Description
Google Analytics is just like gold dust when it comes to web analytics. The good news is, it is effortless to set up and highly customizable.
It provides comprehensive information about your site.
With this tool's help, you can easily collect data from your audience like age, location, and devices. Then observe how visitors search, interact with,, and leave your site.
The good news is, you can easily integrate Google Analytics with other platforms.
In case you are not sure which web analytics tool to go for, we suggest you use this tool and rest assured that everything will work for your business.
Features
Get instant answers to questions about your analytics data and get insights about how your business is performing
Understand the way customers are interacting with your site and apps, and share these insights across your organization through a variety of reporting tools
Data analytics and visualization helps you to access, organize, and visualize your data to suit your business needs
Data analytics assists in organizing and managing your data
Make smarter, marketing decisions through informed data
Seamlessly works with other Google solutions and partner products, thereby saving time and increasing efficiency.
Price
Google Analytics is free for most users. However, if you have a business requiring a large amount of data to scrutinize, we suggest you go for Google Analytics 360, the tool's paid enterprise version. It costs you $150,000 every year. But, the price is entirely justifiable as it has a lot to offer in terms of features.
Ideal for
Individuals, business owners & large corporates who have a website
19. Mixpanel
Description
Mixpanel is one of the best web analytics tools that enables you to track user interactions and build custom reports.
This web analytics tool allows you to ascertain user actions by bifurcating them and creating funnels.
On top of that, you can use Mixpanel to check out information pertaining to data points like device, location, channels, and much more.
It can even be used for targeted communication through push notifications.
Features
Easy to carry out A/B testing
Sends out push notifications
Creates funnels
Easy to check engagement tracking
Can be used on mobile devices and web
 Price
It is available for free of cost.
However, if you wish to track more than 1,000 users on a monthly basis we suggest you to get access to paid versions of this tool.
There are two paid plans:
Growth
Enterprise
For further information on features and prices of both these paid plans, click here.
Ideal for
Individuals, business owners & large corporates who have a website
Influencer Tools
Irrespective of whether you are a small business or a large corporate businessman, you need to fight it out to build your audience. However, another effective way beyond building your audience is by tapping into existing audiences that people have already created. These people are known as influencers.
Every industry has plenty of influencers. The only thing required is to search on the internet for them. However, an even better approach is by using a tool that is specifically intended for influencer research.
With such tools, you can effortlessly search, scrutinize, and connect with the most relevant and authoritative influencers in your niche. Here are a couple of best influencer tools that everyone from solo bloggers to small businesses & enterprises can utilize.
20. Klear
Description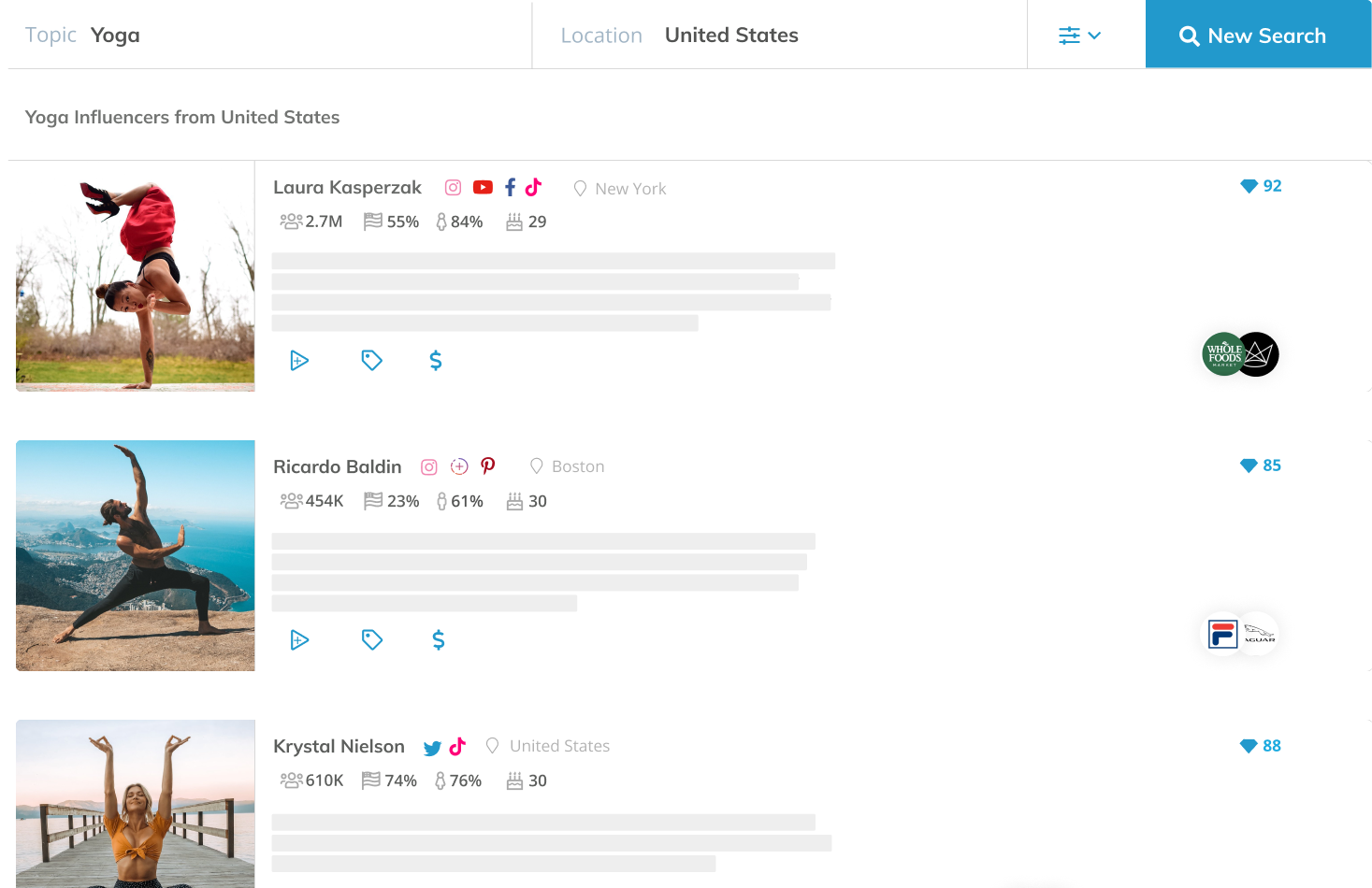 (Source)
Klear is a multi-functional influencer management platform that assists you in searching, managing, and measuring influencers and their campaigns.
It has developed its algorithm based on the "Klear Influencer Score" that helps determine which potential partner has the most influence.
Klear also comes with its own in-built CRM.
It is a freemium tool that breaks down influencers in 60,000 topic categories, demographics, and psychographics.
Since it consists of a database of influencers, the search does not take much time.
It is possible to filter the influencer lists through social media networks, the audience size, their skills, location, and the keywords they mention, along with the demographics of both influencers and their audience.
You can even measure the results of influencer marketing campaigns to find out which ones work the best.
Klear has a stronghold on Instagram and YouTube, and so its in-house experts can track brands that utilize these channels to find influencers beneficial for their industry.
Features
Comes with customized user permissions like edit, view only, and hidden
Helps in setting pricing benchmark / EMV (Europay, Mastercard, and Visa) estimation for acquiring influencers
Consists of a collaboration portal for digital agencies
Brand safety review feature for an automatic audit of audience authenticity
Get customizable influencer campaign reports
Comes with TikTok integration
Updated Klear search algorithm to serve local markets
Utilizes AI algorithm to identify YouTubers based on any Topic or #Hashtag search,, thus enabling you to identify YouTubers aligning with your brand goals
Price
Available on request
Ideal for
Global brands and agencies
21. Collabstr
Description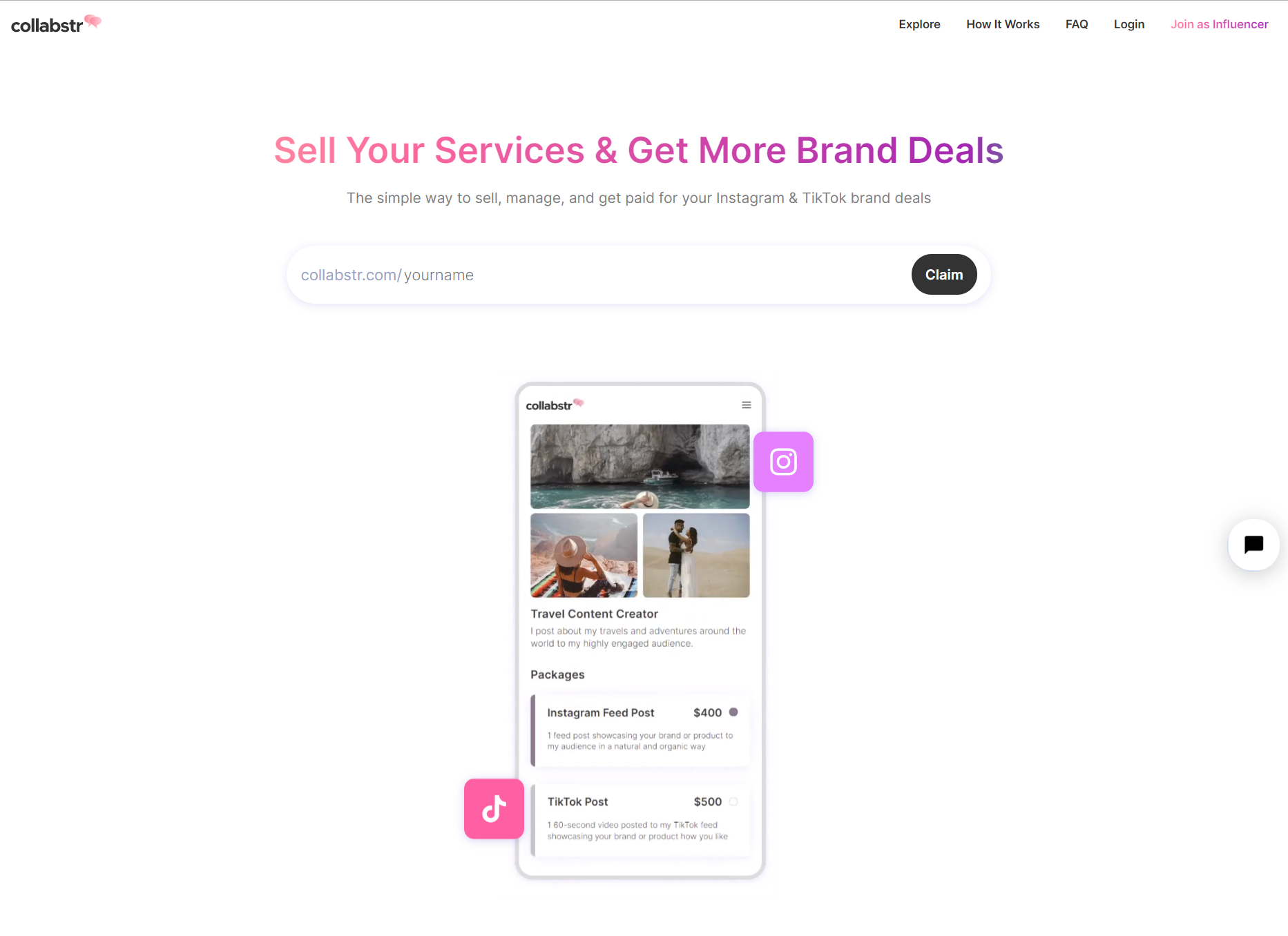 Collabstr is an innovative platform that provides an opportunity for brands to vet influencers of their choice.
It lets you see their analytics and pay them in the form of a product or cash directly using the platform for promotion.
The only thing you need to do is post your collab, and in a matter of minutes, influencers will apply to work with your brand.
You can also track the collaborations' effectiveness and only pay when you are happy with their work.
It is possible to post countless collaborations and work with unlimited influencers for a single price structure.
Features
Post collabs and connect with thousands of influencers wishing to collaborate
No need to spend item on searching for influencers
Only pay when you are satisfied with the influencer's work
Check out influencer's analytics like your collab's performance, including reach, engagement, etc. before starting to work with them
 Influencers directly approach you with their pricing, so you do not have to spend hours on outreaching and negotiating
Utilize the chat function to communicate with the influencers through the platform instantly
Every influencer on Collabstr is opted-in and vetted adequately before joining the forum, so you only work with high-quality and engaged creators
Price
There is a one-time $49 charge, consisting of 15% fees under which you get to post one collab, basic influencer analytics, collab live for seven days, and access to 10,000+ influencers.
There are two other plans:
Unlimited costing $99 per month with a 7% fee
Managed costing $699 per month
For detailed prices, click here.
Ideal for
Brands in the fashion, health, beauty, food & beverages industries
Final Words
The scope of digital marketing has expanded in recent times.
We see organizations taking advantage of innovative tools to create high-quality content and produce fruitful, data-driven campaigns.
With the help of the tools mentioned in this write-up, you can step on to the next level of digital marketing and grow your business to the pinnacle of success.