Affiliate marketing and influencer marketing both are the best digital marketing techniques to grow online. Know how to use them in the right way.
When it comes to growing a business or building a brand online, we often hear words like influencers and affiliate marketing. 
Both these marketing methods are a potent way to gain the goodwill of the customer, experience brand authority, social proof, and thereby a greater business growth.
89% say ROI from influencer marketing is comparable to or better than other marketing channels. Affiliate programs contribute 30% of revenue for the companies.
Generally, these highly-rewarding marketing methods are not leveraged to their maximum potential; this is partly because their definitions and functions overlap.
Despite this, influencer marketing and affiliate marketing are two distinct silos of digital marketing.
And, in order to include both of them in our digital marketing strategies, it is imperative to know the difference between them, and how to optimize your digital marketing strategy.
1. Influencer Marketing Vs. Affiliate Marketing -- What's the difference?
Let's understand the nitty-gritty of how influencer marketing and affiliate marketing work in order to integrate them into your digital marketing strategy.
Influencer Marketing:
It is the process of partnering with influential people with a considerable amount of followers; this gives your brand quick exposure and social proof. 
Affiliate Marketing: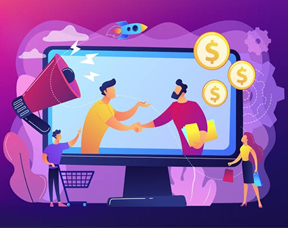 It is the method of promoting your business on other high-authority websites and online portals other than your own. When people see your products and services listed on these sites, they might click the link and make a purchase. The affiliate earns per sale made through their website may it be from Instagram affiliate marketing, Facebook or any other type.
So, should you choose both these methods or pick one? Find out below.
2. Influencer Marketing or Affiliate Marketing or Both?
Ask yourself the following 3 questions to know how to integrate these marketing techniques into your digital marketing strategy.
Q-1: What goal do you wish to meet from your marketing endeavors?
The main distinction between influencer and affiliate marketing can be seen here. You should choose whether you want an influencer on an affiliate on board based on your target audience in the marketing funnel.
Influencer Marketing for brand awareness
If you require your brand and business to be known, your focus should be on brand awareness. Influencer marketing helps you gain a quick and massive following. When an influential person promotes your brand, you're quickly gaining brand validation from all of their followers.
Affiliate marketing for lead generation
If your business is known to people, and your goal is only to generate leads, then affiliate marketing will do the deal. Have a handful of affiliate bloggers, websites, and publishers who have visitors you would want as customers. Your links on the affiliate partners' website can help you with a heavy inflow of leads.
Recommended, but not as a rule
This isn't a rigid rule. A business can use both these strategies anywhere across the customer funnel. Since brand reputation has to be sustained across time, and one must never miss a chance for lead generation.
But this choice needs to be made -- if you're looking for a cost-effective campaign.
Q-2: How much are you willing to spend?
You need to pay an up-front fee for influencer marketing.
Generally, influencers are paid a flat fee before or after any sponsorship. The rates would depend on how popular an influencer is and the number of followers on their various digital platforms. Here you pay per social media posts, mention, or video to the influencer.
On the other hand, affiliate marketing requires you to pay for every click, sign-up, lead, or sale brought by an affiliate. Sometimes affiliate marketing can be done by reciprocal link sharing, which requires no monetary transaction.
Therefore, your budget plays an essential role in deciding how to include both these marketing tactics in your campaigns.
Q-3: Where is your audience?
Affiliate marketing and influencer marketing both use different digital platforms.
Generally, affiliate marketing is done by displaying ads and mentioning links on blogging websites, news websites, editorial reviews, deals & coupons, and others. In comparison, influencer marketing is majorly done on video-sharing platforms and social media platforms.
You have to see where the majority of your audience is.
For instance, if you are in SaaS, health, fashion, wellness, travel, or stock exchange industry, it is more likely that most of your audience are blog readers. Therefore affiliate marketing would yield more results. This is because customers here would seek elaborate information and prefer to read about it in detail.
If you are in a visually appealing business, like home decor, lifestyle, shopping, makeup, technology devices, and others, your audience will most likely be on Pinterest, Instagram, and YouTube. So here investing more in Influencer marketing would be best.
See what's your business niche and where your audience is to design your campaign accordingly.
TL; DR?
| | | |
| --- | --- | --- |
| | Influencer marketing | Affiliate marketing |
| Goal | Brand awareness, social proof, engagement, new visitors | Lead generation, sales |
| Industry | Home decor, lifestyle, shopping, makeup, technology devices | SaaS, health, fashion, wellness, travel, FinTech industry |
| Platforms to use | Video sharing and social media platforms | Blogging, news, and review websites |
| People or Organizations | Micro-influencers to celebrities | Blogs, companies, publishers |
| Cost | Flat fee before or after a promotion | Pay per click, lead or sale |
| KPIs | Awareness & engagement, traffic, brand Advocacy, sentiment analysis, user-generated content | Conversion Rate, ROI, ad performance, Lead Generation |
3. Examples of affiliate and influencer marketing to help you get started
To help you understand better, here are some live examples of affiliate and influencer marketing.
Affiliate Marketing Examples
1. Livestrong.com is a blogging website on health. You can see how an ad of a calorie counter app is placed. A person reading an article on losing weight will undoubtedly want to have an app that counts calories.
2. Brainpickings.org is a blog by Maria Popova. She writes on philosophy, poetry, art, and culture. In the dedicated space on the left, she displays books, book reviews, redirecting links to other blogs, all of which have Amazon affiliate links to them.
3. Market Folly is an online magazine that writes about the investment and financial sector. Here you can see how newspapers like the Wall Street Journal and Barrons have made an affiliate network with Market Folly.
Recommended tool to help you get started with affiliate marketing:
AdsBridge.com - Adsbridge is an end-to-end affiliate marketing software. It is essential for businesses of any size and type who want to get their affiliate marketing strategy right. Adsbridge helps in tracking the right metrics and allows you to choose the most rewarding source of leads and business.
Influencer Marketing Examples
1. Kendall Jenner, the starlet of Keeping up with the Kardashians, promotes the luxury watch brand - Daniel Wellington, on her Instagram.
2. Allie Glines, a YouTube influencer, is making a sponsored video on high-end makeup brand Bobbi Brown.
3. In this post, fashion and travel influencer Red Rhinestone is promoting a gaming app on her Instagram.
Recommended tools to help you get started:
Influence.co - a community to help you find the right influencer for your brand. It helps you find businesses according to your business type, location of target audience and influencer's numbers of followers. Influencers do not only mean world famous celebrities, there are micro and macro influencers as well that have a considerable amount of followers and charge lesser fees.
Sprout Social - this is a super potent tool to track all your important influencer marketing metrics. It's analytics and reports will help you have a clear picture on how your influencer marketing campaigns are affecting your online brand.
To gauge the success of an influencer or affiliate marketing campaign is entirely based on how you track the key performing indices.
The end goal is always to grow your brand and business, but both affiliate and influencer marketing give different results. Here are the specific KPIs you need to keep an eye on.
4. Which metrics help measure the success of influencer marketing?
Here are the most important metrics you should track to the success of an influencer marketing campaign.
Awareness and Engagement - The goals of influencer marketing is to spread the word, and gain a massive audience, keep an eye on likes, shares, retweets, and comments.
Traffic and Page Views - measure the traffic these social media and video selling platforms bring to your social media profiles and landing pages.
User-generated content - service and product reviews and DIY videos by consumers are the most potent catalyst to grow your brand.
Brand Advocacy - track how likely your existing customers recommend your services and products to others; you can measure this through online surveys.
Sentiment analysis - have tangible insights on how people perceive your brand and optimize business strategy accordingly.
Recommended tool to measure influencer marketing KPIs:
Sprout social - this tool will help you in publishing and scheduling content on social, tracking engagement metrics, social listening, and analytics.
5. Which metrics help measure the success of affiliate marketing?
Here are the essential metrics of affiliate marketing campaign you should not miss:
Sales - the goal of affiliate marketing is to get as many leads as possible through links and ads to your landing pages that then go ahead to make a purchase.
Link tracking - see which affiliate links on ads blogs websites are bringing in the most traffic. Without link tracking, it is impossible to measure the efficiency of an affiliate marketing campaign.
ROI on Ad-spend - know which type of ads on what kind of platforms give the maximum conversions, and which ones do not. This can maximize your return on ad spend.
FTC Compliance - ensure that your ads on affiliate sites are in no way misleading or deceptive according to the FTC guidelines.
Organic Clicks - Ensure there's no fraudulent and fake traffic. It's essential to see that all your traffic is human, relevant, and not from any malicious sources like bots.
Recommended tool to measure affiliate marketing KPIs:
AdsBridge - this tool will help you with tracking all affiliate marketing metrics like PPC tracking, Ad tracking, Link tracking, and monitoring organic leads. It also provides end-to-end affiliate marketing solutions.
Conclusion
Both of these marketing methods are super potent in enticing and converting visitors and customers across the funnel. You can either use one or a combination of both. The only thing is you should be clear about the goals your business wishes to achieve in the short and long term.
Subscribe to weekly updates
You'll also receive some of our best posts today