Chatbots help businesses deliver awesome customer support. And the best way to know which is the best chatbot software is by knowing what the customers have to say. 
In this blog, we have listed the best chatbot software that customers have rated so far…
But before that let's talk about the different types of chatbots first.
Types of Chatbot software
Chatbots could be popularly categorized based on the level of complexity and the quality of user experience. Our list of best chatbot software covers them all.
These chatbots only reply to a set of predefined questions. The user has to select a response from a group of reactions that continues an almost-similar conversation.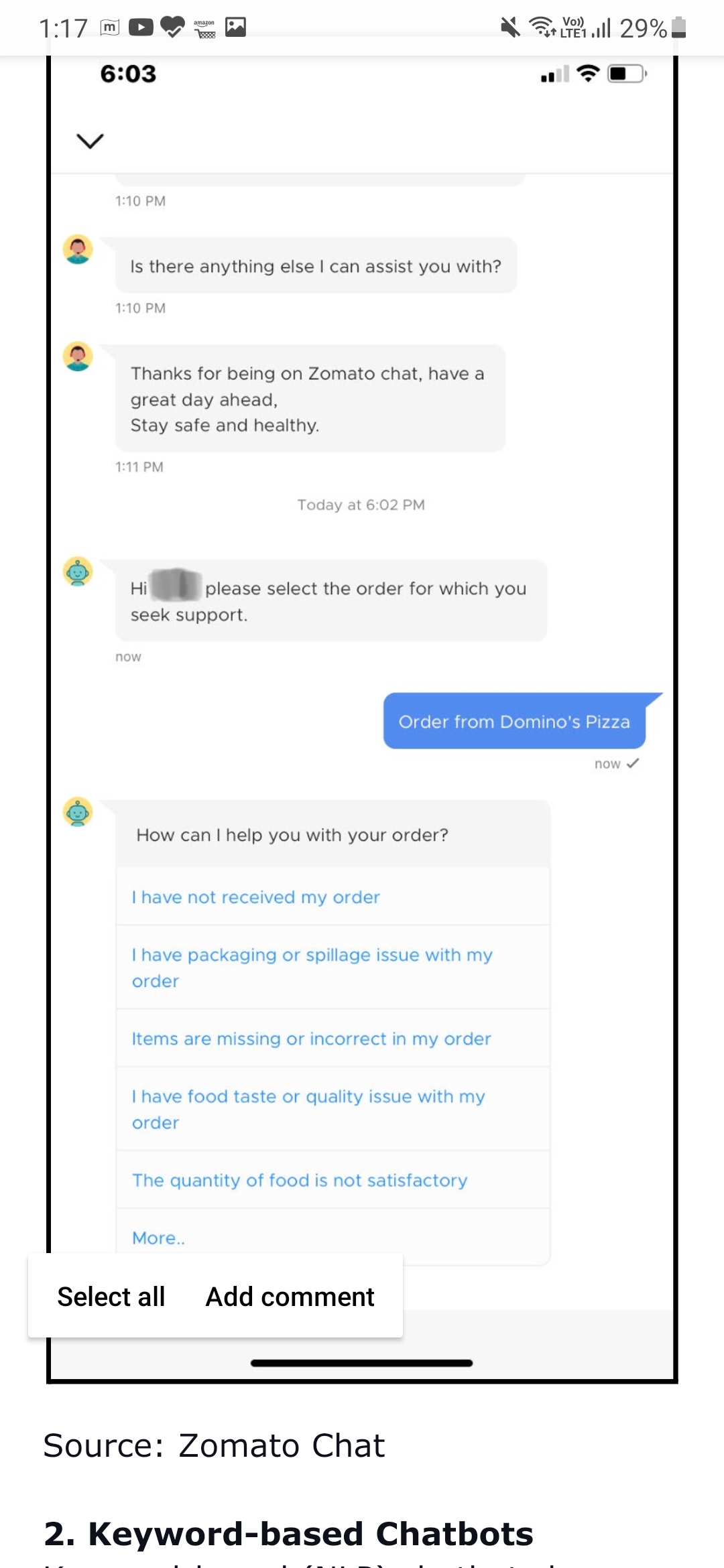 Source: Zomato Chat 
Keyword-based (NLP) chatbots learn from the characters and words a user puts into the chat and run these entire words through their database to find the most relevant answer. These types of chatbots are popular with companies using Facebook Messenger as their preferred chatbot.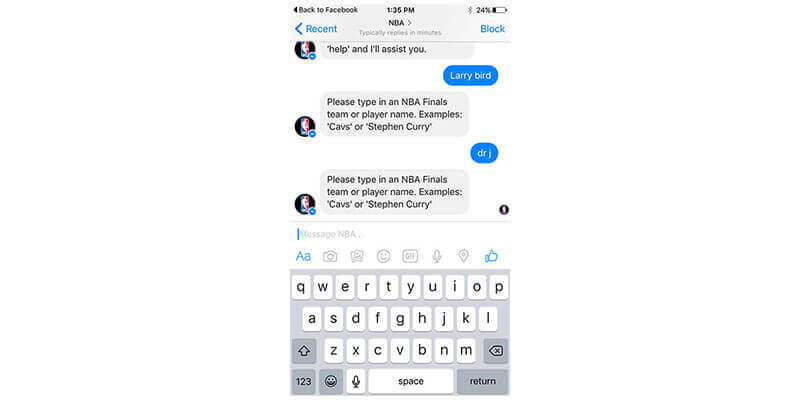 Source - https://images.app.goo.gl/7GNVfPQ85w9L88pD8 
AI-driven, conversational Chatbots
These chatbots are the most advanced and informative conversational bots. Since AI runs them, they integrate it with Machine Learning to understand meaningful information from the previous conversations and provide even better responses every time a user interacts with them. 
Here's an example of how Acquire's AI-driven, conversational chatbot greets customers. Greeting people by their names makes the digital customer experience all too humane! Doesn't it?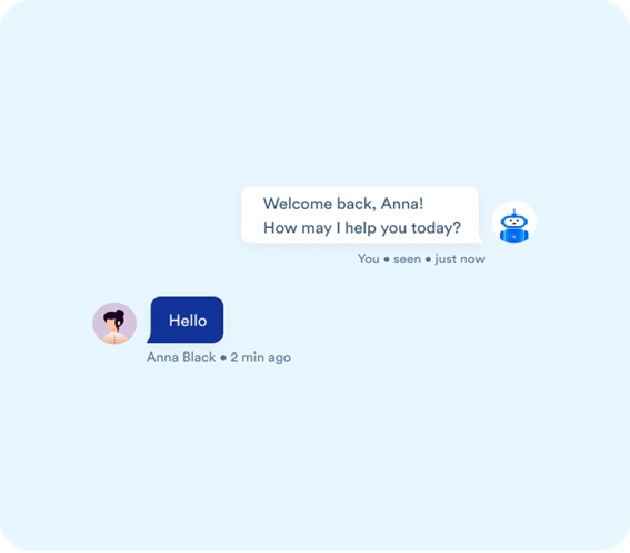 Source: acquire.io 
What is THE best chatbot software?
Besides being a great navigation assistant, chatbots are very diverse and automated to perform various businesses' tasks.
Chatbots can be coded in such a way that they perform most of the crucial tasks for a business without supervision.
The best kind of chatbot would help a business in the following verticals:
Marketing

Lead Generation

Conversions

Remarketing

Present discounts and offers

And, of course, customer support
Chatbots are potent and versatile. Choosing the right chatbot software depends on the need of the company. Chatbots can do wonders for all types and sizes of business across industries. Therefore we have curated a list of the best chatbot for small businesses as well as big enterprises.
Top 10 best Chatbots Customers have Rated So Far
1. Tidio
Tidio provides a holistic, proactive chat solution for your website that uses chatbots and live chat software. With Tidio, it is easy to communicate with your visitors in real-time, capture leads, and create tailored offers for your customers-to-be. 
Tidio makes it to our list of best chatbot software as it can be integrated with some of the most popular eCommerce platforms, 
including BigCommerce, Magento, and Shopify, and combined with third-party apps via Zapier. Tidio makes interaction with website visitors easy and enjoyable. 
Features
Huge Free chatbots templates library 

Allows translations in multiple languages

Advanced

NLP technology

 
Pros
Great reporting and customizing features

Easy to customize for branding purposes

Free version itself provides good value and experience 
Cons
Unable to view messages from more than one website in one window

When a user leaves your page and an operator responds the user will not be notified.

Integrations are all manual, which means. You have to reopen all conversations, open the user profile, press the preferences and send the log to the integration. 
Pricing
Tidio has several plans depending on the tools you want to buy and your business type. Apart from some free features, the prices range from $10 to $18 per month.
2. ManyChat
Another chatbot to find its place in the list of best chatbot tools is ManyChat. It is a Facebook Messenger chatbot builder, which makes it one of the best chatbots to buy. It also allows businesses to have a wider reach and more powerful retargeting options on the Facebook platform.
Since Facebook Messenger is a popular messenger, it is smart to retarget and connect with people on Facebook. This chatbot also comes with an easy drag and drop interface that makes it super convenient to set it up as a chatbot messenger for your Facebook business page. It will help you automatically welcome new users, guide them about products, schedule messages with them, and give a personalized experience, among other things.
Features
Easy DIY Drag-and-drop bot builder

Automate workflows as per need 

Categorize and Tag subscribers 
Pros
Intuitive UI and easy to understand features

You can tag and identify the users

Allows to create of different funnels based on individual needs

You can trigger different messages to different audiences
Cons
In some instances the funnel won't trigger

It can get difficult to extract the data that was saved

The paid plan is not affordable for all business sizes
Price
It has free plans and a paid plan of $10 per month. 
3. TARS
Want your landing pages to be more exciting and dynamic? Are you bored with traditional landing pages? If yes, then TARS is the solution for you. 
If you wish to replace your landing pages with a conventional, convincing chatbot, TARS is an ideal option for you.
With an easy conversational bot, generating leads is now easier than ever.
This chatbot is even optimized to adjust according to the template/theme of your website. Not only that, but it could even be integrated with Google Analytics, Facebook Pixel, and even Google Ads and ultimately helps you increase your ROI as well.
Features
500+ amazing templates

Conventional landing page replacement

Could be integrated with tracking tools

Easily customizable
Pros
You can build and launch your first chatbot on your website in only 2 hours from signup

The support and development team are responsive and helpful. 

New features are constantly releasing 
Cons
Not many options of customizing the aesthetics according to branding is present

The Bot Canvas has the tendency to not work optimally while building complex chatbots

Basic development skills are required if to integrate other API in the chatbot

At times bots will take a while to load, especially when they're embedded on a different landing pages
Pricing
TARS has several plans and costs from $83.25/month and billed annually. While there's no free plan, there is a 14-day trial a customer can take.
4. Acquire
Acquire's chatbots are the most potent of the lot, thanks to their super-intuitive nature, ease of deployment, and use. Acquire's conversational chatbots can help you provide a tailored customer experience for your customers and prospects leveraging Natural Language Processing. 
Its plug-and-play simplicity helps you easily integrate with your knowledge-base without any coding required. You can also create your chatbot by integrating with popular chatbot platforms like Dialog Flow, IBM Watson, and Azure QnA. 
Acquire's Unified View dashboard allows your sales and support team to have a hawk-eye view of the entire customer journey across channels, all in one place.
Features
Leverages NLP and AI to provide tailored experience and automation

Automatically routes to the agent to face complex queries 

Rich analytics function to tweak performance by measuring different KPIs
Pros
Uses NLP and conversational AI to understand customers better give tailored experiences 

Automatically detects FAQs which helps you create automatic responses for the same 

Build your own chatbots Acquire or integrate easily with other chatbot platforms like IBM Watson, Dialog Flow, and Azure QnA
Cons
Rarely some delays in video 

Need more alternative to chatbot notification sounds 
Price
Book a demo to know more about prices.
5. SmartLoop
SmartLoop made it to our list of best chatbot software because it is one of the finest chatbots out there due to the integration of AI and Machine Learning. This chatbot not only captures leads for you but even converts them for you.
Since SmartLoop is run by Machine Learning, it automatically understands the context of the user's conversations to provide a better experience. 
The automated messaging engine also helps a great deal to create textual sequences or to re-engage any of the cold leads.
Overall if your business wants to rely on a chatbot that could take care of your lead generation and conversion tasks for you, SmartLoop is the best choice you could make.
Features
Pros
Easy to setup no prior knowledge of coding required 

Uses conversational AI to cater to visitors and customers based on their interests

Automated messages to efficiently retarget and cold leads, or upsell to existing customers

 
Cons
It only works on those platforms with Facebook Messenger 

The pricing becomes costly after you cross 1K subscribers
Pricing
SmartLoop will cost you $10/month. However, there's also a free plan with limited features.
6. Ada
Ada is another AI-powered chatbot that gives tailored responses based on the customer's input, responses, and recommendations, making it one of the best chatbot software available.
This chatbot is simple, gives straightforward responses, and also has the ability to escalate the conversation to a live agent.
Ada could also be integrated with your team calendar to schedule appointments and bookings, respectively. The customer feedback forms make it learn from its previous conversations and responses to provide better answers the next time.
Features
You can have separate chatbots for different departments

Responses can be customized to make them sound natural

Supports up to 100 languages
Pricing
You need to book a demo to find out how much Ada will cost you.
7. FlowXo
If your business owns multiple websites, and each of them needs a powerful and automated chatbot, FlowXo is one of the best solutions for you. This chatbot can run through multiple sites at once and is compatible with multiple sites such as Facebook Messenger, Slack, and even Google Drive.
FlowXo takes care of a lot of aspects of your business, like capturing leads or making customers subscribe to feeds, or even allow notifications from your end.
If your aim is to build an audience and retain it as well, FlowXo is the ideal option for your business.
Features
FlowXo can send attachments to your customers as per the need

It could be customized to trigger particular responses on specific keywords 

Helps your marketing campaigns and

audience retention
Pros
Easily customizable according to your brand and business needs 

Use AI to have a personalized conversation 

Rapidly bringing new features 

Seamless integration 
Cons
</ul class="cons-list">
Can have better segmentation features
Pricing
The standard plan costs about $19/month. However, there's also a free plan with limited features.
8. LivePerson
LivePerson made it to our collection of the best chatbot software as it is one of the most powerful, enterprise-level, AI-powered chatbot solutions that runs on the most powerful messaging channels. These channels include SMS, WhatsApp, WeChat, and Facebook Messenger. This chatbot connects a potential buyer with a live agent. 
It can even schedule appointments and other meetings automatically and has the ability to provide order status, account balance, and bill related details to a customer. This chatbot is an all-in-one solution for an enterprise-level website and has the ability to engage customers in meaningful conversations.
Features
Real-time intent analysis

Can identify potential buyers

Can be integrated with many sites
Pros
Helps track conversions 

Works great with Facebook Messenger

Partners with IBM Watson 
Cons
Has half of the support team Israel that might give customers delayed responses

That support team is in Israel that late responses

Can improve in the area of displaying current page views
Pricing
You have to request a quote in order to find the prices.
9. Botsify
If you plan to create bots for your site or Facebook Messenger, Botsify definitely makes it to the list of our best chatbot software.  The data is collected in easily customizable forms. There are a variety of templates that could be used for multiple industries and niches.
It can even escalate conversations to a live agent if or when needed. Typically, it's a sales chatbot that can answer all the sale-related queries on your website and navigate potential buyers to the right product.
Features
It can be translated into

multiple languages

Could escalate conversations to live agents if needed

Has the ability to be embedded on your website
Pros
Botsify works not only with Facebook Messenger but also on Slack, Amazon Alexa, Shopify, and WordPress sites

Has ready-made templates as per industries like health & beauty, food & restaurant, travel, transportation, education, and finance
Cons
Outdated technology 

Not updated knowledge base, most recent article has been published on 2017
Pricing
You have to request a quote in order to find the prices.
10. Drift
Drift can allow you to combine your live chats with an automated bot, quite similar to most of the chatbots in our list of best chatbots for small businesses and big enterprises.
Drift can start conversations with customers even though they have engaged with the products but haven't made a purchase yet. This influences the conversion rate on your website and helps you get more sales.
It even allows third-party app integrations and could be integrated with CRM and MAS systems.
Features
Helps boost conversions and sales

Has the ability to escalate conversations to live agents

Perfect for small/large businesses
Pros
Provides seamless automated communication  

Access to detailed history of all conversations which make it easily to refer to

Drift attaches to your calendars which provides instant meetings for prospects 
Cons
Good for sales and marketing but not that good for support
Pricing
Drift costs $400/month and is billed annually. There's a free plan available as well, making it a good option for those looking for a free chatbot platform. 
11. Chatfuel
Chatfuel is your alternative to having a chatbot when you don't have any coding skills to set one up on your own. Chatfuel can easily be integrated with Facebook Messenger, Instagram, and even Telegram. With the freedom to customize your own chatbots, Chatfuel is the best chatbot software solution for your business.
Small and large businesses resort to Chatfuel because of its ability to assist you with sales, lead generation, and provision of answers to some of the most asked questions and queries your customers raise about your business. 
With some of the most interactive and responsive templates, Chatfuel also allows you to alter all kinds of responses you want your chatbot to provide to your customer. Being a keyword-based chatbot, it simplifies all the purchasing activities for your business.
If you want a chatbot that fulfills and automates all your customer-support needs, Chatfuel is your go-to solution.
Features
Ideal for generating leads and promoting sales

Automated replies to all the keywords you feed it

Could be integrated with all the major platforms
Pros
Intuitive user interface

Gives good return on cost 

Integrations are possible through API

Easy to create conversion funnels 
Cons
Works only on Facebook Messenger

Takes time to set up
Pricing
Chatfuel starts at $15/month with unlimited users. There's also a free plan available for up to 50 users. 
12. FreshChat
If your business has a presence across all major platforms, including websites and mobile apps, FreshChat could prove to be a permanent solution for you. With its ability to organize all conversations your chatbots have on all platforms in a single dashboard, FreshChat helps you carry all your conversations from a single page. Being an omnichannel chatbot, it allows you to communicate with every customer without the hassle of checking on every single platform you operate on.
With abundant eCommerce solutions and hundreds of templates suitable for all kinds of niches, FreshChat is the right solution for all kinds of industries. 
Quite similar to most of the chatbots on our list, FreshChat will communicate with a user until it can. And if it doesn't have the appropriate answer anymore, it can escalate the conversation to a live agent who can continue the conversation from that point onwards. 
FreshChat is also powered by Machine Learning, which makes its answers very personalized and precise. If you want an all-in-one customer assistance solution for your business, FreshChat could be the tool you could resort to.
Features
Powered by ML, provides personalized answers

Available for iOS and Android

Engages with customers more frequently
Pros
Plug and play ease of installation, fantastic configuration

Superb customer support

Works great across devices
Cons
Starts to slow down when data of customers increases

The paid version can be expensive for some
Pricing
Starts at $13/month. However, there's a free plan available as well.
13. Pandorabots
Pandorabots is a chatbot that's packed with exclusive features that are suitable for all kinds of business types. In fact, it is one of the best AI chatbots available for your business.
The best part about Pandorabots is that you have the ability to run your own code in the background, making it highly customizable and curated according to the needs of your business. Pandorabots could also be integrated with all major platforms that your business has built a presence upon. This includes websites, social media platforms, and even apps for your business. 
Even though this chatbot is not exactly beginner-friendly, it could still be used for large businesses with serious customer experience enhancement needs. 
Features
Highly customizable

Powered by AI

Can learn and adapt to customer requests
Pros
Comes with in-built dialogues, so you don't need to manually design the chatbot for everything

Works seamless on all platforms like WhatsApp, Slack, Facebook Messenger, Twilio, LINE, Viber, WeChat, and others
Cons
Requires high-level expertise to integrate it from scratch

It's AI technology is not very efficient 
Pricing
Starts at $19/month, with a free plan for basic users as well.
14. Zendesk Chat
Just like FreshChat, Zendesk is also an omnichannel chatbot that allows you to manage everything from a single dashboard. That's not all, since it also has the ability to handle all kinds of support tickets and engage in live conversations with your customers. 
Zendesk chat is popular for engaging customers based on their activities on your website. This chatbot allows you to test specific messages to find out how your customers are interacting with them. The ones that bring the most engagement are the ones you could set as default responses for your customers' queries.
Zendesk could also be integrated with all major platforms and social media channels that your business frequently uses. While this chatbot is a great tool for automating responses, it also provides you dozens of eCommerce tools that assist you with all your online activities. 
Pros
Has a great knowledge base software 

Good ticketing feature

Good for managing issues and allocating problems across a diversified team
Cons
Can be more easy to use

Can be experienced for some
Features
Sends out responses that encourage more responses

Could be integrated with all major platforms

Provides a variety of tools for small/large businesses
Pricing
Starts at $14/month per agent when billed annually. However, you can also try the free plan available.
15. Chatbot
Powered by AI, Chatbot is one of the most powerful solutions on our list. The provision of some of the most advanced features without any need for manual coding is what makes this chatbot the best AI chatbot on our list.
One of the main reasons this chatbot is preferable and suitable for businesses of all sizes is that it allows access to additional tools that assist you with your marketing campaigns, sales, lead generation, and provide personalized support to your customers.
With exceptional and responsive default templates and the ability to integrate them with all major platforms, Chatbot definitely stands out from the rest of its competitors. 
Features
Could be integrated with LiveChat, Facebook Messenger, Slack, WordPress, Zapier, and more

Abundant eCommerce tools

Templates for all kinds of landing pages
Pros
No code required to get started

Drag and drop feature to build your custom bot 

Extensive pre-build templates 
Cons
Topics in the learning academy can be more thorough
Pricing
Starts at $50 per month with a free plan, making it a free chatbot platform.
Conclusion
Chatbot statistics have shown that 67% of users are using chatbots for regular purchase-related activities. This makes chatbots one of the best solutions for a business to automate their business-related activities and drive more conversions and sales.
We hope you found our list of best chatbot software useful and can easily identify which chatbot is perfect for your business.