In this blog we will discuss how both these individual methods affect a business, and if an integrated approach to both SEO and PPC is a good idea.
To have a successful online business, you not only need to have a strong digital footprint, but also the expertise to be found. The digital space is now a congested sea of businesses, where it is imperative for every business to stand out and have a unique voice. 
We do not think that to do this, businesses should choose between SEO and SEM strategies, they both are distinct from each other and distinct pros. It is perhaps necessary to leverage both of these technologies to have the online presence a brand or business deserves.
In this article, we will see the practical way to integrate both these technologies and enhance your SERP ranking.
1. Why do businesses need sync between both SEO and PPC?
The goal is to rank on the 1st Google SERP. As a wildly famous quote by an anonymous writer says, "The best place to hide a dead body is page 2 of the Google search results."
Let us see how an integrated approach of SEO and SEM influences the SERP results.
Here's why according to Google you should combine these two strategies in the first place?
Google has concluded that -- "even when advertisers are showing up as the first organic result for a keyword, 50% of clicks they get on ads were not replaced by clicks on organic results when the ads were not present."
You can download the study citing these findings at the Google Research Blog: "Incremental Clicks Impact Of Search Advertising" by David X. Chan, Yuan Yuan, Jim Koehler, and Deepak Kumar.
In other words, you can 2x your chances of clicks and conversions by implementing an integrated approach of SEO and SEM, i.e., by showing both a display paid ad and having a good organic search result for a query.
Take an example…
See, how the leading e-commerce giant Amazon is acing its integrated strategy for the query "rent movies". With the paid result on the top, they are also able to rank first on SERP organically.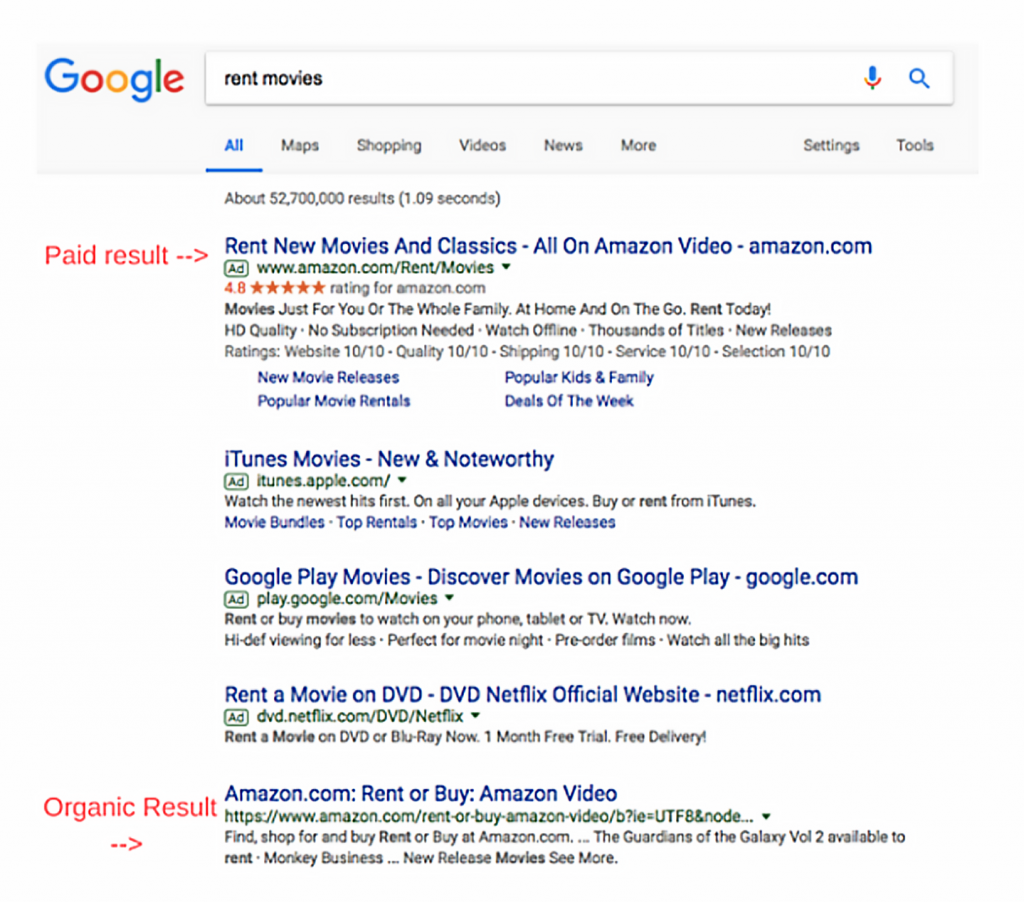 2. Why is this integration so important?
The reason why not having an integrated approach can cost you slack of 50% clicks and conversion is that you need both searchability and visibility for your online businesses.
Even though these words are synonymous but they mean two very different things from a digital marketing and advertising perspective. So, what's the difference?
Searchability: Your business has high searchability when your branded SERP containing targeted queries/keywords or business name pop-up first or in the first few pages of a search engine when typed in the search box.
The searchability is influenced by branded SERP, content writing, keyword stuffing, URL optimization, meta writing, alt tags, etc.
In other words, the better your searchability, the better is your SEO strategy in place.
Visibility: It can be said your business has higher visibility when you're easily discoverable, even when people are not particularly looking for your brand or business.
Visibility is driven by factors like paid ads, it helps when you are not high in searchability. It is important to note that less searchability doesn't mean bad SEO.
In conclusion, PPC ads take care of your visibility and SEO takes care of your visibility.
Let's now understand what both these methods bring to the table
Core competencies of SEO
Even though SEO results take months of painstaking efforts, the results stay for the long term. This doesn't mean that once you rank 1st, you'll stay there forever, SEO is constant work. You'll have to stay ahead of the curve by constantly adhering to Google's algorithm updates.
Organic results bring more clicks
Organic results have always had higher click through rates (CTRs) than paid ones. And this is always going to be the case, if you ask us. The reason for this is, we, as humans will always trust the organic results first, as it gives us the assurance that other people as well as Google loves this business ranking 1. We are not so quick to click on any random sponsored ads.
It is not fully cost-effective. But it is not fully cost-driven like PPC where you have to buy space. The upfront cost of SEO is investing time in blog writing, SEO strategies, and link building.
Core competencies of PPC
Not all who don't have visibility, have no good SEO. Maybe they're new in the market, maybe they rebranded themselves, there could be a host of reasons. With PPC, you gain instant visibility and get to business. The only trade-off is, you have to pay for the ad space and the keywords. The more in-demand the keyword, the heftier the charge.
Unlike SEO where you have the power to choose your audience and target them as per your need.,PPC allows for businesses to create customized personas based on several factors like:
Age
Gender
Device type
Geographic location
Past user behavior, such as searching for products similar to yours
Present yourself in multiple ways
PPC allows marketers more than just customizing the link, title and description. Your ads may include reviews and ratings and links to multiple relevant pages. For ads focusing on a product, attractive product images along with information such as cost, features, shipping, etc. can be mentioned.
Talking about the benefits of an integrated SEO and PPC strategy, let's get into the nitty-gritty of how SEO and PPC data can enhance each other, resulting in big profits for the business.
3. How does PPC data enhances SEO strategies?
Here's how PPC data can boost your SEO endeavors:
Precise targeting
PPC can give marketers and business people the most valuable asset -- that is data. Data in terms of valuable prospects or customers and what interests them in the business.
When you already have a segment of people that consists of not only your customers but also the ones who are interested in your products or services -- it gets very easy to market to them.
For instance, remarketing these people with the newly created ebook or white paper, would yield more conversions than targeting a random bunch of people.
Sitelinks
PPC campaigns can increase the performance of your blogs in a drastic manner.
The SEO team can collaborate with the PPC team to implement sitelinks on Google AdWords campaigns to boost blog posts.
In the example below, you can see how two project management software companies have leveraged PPC for enhancing their case studies and testimonials.
Atlassian has given the site link to a portfolio directly, and Smartsheet has added their customers' testimonials as a site link. This ingenious way allows PPC campaigns to make SEO and Content Marketing strategies highly effective.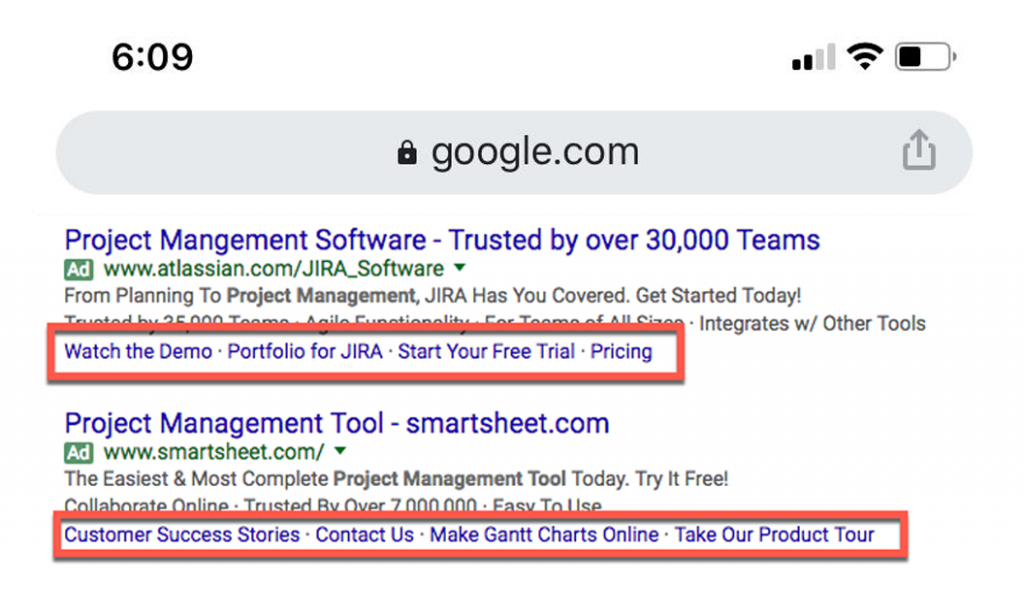 Needless to say, marketers have found this endeavor leading to heavy traffic on the blogs, generating more visits to the website, resulting in high lead generation and more possibility of conversions.
Effective Creatives
With the steady valuable insights provided by Google AdWords, PPC teams are able to AB test the best marketing material like: 
Ad copies,
URLs,
CTAs, and
Ad visuals.
PPC data can also tell us which campaigns and particularly which creatives had the highest CTRs in the past.
This data can help the SEO and content marketing colleagues in creating marketing material in adherence to these insights for enhanced engagement and high ROIs.
4. How does SEO data enhance PPC strategies?
Here's how your SEO efforts can help strengthen your PPC strategy:
Delivering Results on Tight Budget
Since PPC as the name suggests is a paid service, it only makes sense to spend it wisely. Keywords can be filtered as per their possibility to drive large volumes of traffic, through SEO and Content people, especially if they are expensive for PPC campaigns.
This is not only a cost-effective way to create PPC campaigns with the best of our ability, but it also allows us to concretize which search terms actually drive relevant traffic and sales.
Quality Score
It is imperative to enhance the quality score of your keywords for more than one reason.
You can use relevant SEO content writing skills to help improve keywords with low quality score. 
Updating your website landing pages with SEO content can help increase your keywords' quality score and also your ad ranking. It also increases more engagement and conversion rates.
Planning a PPC strategy
It is always a best practice to review your SEO-driven traffic trends before planning your PPC spend. They should always work parallelly.
For instance, if you see a surge in organic traffic at the weekend your ad spend should also reflect this. You can either keep it high and make certain services visible that customers are not looking for (a good way to cross-sell).
Or you can keep your ad spend low since you're getting leads organically anyway. Identify the passive times for organic traffic and increase your ad spend for those times.
In conclusion,
SEO and SEM are two rows of the same boat. And if your goal is to reach the shore, having two rows will simply make you sail faster. May it be a start-up or a conglomerate, in order to have a high revenue yielding digital footprint you need to have a sustainable integrated strategy of both SEO and SEM in place.
Subscribe to weekly updates
You'll also receive some of our best posts today