Through e-learning platforms, tutors are disseminating their knowledge irrespective of where their students are. Here's a list of five authoring tools that can develop e-learning modules and online teaching platforms of your own.
The e-learning industry is continuously progressing at an unprecedented rate. By experiencing 5% increase in the net value every year, the LMS market will promptly hit the $240 billion mark by 2023. Notably, 77% of U.S. corporations at preferring online learning in one or the other form, strengthening corporate e-learning by over 900% since 2002.
Modern technology has favorably revolutionized the scope for learning and online teaching. As a result, learning is finding a home beyond the fortified walls of schools and academic institutions. Through e-learning platforms, tutors are disseminating their knowledge irrespective of where their students are.
What is an e-learning software/tool?
E-learning software offers ready-made solutions to strategically design online courses and allow learners to procure them from anywhere.
Such creative tools come loaded with all set of key features to accommodate a learner and a tutor on the same platform. One can also call them content management systems (CMS) with ancillary features to facilitate online teaching and learning.
What makes a good e-learning platform?
It is not easy to keep learners interested and proactively engaged in a learning process. To achieve the same, e-learning platforms must comply with some fundamental requirements to deliver an exceptionally interactive content.
They must also support smarter applications of innovative concepts like micro learning (in independent modules) to make the information more interactive.
With this in mind, active presence of following abilities is imperative for a capable e-learning platform:
Design courses and activities on the platform with students as their focal point.
• Provide syllabus and course summary to show the big picture.
• Create lectures; add videos, audio, and PDF to fulfill course requirements.
• Include forms for formal and informal conversations.
• Submit individual and group feedback about courses and teachers.
• Set different prices for separate courses.
• Set coupon codes to offer discounts on the courses.
• Scale to accommodate evolving requirements of e-learning process.
5 tools to create great e-learning platforms
Here's a list of five authoring tools that can develop e-learning modules and online teaching platforms of your own. Please note that the following tools necessarily provide one or all of the above-mentioned features:
1. Elucidat
Elucidat is an eLearning content authoring tool with prominent features like custom theming, ready-made templates, and other viable options for collaboration.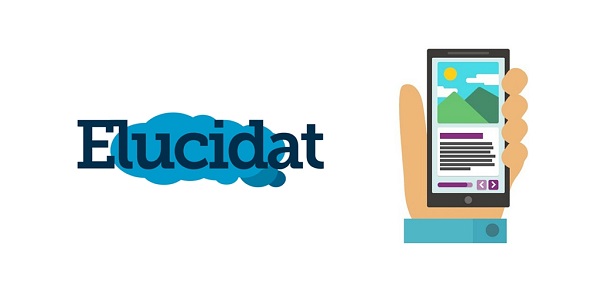 Eliminating the chief drawbacks of a flash-based software, it reliably uses HTML5 to make the contents load faster on computers, tablets and smartphones. It is positively a robust authoring tool for instantly starting an online learning platform with intuitive abilities.
Features that stand out:
Collaboration Tools: Provides built-in features to submit feedback and communicate with other members on the platform.
Quick Deployment: Using SCORM, MOOC and Tin Can, you can quickly publish your e-learning courses or export them to your existing learning management system (LMS).
Analytics: Built-in analytics to track learners' progress, and get an insight into the course efficacy.
2. Adobe Captivate
Adobe Captivate represents a smart tool for designing mobile responsive e-learning platforms. With all files ideally located on the cloud, team members can give feedback and promptly make edits in the real-time. Captivate is very frequent in terms of official upgrades and enhancements as well.
Features that stand out:
Adobe Captivate Draft: Provides a free iPad app that allows transformation of storyboards into interactive online courses. The app delivers numerous exclusive features like scenario branching, quiz slides and other multimedia tools.
Multimedia Integration: Adobe Captivate in-houses an array of multimedia tools like HD screen recording, screen-casting, and audio synchronization.
Branch-Aware Quizzing: This feature allows the platform to conduct assessment quizzes as soon as a learner completes a module.
Geo-Location Support: Utilizes geolocation tracking to provide personalized courses and course materials according to the learner's location.
3. PinLearn
Pinlearn is an e-learning authoring tool with high scalability and greater flexibility. It can plot an effortless way towards a ready-to-launch EdTech platform, that too without coding.

The software is best suited for all those ambitious entrepreneurs who want to launch an online learning platform like Udemy and Coursera, but cannot code one.
Features that stand out:
Mobile friendly: Comes with a complete package of apps for Android and iOS.
Tutor dashboard and analytics: Dynamic admin panel capable of designing, running, and tracking courses using built-in analytics and SEO features.
Multiple payment gateways: Comes integrated with multiple payment gateways for paying after enrolling to the courses.
Extensive Course Management: Extensive features to create courses, add course goal, create text and video lectures. One can also add audio, PDF, and course summary.
Submit a review: Learners can give ratings and submit reviews about the learning process.
Coupon Management for discounts: Gives flexibility to launch marketing campaigns by offering discount coupons to the learners.
4. Articulate Storyline:
Articulate Storyline offers a Windows-based application that is extremely similar to that of Microsoft's PowerPoint. It requires you to obtain some necessary skills and competencies to author a highly tailored and engaging course content.
Nevertheless, by doing so, it additionally provides an absolute control over the theming of your pages and slides. In spite of being a little tricky, Articulate presents a remarkably flexible architecture in uniquely adapting to branding and customization needs.
Standing out features:
Video Encoding: Allows video without compression for uploading even the high-quality video files.
Auto recovery: In case you face a system-crash, the auto recovery would retrieve the unsaved work instantly.
Dockable panes and windows: This feature allows an instant utilization of multiple monitors while working. You can see your stage on one monitor while working with other tools on extra monitor.
Text Formatting and Control: Provides better control over the text formatting by adding native storyline text to the buttons and labels.
5. Gomo
Gomo is a cloud-based e-learning authoring tool that can construct and host online learning platforms with absolute ease. Embedment of HTML5 facilitates seamless browsing of courses on any device, screen size, or orientation.
Gomo also empowers you to efficiently create, repurpose and track video contents using built-in features like screen capture, auto-captions and direct auto-translation.
Standing out features:
PowerPoint Conversion: Provides easy options for exporting and converting the courses into PowerPoint presentations.
Test / Quiz Creation: You can create tests and quizzes to assess a learner's growth during the course duration.
Embedded Multimedia tools: Built-in tools for multi-media operations like importing animation, images and audio files. Moreover, advance operations like voice-over dubbing, audio and image editing are also possible.
Mobile friendly courses: Courses designed on Gomo possess higher adaptability on mobile devices due to HTML 5 UI.
6. LearnWorlds
LearnWorlds is an online course platform that comes as an all-in-one solution offering the ability to build your online courses, host them and sell them at the same place. It is unique in creating unique, interactive, and social learning experiences.
Features that stand out:
Social & Interactive tools: It comes with a community to support social learning and interactive video editor.
Ecommerce: Other than the authoring environment, it offers ecommerce capabilities to sell online courses.
Website builder: Comes with a modern website builder specialized in creating elearning websites.
Who should use these tools?
If you are an entrepreneur, you can implement these tools to start your own online teaching platform and invite other tutors and students to profit from it.
If you are a tutor, you can score some good earning by designing your own courses, rather than giving up commissions to the third-party platforms.
Gone are the days when only a tech-savvy person could think of launching an online business. For instance, now, one does not need to be a coder to develop an online learning platform of his/her own.
The turnkey solutions like e-learning authoring tools have come as swifter and economical options, as weighed with coding one from the scratch.
You can enjoy focusing on the business growth while wisely leaving the coding part to the people who are experts in it.
Subscribe to weekly updates
You'll also receive some of our best posts today