Looking to step up your video editing hobby? Try VSDC – free video editing software for Windows with professional-level effects on board.
With the rapid growth of social media, video editing has become as popular as never. And YouTubers aren't the only ones to take advantage of this trend. Video editing software is getting more user-friendly and affordable, so even an average user can turn regular vacation footage into an eye-catching masterpiece.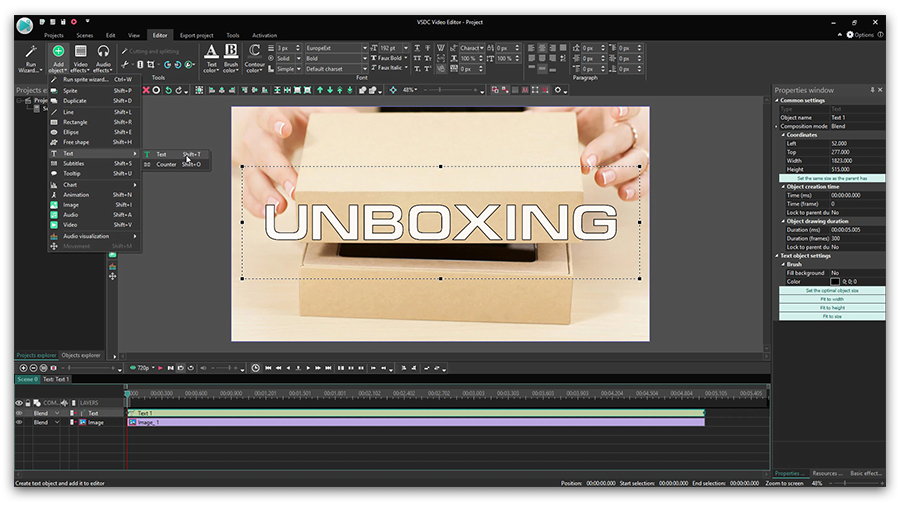 If you're looking for a tool to upgrade your video editing skills and you happen to be a Windows user, check out VSDC. It's a completely free software that allows for non-linear video editing and will make you feel like a professional even if you don't have much experience.
In this post, we'll use VSDC Free Video Editor to talk about 3 awesome effects you've probably seen on TV but had no idea are so easy to replicate.
But first, let's have a brief overview of what makes this software different.
1. VSDC Free Video Editor overview
The fact that VSDC is a non-linear solution allows for combining multiple layers of multimedia files. That means you can have several videos and images appear simultaneously in the same scene.
This feature comes in really handy when you need to show the same object recorded from different angles at the same time, when you create reaction videos, or when you need to place various objects in the scene to provide additional context. We'll talk about these tricks in more details below.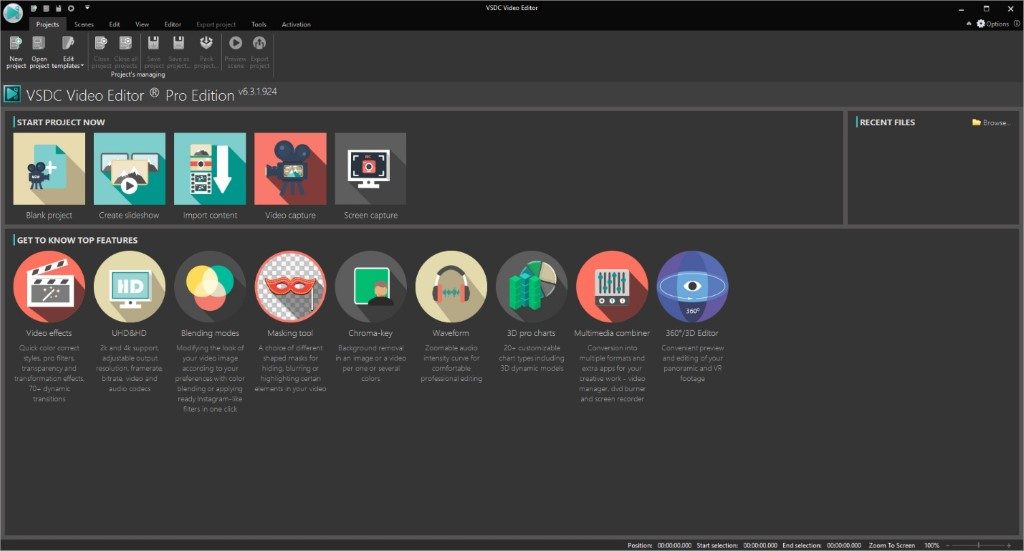 Apart from editing, VSDC enables you to capture the desktop screen and webcam videos (perfect for shooting video tutorials), record voice commentaries, and upload projects directly on YouTube. The software also has a built-in video converter which makes it compatible with virtually all the formats and codecs.
Recommended: 5 Essential Steps for Creating a Testimonial Video(That Work Better)
To get started with your first project, launch the program and import the main video file you'll be working on using the "Import content" button on the start screen.
Imported files are automatically placed on the timeline – each on its own track. To add text, image, video, or audio files, use the left-hand side menu; then, to change objects' size and position – use the right mouse button right on the working area.
2. Picture-in-picture effect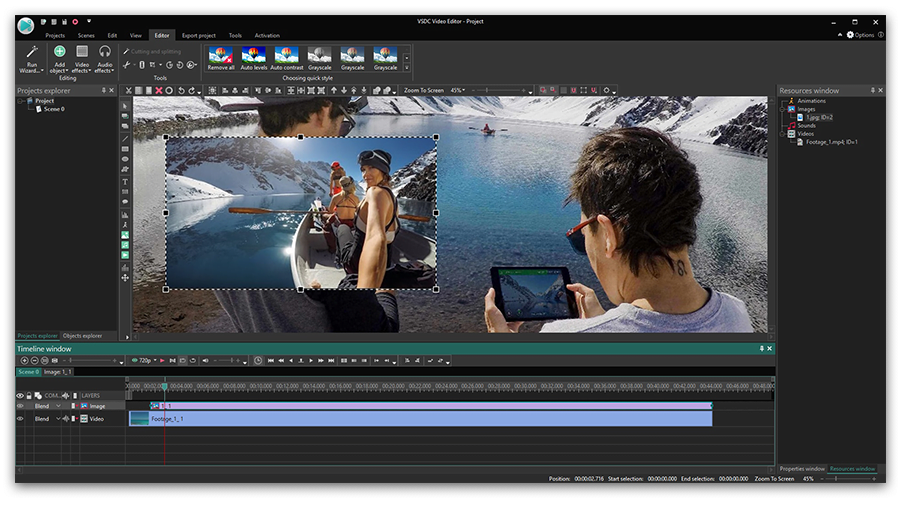 This is the easiest and one of the most popular effects you've surely seen on TV many times. The idea behind a picture-in-picture – or a PIP video – is to show a contextual picture while the main video is playing.
It is also used to show the face of the narrator when it comes to video tutorials or product overviews. Typically, the front layer image or video is placed in the bottom right corner, but the location is really up to you.
To create this effect, add a background video and then import the one you want to be displayed over it. Resize the latter using the right mouse button and place it in the right spot. By dragging the front layer video track on the timeline, you can tweak the moment when it appears and disappears from the scene.
Use a picture-in-picture effect for:
Video game walkthroughs
Drone test drive
Reaction videos
News style videos
3. Green screen (Chroma Key)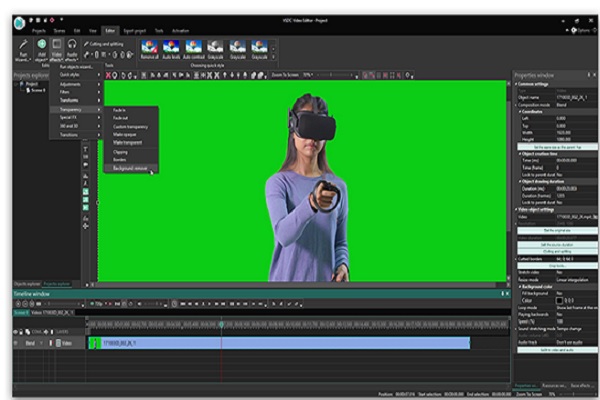 Green screen is used widely in the movie industry for creating fiction backgrounds. In fact, you probably see it daily on the news – every weather forecast is being shot with the use of Chroma Key. Some non-linear video editing solutions include this feature, and VSDC is one of them.
If you want to "touch" the magic of Hollywood movie production, you first need to shoot a video with a smooth solid green background. To try your hand at it first, you can download a couple of ready-made green screen stock videos.
Once you upload green screen footage to VSDC, simply apply the "Background remover effect" – it will automatically detect the background color and remove it, thus creating transparency around the object. Then, upload a new background – it can be a video or an image – and place it on the lower layer. As a result, the new background will take all the transparent area in the scene.  
Although it may look or sound like a complicated trick, the whole process will take you less than a few minutes, even if you have never done it before.
Use Chroma Key when working on:
News-style videos
Video game footage
Special effects
4. Split screen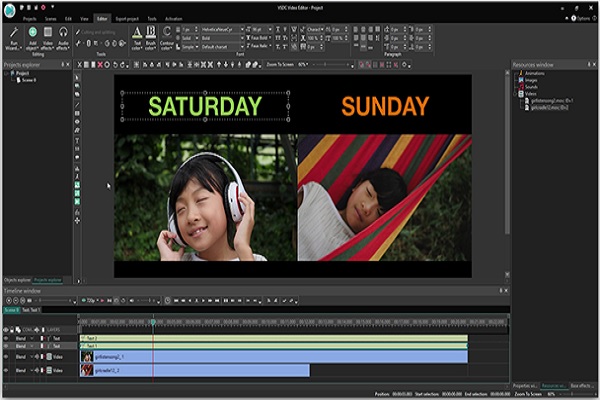 Split screen is easy to implement yet a very impressive effect that has been used in cinematography for over 50 years. Today it's available even in some mobile video editing apps.
To implement a split screen effect in your project, import the video files you're planning to use to the working area and resize them according to your plan. The most popular way is to place two videos side by side, however, technically you can place as many videos in the scene as you want.
Use split screen in:
Before and after shots
Showing an object from different angles
Showing events happening simultaneously
Wrapping up:
Video content is quickly taking over, and video editing becomes an important skill. That's not only relevant to those working in the video production industry. Small business owners, marketers, and even teachers can benefit a lot from knowing how to prepare a short video for various purposes.
If you have got a hang of the basic split-and-merge operations, VSDC might be the perfect gateway to the next level of video production. Once you master the above-described effects, the more complicated tricks will be much easier to comprehend – just let your creative juices flow.
Author: Ninel De La Cruz
Subscribe to weekly updates
You'll also receive some of our best posts today