EaseUS Data Recovery Wizard is the best data recovery software with a free version that comes with great features and ease of use.
Data management in any computer system is essential to make sure your data is safe and sound.
However, this data is often at the risk of being deleted, affected by a virus, technical failures, or stolen through cyberattacks, which leaves a business prone to major data losses and the risk of being shut down altogether.
In fact, 60% of companies that lose their data will shut down within six months of the disaster.
Often when important data is deleted, it's hard to recover. You would usually need an IT professional to help you out. Practically, settling for such an option usually is exorbitant.
That is where you could resort to a data recovery software, the one that meets all your data recovery needs. EaseUS data recovery wizard is one such software.
1. Why choose EaseUS Data Recovery Wizard Pro?
Come to think about it -- there are a lot of free data recovery software programs in the market. But if it is the most versatile, efficient, and reputed program you are looking for, EaseUS is the best data recovery software.
Over the years, EaseUS Data Recovery Wizard has become one of the most advanced data recovery software for Windows and Mac. This program works for all kinds of systems and could help you recover any of your deleted, formatted or raw data.
Not only can you recover all the lost data on your computer in a matter of just a few minutes, but it can even show what types of files you have lost at a particular point in time.
Let's get into the details of this data recovery software.
2. EaseUS Data Recovery Wizard: Features
EaseUS Data Recovery Wizard is packed with some of the most advanced features. Along with that, you get an excellent interface with a comprehensive scanning tool.
The program includes a myriad of advanced features, like:
Data Partition Recovery
Corrupted file repair
Formatted Drive Restoration
The EaseUS data recovery software comes in two variants - the free and the paid version. Though the free version has certain limitations, the pro version is packed with features.
However, both versions can help you recover lost data and assist with the speedy recovery of any deleted files on your computer.
If you are wondering what this data recovery app will do on your Windows computer, let's tell you that it allows you to recover files from any formatted storage device. That's still not all because it even allows you to retrieve corrupted or hidden files in your computer.
Talking about Mac computers, this data recovery software is naturally designed for macOS, which means that it's more compatible and suitable for a Mac than any other system. On your Mac computers, the EaseUS provides you features such as smart disk monitoring, Time Machine backup recovery, iTunes backup recovery, along with all the other features that you get on your Windows computer.
3. EaseUS Data Recovery Wizard: Performance
EaseUS is very low-demand data recovery software that would run just fine on even low-end computers.
When the recovery process starts, the program uses about 30% of your CPU with around 250MB RAM. This means you won't have any trouble using it with other programs running on your computer simultaneously.
EaseUS starts faster than most of the applications on your computer. Even a deep scan with EaseUS takes lesser time than average data recovery tools.
Overall, the program is really great for almost all computer systems and faces no problem running in the background as you finish your other tasks side-by-side.
4. EaseUS Data Recovery Wizard: Support
When it comes to assisting a customer, EaseUS has a lot of options.
For starters, you have a complete user guide that will help you set the software up and get it to start recovering data on your computer. You can see it in the image below:
Source: www.easeus.com
Further, you have an entire section for resources that can help you in different technical stages or difficulties that you may face.
You even get a detailed guide on how to start data recovery on your Windows 10 systems.
EaseUS also provides you additional resources such as video guides, online help, and an entire section to introduce all the tools you could use. And if that's not enough, the pro members can also resort to the live customer support option, which is available from 9 AM to 5:30 PM (UTC+8).
5. EaseUS Data Recovery Wizard: Pros and Cons
Like most of the data recovery software free download, EaseUS has its own pros and cons that would help you understand this tool better and figure out if it is the right option for your data recovery needs.
Pros
An excellent interface that also included preview quality
Runs smoothly even on low-end computer systems
Deep scanning finds all your deleted files
Recovers the files in the best quality
Great support system
Has a free trial with up to 2GB of free data to be recovered
Comes with a high-speed scanning option
Available for both Windows and Mac
Cons
Doesn't have an option to scan a particular folder/drive
The plans could seem expensive for some users
6. EaseUS Data Recovery Wizard: Plans and Pricing
As we already mentioned, the EaseUS Data Recovery Wizard has two versions - the paid and the free version.
Before you consider buying a plan for yourself, know that the free version is also a great alternative if your data recovery needs are limited.
This free data recovery software allows you to recover up to 2GB of data with which you can recover all your deleted, hidden, or lost data.
However, the paid versions are far better because you get a lot more features over the free version.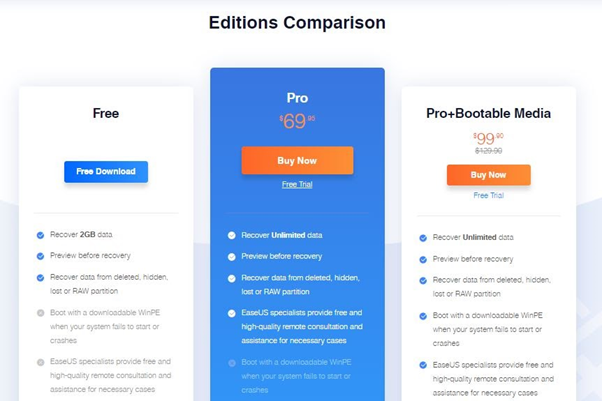 Source: www.easeus.com
EaseUS data recovery software' Pro version starts at $69, and the higher version goes up to $99 for Windows users. On the other hand, Mac users can upgrade to an unlimited pro version from $89.95 per month.
Both these versions will allow you to recover unlimited volumes of data on your computer. You get features such as recovering data from deleted or hidden partitions and quality consultations personalized for you.
What separates the top version of this tool from the regular pro version is that you can also boot with a downloadable WinPE when your system fails to start or crashes, something that isn't available in the pro or free version.
Final Verdict about Pricing
EaseUS is, hands down, one of the best data recovery software you could ever settle for, for your data recovery solutions. In our catalog of data recovery software ranking, we definitely keep EaseUS in the top solutions.
What makes this software even convenient is the availability of a free plan. This allows you to figure out if this is the right tool for you or not.
Even though the pro version is slightly expensive, you can always settle for yearly plans to save yourself the hassle of renewing the software every month.
If a clean, straightforward, and hassle-free data recovery tool is something you are looking for, EaseUS is the ideal option for you.
Let's get into some more details. Starting with the newly added features in this software.
What's New?
Supported to repair PDF, Word, Excel files
Supported to repair PNG, GIF, BMP files
Supported to recover .mxf files
Improved recovery quality
7. How to regain erased documents from the hard drive utilizing EaseUS?
Select a Location to Start Finding Data
Open the EaseUS Data Recovery Wizard and select the location where you lost your data from.
Scan Your Computer or Device
As soon as you click on the "Scan" button, the wizard will start a quick scan to find any lost data. As soon as that's completed, it will start another scan automatically, which will look for more files and previous versions of the folder. This process might take longer.
Preview and Recover Lost Files
After scanning your device, the wizard will show you a set of files that were deleted. Choose the ones you want to recover, and they will be available for your use once again.
However, it's advisable not to save these files at the same location where they were deleted.
Conclusion
Data losses are frequent on any computer system. While it is something that you can avoid, they are still unpredictable most of the time and could prove to be fatal for your business.
In such cases, data recovery for businesses is the most practical option for you, and EaseUS is the right solution for your business.
With its availability for Windows and Mac, along with a great set of features, EaseUS data recovery software is such a tool that you can trust for your data recovery solutions.
Subscribe to weekly updates
You'll also receive some of our best posts today