Sawaram Suthar is head of marketing at Acquire, and also...
read more Sawaram Suthar
Year 2014 was the hectic year for Internet marketer. After rolling out Google panda and Penguin updates, many big website (like eBay) get affected from the same. And many SEO agency has closed their shop because they are still following unusual legacy SEO techniques.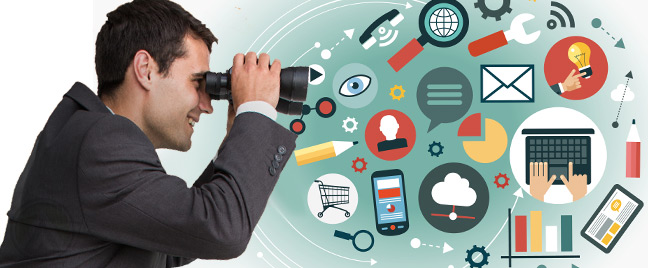 As we already enter in 2015, need to thinks twice and outlines the plan for marketing and advertising budget. If you want to continue reaching prospective customers online, you need to follow the current trends. You need to stay ahead of the game when it comes to connecting with people through your digital marketing efforts.
Want to get ahead? Keep reading. In this article, I have mentioned ten digital marketing predictions in 2015.
1. Increase focus on mobile technology
Mobile is the device that is always with you wherever you are – whether at home, office, gym, hospital, school, or colleges and so on. Due to its go-at feature the importance of mobile is going to grow in each and every aspect of business including traditional and online marketing. A research firm mobiforge and digitalbuzzblog find out latest states on mobile as brief mentioned below.
No. of mobile users are tremendously growing since last year
Spending on mobile ads is growing
No. of mobile apps on App store and Google play are growing
No.  and quality of online transactions are growing
No. of subscriber on mobile user grows
2. Increase use of Responsive web design
With increasing use of mobile, many businesses are changing their mindset and started revamping their legacy website to new catchy, attractive responsive website that are perfect fit for all devices including smartphone, tablets, notebook and desktop. Even Google recommend mobile friendly website and give more visibility in search engine.  Enhance, and optimize a mobile website and mobile apps will become a necessity for marketers.
3. Content marketing mushroom everywhere
The content marketing strategies will continue to grow into the upcoming year and it will be an essential part of a digital marketing campaign. As per expert opinion, 70% of digital campaign depends on content marketing so we cannot avoid it. Creating more relevant and inspiring content can accelerate your online presence and help you stay ahead of your competitors. So a company should go ahead to traditional marketing and pay more attention to collect customer experience, opinion, and prepare empathic, client oriented content that can attract more audience and traffic on sites. You can either publish content on your official corporate blog or on other industry niche blog or on both but I would prefer to publish on your blog. Because B2B companies with blogs are expected to generate 67% more leads per month than those organizations that don't have blogs. High-quality and relevant content will be key to digital marketing of the future.
4. Social Media Marketing
As many Industries leading experts say, social media is the hottest trend in 2015. Yes, It is. It will continue to find ways to push businesses and gain more traffic, awareness and improve customer satisfaction. Earlier we assumed that the main objective for social media marketing is to increase brand awareness, improve customer satisfaction and helps in new product launch. But now the trend has been changed, It is being used for many reasons like increase traffic, generate leads, etc. Due to that, for many company's social media is the main channels of web traffic.
5. Paid marketing will be trending (Google AdWords, Facebook ads, Affiliate etc.)
Once we are having target audiences or keyword, then we usually invest a few bucks in paid advertisement to gain more ROI. So we'll see the rise of paid media in 2015. Through paid media, we can target potential customer and can reach as much as possible within a sort span of time. There would be many channels where companies can invest like Google Adwords, Facebook, ads, Twitter ads, LinkedIn outreach ads, etc. According to your industry and requirement, you can choose relevant paid media.
6. Adoption of video or Vblog marketing
YouTube is the third largest search website and first video sites in the world. Thousands of video daily uploaded on sites and access by lacks of users. So video is going to hottest content format of choice for the internet marketing in 2015. Apart from regular content segments, like blog posts & infographics, video segment will come into their own as a form of content that drives maximum engagement and other internet marketing goals.
7. Customization or personalization will take place
Every business owner wants user to come on sites and interact with their content. They are always looking for the better way to achieve that through providing something innovative, unique and relevant. Providing personalize content can be one solutions. eMarketer stated, "few marketers, agencies uses personalization extensively". In last year, companies that offered personalization were able to increase sales, decrease operational cost, inspired used to stay on their websites and foster customer satisfaction than automated one. It means adopting personalization could be a positive signal for organization. And is expected to grow in 2015.
8. Unified Communication will be key part of business
With increasing use of social media and web 2.0 techniques, customer are in need of real-time communications wherein they can directly communicate with sales person, project manager, technical person and discuss about their ongoing needs. Instant messaging, voice call, desktop sharing, audio and video conferencing are mostly used unified communication services. After invention of WhatApp people diverted their mindset towards message-based communication and business will also have opportunities to use this new channel of communication to maintain relationship and dialogue with employees and customers.
9. Use of Analytics Tools Will Arise
Whatever efforts we're putting on digital marketing campaign will go worst if we cannot track them. So tracking data is one of key trends in 2015. As per research, digital analytics uses will grow and it would be vital part of the any industry. Companies are going beyond using of analytics tools – Google Analytics, Facebook insights, Twitter analytics etc. and they try to adopt other tools like Moz, Quicksprout. In sort, we can website and other tools can save times and resources.
10. Local Search Expands
Google and all other search engine trying to customize search engine according to local area. It gives you more accurate and relevant results. If you're into local business and wants target local market than this is great opportunities.
Sawaram Suthar is head of marketing at Acquire, and also a founder of Jagat Media, a digital marketing agency. A digital marketing consultant, he has experience in things including branding, promotions and page optimization, along with research and strategy. He has an MBA from the University of Pune. Anyone can find him on @sawarams.