The best referral marketing software to buy in 2022 and beyond to enhance your referral marketing efforts.
Did you know that literally, everyone (92% of customers) get referrals from their friends and family? This holds true for every form of business, B2B or B2C.
Since time immemorial, referral marketing or word-of-mouth-marketing is the best form of marketing there is, as it tends to most quickly and effectively tend to touch the core of people and motivate them to buy from you.
Here's more empirical evidence to back this up:
Word of mouth marketing is believed to be the reason behind 20-50% of all purchasing decisions. --McKinsey and Company
B2B businesses with referral programs have 69% faster closing times on sales and approximately 70% higher conversion rates than those who don't. --Influitive
Customers that come through referrals have a 37% higher retention rate than those who become customers in other ways. --Forbes
So, how can businesses leverage the power of referral marketing?
The only way businesses can leverage the power of referral marketing is --through referral marketing software.
What is referral marketing software?
As a concept referral marketing sounds easy but it can get complicated as businesses need to manage multiple variables of the diverse customer population. Referral marketing software brings essential control to your referral programs, for instance, by automating activities like enrollment, referral commission payouts at scale, workflows across different systems such as Magento and Shopify. It also makes your referral program customer-friendly through enhanced cross-device customer experience and gives your detailed reports.
Let's get into the nitty-gritty of what benefits does the best referral marketing software house.
Benefits of Referral Marketing Software
Here are the key features that any best referral marketing software would consist of.
Implementing referral programs in an easy way
Referral marketing software fully supports deploying referral marketing tasks online. This helps businesses across their reward program administration. It improves conversion rates, sales, enhances customer experience, and reduces bounce rates. Many software also offer A/B Testing that gives businesses the benefit of knowing what referral communication works better.
Attracting highly converting visitors
Referral marketing is carried out for your business by your happy visitors and customers. When they are happy with your services and products, they'll recommend you to their friends or relatives who are on the lookout for the kind of product or services you offer. The footfall of the people that will visit your business will be highly converting for two reasons.
They trust their friends and family and their first-hand experience
Your business has gained social validation because of point 1
Not only are those people looking for your product or services, but they are most likely to buy since the recommendation by their friends and family have instilled a deep trust in them for your brand.
Helping you make data-driven decisions
Businesses gather data routinely through loyalty cards, POS software, e-commerce websites, etc. but this data is mostly ignored. Referral marketing software allows you to analyze your gathered data.
Gamifying Reward Programs
Referral Marketing helps in gamifying reward programs, which makes reward programs fun and ups customers' interest level by bringing in the competitive spirit to motivate people to indulge more in referral activities.
Because of their function of dealing with referrals of existing customers, Referral Marketing platforms ensure zero fraudulent transactions. Fraudulent transactions are a menace for all business, and since referral programs are run through actual customers, the possibility of fraudulent activities become nil.
Some of the best referral marketing software
Here is the list of Referral Marketing Software:
1. Friendbuy
Friendbuy is a powerful SaaS-based platform that powers referral programs for the world's leading recognizable e-commerce companies. They have bagged clients like Club, Outdoor Voices, ClassPass, AWAY, and Casper, and global Fortune 100s such as Walmart, Intuit, Disney, and Nestle.
Friendbuy prides itself on its technological proficiency. It allows brands to grow and deepen customer loyalty, along with quick customer acquisition.
Friendbuy has a fun User interface and is easy to deploy and integrate with other tools.
Features:
Seamless integration with all major e-commerce platforms and third-party apps
Customizable referral templates
Event-based triggers and Reports to communicate with prospects better
Pros:
Allows a free trial
Easily integrates with major e-commerce platforms and services
Provides for necessary design customization
A/B testing available in limit
Basic analytics & reports
Event-based trigger campaigns
Cons:
Fraud-prevention not very potent
Problems with customer support for DIY-plans
Limited customization options
Loyalty programs not supported
Price:
Basic DIY-package costs $249/month for businesses up to $50K in monthly revenue. Another package costs $749/month. Know more about pricing here on their pricing page.
2. Viral Loops
Customer acquisition is one of the most challenging tasks which requires a lot of investment in terms of time and money. We all know the easiest way to acquire customers through word of mouth marketing. Viral loops gives your product the boost it deserves with the right branding through the power of word-of-mouth and referral marketing.
Along with the acquisition, it also helps with customer retention by turning them into motivated brand ambassadors.
Features:
The only basic setup is required. The Viral Loops team handles the rest
Huge library of templates for your specific needs
Can use their free Landing Page Builder without coding a single line
Pros:
Cost-effective
Lots of campaign templates
Pre-launch and Milestone campaign options
Burst & Leaderboard referrals
Free Landing pages
Cons:
Frequently crashes
Bad documentation
Basic dashboard
No A/B testing features
Price:
It comes with three different pricing plans $49, $99, $299 per month.
3. Talkable
Talkable helps companies with word-of-mouth marketing through precisely-targeted referral and loyalty programs. It leverages insights from customers' behavior and tailors reward programs accordingly.
Its A/B testing feature helps you maximize the impact of referrals and find the right segmentation of people to target.
Talkable's Referral Marketing Platform will help you acquire high-value clients at a low cost, get more sales and increase ROI.
Features:
Handles multiple campaigns, testing, and segmentation
An independent marketing team through Talkable helps you
Customization tools help you launch, run, optimize, and A/B test referral campaigns without needing designers or developers
The dashboard features hundreds of customization options and analytics tools
Pros:
You don't have to be too involved
Low technical commitment
Assigned account managers
Name sharing feature
Revenue-based payment model
Easy integration
Cons:
Everything has to go through their managers
Limited control over referral campaigns
Minimum sales volume requirements
Limited analytics
Price:
You can find the customized price here.
4. Mention Me
Mention Me is another powerful referral marketing platform. It is a choice of 400+ leading brands globally. This software allows users to share brands with friends and family using a wide range of social media channels, plus their unique "share by name" feature.
To cater to a global audience, they support 19 different languages and multiple currencies. Their customer support team is yet another pro.
Features:
It's name sharing feature lets customers share their names as referral codes instead of a referral code or link
Allows to capture referrals with 16 odd methods, including WhatsApp
Customize customer journeys based on rich data, including NPS and A/B testing 
Pros:
Cool name-sharing feature
Revenue-sharing payment model
Easy integration with third-party apps
Designated account managers
Cons:
Limited analytical reports
Not full control over referral campaigns
Everything has to go through their managers
Campaigns are optimized for audiences which are most likely to make the first purchase
Price:
It is a revenue-sharing model. They will take between 10-20% of the first purchase by a new client. The exact amount will depend on their forecasts based on your sales volumes and AOV average order value.
5. Referral Rock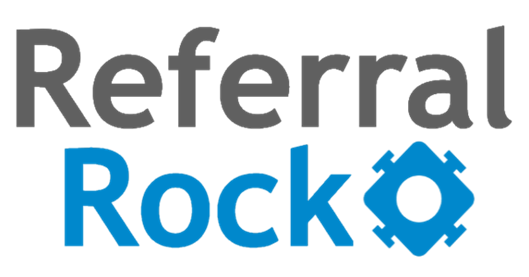 Referral Rock prides on the ease of use and smartness of their referral programs. Their goal is to make the customers' word-of-mouth programs run on autopilot, where they can also audit the referral program as and when needed, according to their choice, easily.
With Referral Rock, businesses can automate the tasks, gain more visibility and visitors, align smart incentives to referrals, and boost sales.
Features:
Allows you to release rewards right from the system
Customize workflows as per business needs
Good fraud prevention ability
Promotes your referral program on different channels using iFrames, widgets, access links in your email, social media networks, etc.
Quick integrations with third-party apps like Leadpages, campaign monitor, and Zoho
Pros
A unique code and URL link for all members to share
Pre-designed social media messages, emails, and mobile text messages
Easy social sharing page on Facebook, Twitter, and other networks
Allows to keep members engaged with dashboard notifications of their activity
Track referrals to know who advocates for you more
Cons
Pricing:
There are three pricing plans. Starter – $200/month, Growth – $400/month and the Established business – $800/month
6. Referral candy
ReferralCandy is a referral Marketing software connecting with popular eCommerce platforms like Shopify Magento, Woocommerce, and BigCommerce with plug and play simplicity.
To enhance your word of mouth marketing efforts, it also easily connects with other marketing tools such as AdRoll, Klaviyo, Mailchimp, Google Analytics, ReCharge, Fomo, and Chargebee.
Features:
Allows for tracking referral engagement and revenue from a single dashboard
Automatically share rewards with your customers
Easy integration with third-party tools
Pros:
Supports all major e-commerce platforms
Smooth UI
Cost-effective
Allows for a free 30-day trial
Cons:
Lacks any advanced settings
Design templates not up to the mark
Doesn't allow you to run multiple campaigns at a time
No A/B testing
Pricing:
This referral marketing software has two pricing options. The first is the Premium, which is $49/month + monthly commission, and the Enterprise, which is $3999 / month.
7. Smile.io
Smile.io has given a platform to more than 30,000 online merchants across the globe. This makes it one of the most sought-after eCommerce rewards platforms in the market. The user experience of Smile.io is engaging and fun; it motivates by rewarding your customers with points, VIP status, and other referral bonuses. It is also mobile-friendly. Smile.io helps you make unique reward programs with their API, in-house templates, and designs.
This referral marketing software is best for any retailer looking to increase customer loyalty with a smart and attractive rewards program only.
Features:
Easy and intuitive program management
Integrates easily with MailChimp, Privy, Gorgias, Okendo, and more
Better options for building greater UI
Pros:
Easy set up for Big commerce and Shopify
Cost-effective
Several systems of incentives available
Different features for VIP customers
Intuitive UI
Fixed-price plans
Cons:
Only works with Shopify and BigCommerce
Can't run multiple campaigns
Limited reporting
No A/B testing
No real design customization
Pricing:
Prices start at $49/month. Pro plan costs $599/month.
8. OSI Affiliate Software
OSI Affiliate Software is a user-friendly and dynamic solution that will allow you to set up and manage your own affiliate and referral programs for your business. It can be integrated into virtually any ecommerce site and shopping cart solution. With the creation of your affiliate and referral programs, you will be able to leverage the reach of your existing customers as well as outside affiliates and influencers to expose your business to a new audience. This will in turn greatly increase your website traffic and sales.
OSI Affiliate software includes tools and resources that will allow your affiliates and brand advocates to easily promote your business across any social network and online platform.
Features:
Allows affiliates to promote using promo codes
FREE integration into any ecommerce platform
FREE promotional tools to help you promote your program
Auto sign up feature to instantly onboard all your new customers
Easy integration with many third party apps and tools
Pros:
Dedicated account manager included on all pro-accounts
Intuitive administrative and affiliate user interface
15-day free trial
Thank you page pop up survey tool for recruiting new customers
Easy commission payout management
Cons:
Limited customizable reporting
No loyalty program features
Could include more help documentation
No affiliate leaderboard available for affiliates
Pricing:
There are two pricing plans. Basic - $47/month and Professional plan - $97/ month
Conclusion
So, now that you are aware of referral marketing, its effectiveness, and how you can as a business person leverage it and the features of some of the best referral software--you can implement these into your marketing endeavors.
I suggest you visit all the referral marketing software websites mentioned above and see which referral marketing software suits your business needs the best.
Subscribe to weekly updates
You'll also receive some of our best posts today