Sawaram Suthar is head of marketing at Acquire, and also...
read more Sawaram Suthar
Whether you're in hurry, don't have time to see favorite post or just want to save photos, video, and other stuff on your Facebook timeline, now it's become easy. Facebook has announced a new feature yesterday that allows you to save your stuff like links, pictures or whatever on timeline. And you can see that later on.

This is not new feature for other app like Pocket, Instapaper, Evernote and Apple's Reading list features but yes this new feature for Facebook. In other word, we can say that this is kind of Bookmark feature on web browser wherein you can bookmark your favorite URL and that you can check later on. The main drawback of this feature is that you can save stuff only if you're online or when Facebook connected with the web.
How to Save Stuff
Okay, it's very easy to save stuff on timeline by clicking on arrow sign that is located on top right side on timeline. Click on that button and choose Save "Name of post/link or video". Once you did it.  It will be saved and stored in activity logged. If you want to unsave than you click again on same button.

More interesting about this feature is that only you can see the things you save. You can choose if you want to share them.
How to Find Saved Stuff
You can view the items you saved at any time by going to your saved items in the "More" tab on mobile or by clicking the link on the left hand side of Facebook on the web or you can also check this at activity logged in from right side- below sign out option.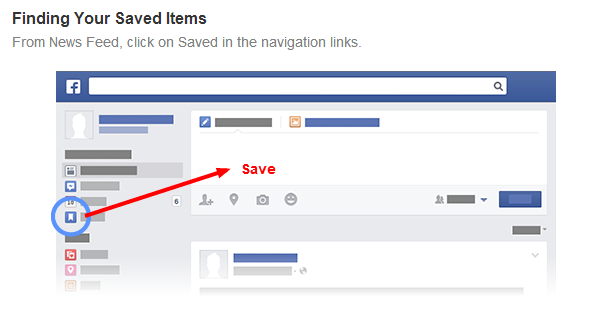 Facebook App Feature that Still Lacking on Mobile
Okay this is what I have found interesting but Facebook still lacking with other main feature – Copy on clipboard and Paste it on wherever you want in mobile. Here, I am talking about mobile device only. Facebook mobile app doesn't allow us to copy its stuff from timeline.  So we are waiting for this amazing feature.